Tool: We received death threats over album delay
Tool reveal that frontman Maynard James Keenan received death threats from fans over delays in releasing upcoming album Fear Inoculum.
DNA research claims Ozzy is a "genetic mutant"
Yes, you read that right. Ozzy Osbourne, The Prince Of Darkness himself, has had his DNA studied – and the final results throw up some very interesting information – which has been documented in professor Bill Sullivan's new book Pleased To Meet Me: Genes, Germs And The Curious Forces That Make Us Who We Are.
New Gene Simmons Pokemon lookalike draws a reaction from the Kiss star
When Nintendo unveiled a selection of their new characters from upcoming Nintendo Switch games Pokemon Sword and Shield, there was one in particular that caught the eye of rock fans and Kiss star Gene Simmons.
Judas Priest's Glenn Tipton Foundation raises more than $150,000
Judas Priest's Glenn Tipton delivered a personal message to fans earlier this week to announce that the Parkinson's disease charity set up in his name had raised $150,000.
Cash raised on behalf of the foundation is going towards pioneering new research into the disease.
Tool's Fear Inoculum breaks Billboard chart record
Not content with smashing into the charts thanks to their new presence on digital and streaming platforms, Tool went one better this week and broke a record on the Billboard charts with their Fear Inoculum single.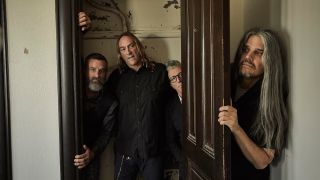 Mr Bungle reunite for first live shows in 20 years
Mike Patton, Trevor Dunn and Trey Spruance will play their 1986 demo tape The Raging Wrath Of The Easter Bunny live at three shows in the US early next year - and they'll be joined by Anthrax's Scott Ian and former Slayerdrummer Dave Lombardo.
Steve Hackett details new live orchestral album
Steve Hackett revealed that he would release Genesis Revisited Band & Orchestra: Live At The Royal Festival Hall - recorded during the guitarist's 2018 tour with the 41-piece Heart Of England Orchestra.
Hackett marked the news by releasing a trailer for the live package, giving fans a flavour as to what they can expect.
The Clash's London Calling exhibition will open its doors in November
This new exhibition will be held at the Museum Of London from mid-November and has been organised in celebration of the 40th anniversary of The Clash's London Calling album.
Among the exhibits will be Paul Simonon's bass which he famously smashed at The Palladium in New York City – an image that was captured by Pennie Smith and used on the iconic cover.
Metallica's James Hetfield talks about THAT …And Justice For All mix
It might have been released way back in 1988, but people are still talking about the Metallica's …And Justice For All – and in particular why Jason Newsted's bass was buried deep in the mix.
New Suzi Quatro documentary gets its first trailer
The upcoming Suzi Quatro documentary about the career of the vocalist, bassist and songwriter, who became the first female rocker to break into the mainstream in the 70s, will be released in October. And this week saw the first trailer released.
The documentary will feature interviews with artists including Joan Jett, Debbie Harry, Lita Ford, Cherie Currie, Tina Weymouth, Donita Sparks, Alice Cooper and KT Tunstall, along with members of Quatro's family.
Corey Taylor: There are too many f****** guns in America
The Slipknot frontman made the comments just two days before 22 people were killed and a further 24 injured in a mass shooting at a Walmart in El Paso. Just hours later, another nine people were were killed and 27 injured in a separate shooting in Dayton, Ohio.
The interview was published last weekend with Taylor saying: "There's a very toxic gun culture here, it's a cult and it worries me."
Rush release live Distant Early Warning clip
On August 21, for one night only, the new Rush film Cinema Stangiato: An Annual Exercise In Fan Indulgence will be released in cinemas around the world.
And, to whet fans' appetites, a video of Lerxst, Dirk and Pratt playing their 1984 Grace Under Pressure track Distant Early Warning was released, with the footage captured on the trio's final R40 tour.

Below, find all the biggest news stories from August 5 - August 9
The wait is over for new Tool material!
It's not quite taken 10,000 Days, but we've waited a long, long time for a new studio track from Tool. But this week, finally, the band made the wait worthwhile by releasing the epic Fear Inoculum – the 10-minute title track from their upcoming album.
Judas Priest will play special 50th anniversary show at next year's Wacken
Organisers of Wacken Open Air revealed the names of 12 artists who will play at next year's festival in Germany – and one that stood out was Judas Priest, who will play a special set to mark their 50th anniversary.
However, those hoping for tickets are out of luck, as the 2020 event sold out in just 21 hours!
Led Zeppelin receive support from 123 artists in Stairway To Heaven copyright case
With the Stairway To Heaven appeal heading to court next month, this week, Led Zeppelin received the support of 123 other artists including Judas Priest's Rob Halford and Heart's Nancy Wilson.
Babymetal reveal Metal Galaxy tracklist and announce guest artists
With their new studio album Metal Galaxy set to arrive in October, this week, Babymetal revealed the titles of all 14 tracks and announced the names of the guest musicians who will appear on the record… and if you're a Sabaton or Arch Enemy fan, you should definitely check this out!
Jim Root opens up on his 2014 departure from Stone Sour
In an exclusive interview in the latest edition of Metal Hammer magazine, Slipknot's Jim Root spoke about his departure from Stone Sour back in 2014, saying : "Corey and I are much closer now.
"It's the best thing, me leaving Stone Sour. We would have just ended up killing each other and driving each other crazy."
Wednesday 13 launch gruesome trailer for new single
Wednesday 13 are gearing up to release the new album Necrophaze in September – and this week the band, led by the former Murderdolls vocalist and bassist, teased fans with a clip of the video for their single Zodiac.
Killswitch Engage's share video for new single I Am Broken Too
Killswitch Engage revealed their video for I Am Broken Too earlier this week – and announced they were teaming up with Hope for the Day.
The Chicago-based charity focuses on suicide prevention by providing outreach and mental health education through the use of music and art.
Ex Lostprophets singer guilty of possessing phone in prison
Ian Watkins, who is serving a 35 year sentence for a string of child sex offences, was found guilty of possessing a mobile phone in his prison cell after a five-day trial at Leeds Crown Court.
The Beatles' Abbey Road to be re-issued to mark 50th anniversary
It's been 50 years since The Beatles released their classic Abbey Road album – and to celebrate the milestone, Giles Martin and Sam Okell have remixed the record for a release later this year.
Along with the 17 album tracks, the package will also feature 23 session recordings and demos.
AC/DC share rejected Highway To Hell album cover
AC/DC are continuing the 40th anniversary celebrations of their Highway To Hell album – and this week, they shared the original album cover from 1979 which label bosses "shot down in flames."
Phil Campbell teams up with Dee Snider, Mick Mars and Chris Fehn for new single
This week, former Motorhead guitarist Phil Campbell released his new solo single titled These Old Boots.
Not only did Campbell bring in his friends Dee Snider, Mick Mars and Chris Fehn for the track, which will appear on upcoming album Old Lions Still Roar, but the animated video is a sight to behold!

Below, find all the biggest news stories from July 29 - August 3
Rammstein members kiss on Moscow stage in defiance of Russian anti-LGBTQ laws
Rammstein guitarists Paul Landers and Richard Kruspe kissed onstage during the band's set at Moscow's Luzhniki Stadium on Monday. The move, made in defiance of Russia's anti-LGBTQ laws, was celebrated by Rammstein in an Instagram post headlined "Russia, We Love You!" and caused quite the stir.
Corey Taylor halts San Bernardino Slipknot show as mosh pit gets out of control
Corey Taylor was forced to halt one of Slipknot's Knotfest Roadshow 2019 tour shows in San Bernardino last weekend after the mosh pit turned dangerous. "Back the fuck up! No one is fucking getting hurt on my fucking watch," he yells on fan-captured video, while the band cease to play music and paramedics enter the crowd.
Netflix documentary makes new claims about the "murder" of Brian Jones
Fresh evidence has emerged about the alleged murder of former Rolling Stones guitarist Brian Jones. Jones's death was originally recorded as "misadventure", but a new Netflix documentary based on Terry Rawlings' 1994 book Who Killed Christopher Robin? has unearthed new evidence.
Tool announce new album title (and finally make their back catalogue available on streaming services)
Tool confirmed that their fifth studio album, Fear Inoculum, will be released on August 30. The band also announced that their back catalogue will be available on streaming platforms from Friday. It'll be the first time that 1993's Undertow, 1996's Ænima, 2001's Lateralus, and 10,000 Days have been available via streaming services.
Woman uses Metallica music to save herself from cougar attack
Blasting Metallica songs out loud has many benefits – but now, an unusual new benefit has been added to the list: blasting Metallica in the face of an unsuspecting animal will officially help save you from rogue wildlife attacks.
Korn unleash video for new single Cold
Korn have released a video for their brand new track, Cold. It's the latest track taken from their upcoming album The Nothing, which is due to be released on September 13 via Roadrunner/Elektra.
Mike Judge has "some ideas" for new Beavis and Butt-Head movie
Beavis and Butt-Head creator Mike Judge revealed that he has "some ideas" for a new film featuring the foul-mouthed animated metalheads. Following the finale Silicon Valley, Mike Judge's current creation, the writer will have more time on his hands to focus on new (or old) projects.
The beleaguered Woodstock 50 festival officially cancelled
The much-troubled Woodstock 50 festival has been cancelled. The news came in a statement from the organisers, in the wake of news about more bands abandoning the event.
Woman uses Linkin Park lyrics to stop a suicidal man from taking own life
A woman in Orlando, Florida has used lyrics from a Linkin Park song to help stop a man taking his own life. Cristina Settanni, a healthcare worker based in Orlando, was driving down a busy road on her way to work when she saw the man sat on the ledge of an overpass and decided to stop and talk to him.
Michael Monroe announces One Man Gang album, launches video for title track
Rock'n'roll legend and former Hanoi Rocks mainman Michael Monroe has announced details of his upcoming album. One Man Gang, the follow-up to 2015's Blackout States, will be released on October 18.

Below, find all the biggest news stories from July 21 - July 27
Motorhead's Overkill and Bomber set for deluxe reissues
After a video featuring footage of music and news from 1979 was shared on Motorhead's social media channels, it was confirmed that Overkill and Bomber will be reissued later this year with bonus live material and more to mark their 40th anniversary.
Manowar file lawsuit against Hellfest organisers
Joey DeMaio tells the crowd at Manowar's recent show in Turkey that they've begun legal proceedings against Hellfest organisers after last month's festival confusion: "Nobody's going to push Manowar around," he says.
Bruce Springsteen's Western Stars film will premiere in Toronto
Bruce Springsteen's new film will see The Boss playing tracks from his new studio album Western Stars - and it'll make its debut at the Toronto International Film Festival later this year.
Queen celebrate Bohemian Rhapsody milestone with fan-driven video campaign
As the video for Bohemian Rhapsody passes 1 billion views on YouTube, Queen release a remastered version and announce You Are The Champions campaign.
They're looking for fans to get involved with three new videos for Bohemian Rhapsody, Don't Stop Me Now and A Kind Of Magic.
Former Led Zeppelin bassist John Paul Jones unveils his new project
Former Led Zeppelin bassist John Paul Jones revealed he had teamed up with Finnish cellist Anssi Karttunen in new outfit Sons Of Chipotle, with a pair of shows set to take place in Tokyo in September.
Kim Thayil wants to complete work on unfinished Soundgarden tracks
The Soundgarden guitarist is keen to complete work on demos that he and the band were working on before the death of Chris Cornell – but he reports they're not in possession of the files.
NASCAR's Tyler Reddick shows off his Megadeth-branded Chevrolet Camaro
Megadeth have teamed up with NASCAR Xfinity Series champ Tyler Reddick for a Vic Rattlehead-branded Chevrolet Camaro - and plan to release 1:24 replica.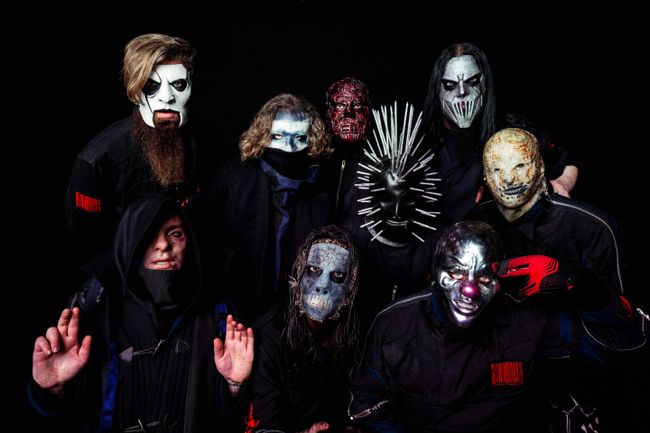 Slipknot roar back into view with video for Solway Firth
Slipknot's new album We Are Not Your Kind is only two weeks away – and the band turned up the hype by releasing a video for their new single Solway Firth.
Contrary to what you may believe, Bon Jovi's house IS actually for sale!
Bon Jovi's most recent studio album might be called This House Is Not For Sale – but for frontman Jon Bon Jovi, the title couldn't be further from the truth as the his "French-inspired chateau" which is situated on a 15-acre site has hit the property market.
Tool revealed their new logo ahead of album launch
We've been waiting a long time for the new Tool album, but it'll be with us at the end of next month. Confirming the release date, the band appeared to show off their new logo earlier this week.
Alter Bridge release new track Pay No Mind
Alter Bridge are preparing to release their new album Walk The Sky in October – and this week they whetted fans' appetites by launching their punchy new track Pay No Mind.
Behemoth share NSFW video for Sabbath Mater
Behemoth released an epic video for Sabbath Mater earlier this week - the latest track taken from their latest album I Loved You At Your Darkest.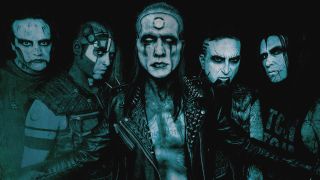 Wednesday 13 returns with new single and album details
Wednesday 13 confirmed his new album will be out later this year and it's titled Necrophaze. Along with the news, Wednesday 13 also dropped a spooky visualized video for the single Decompose.
Dream Theater will mark 20 years of Metropolis Pt.2 Scenes From A Memory on tour
Dream Theater will head out on the road across North America later this year on the Distance Over Time Tour – and they'll be celebrating the 20th anniversary of Metropolis Pt.2 Scenes From A Memory.