Post Malone: Ozzy said collaboration was the best thing he's done since Sabbath
Ozzy Osbourne took everyone by surprise when it was revealed he was to guest on Post Malone track Take What You Want, and in a new interview, the rap artist talked about the experience and what it meant to him and the former Black Sabbath frontman.
Green Day, Weezer and Fall Out Boy announce The Hella Mega Tour
The rumours had been swirling for days, but earlier this week Green Day, Weezer and Fall Out Boy finally revealed they'd head out on tour together across the UK, Europe and North America in 2020. And as if that wasn't enough, all three bands released new singles!
The Who detail new album, launch single and announce tour dates
The Who ended the week by announcing they would release their new studio album titled Who later this year. And as if that wasn't enough, the band released the new single Ball And Chain AND revealed a run of UK and Ireland tour dates for next year!
Slash pours cold water on rumoured Guns N' Roses Terminator track
The rumour mill went into overdrive last week when claims appeared online that Guns N' Roses were working on a new track for upcoming action flick Terminator: Dark Fate. However, Slash dashed fans' hopes this week when he dismissed the rumours.
Producer Nick Raskulinecz still can't believe he got the chance to work with Rush
Raskulinecz was behind the desk for Rush's last two studio albums 2007's Snakes & Arrows and 2012's Clockwork Angels and in a new interview, he reflected on the experience and how he even managed to get Alex Lifeson's 2112 amp in on the action.
Slayer announce The Repentless Killogy motion picture
Slayer will bring the curtain down on their legendary career later this year – and they'll be going out with a bang after it was revealed they would launch The Repentless Killogy film and live album in November.
Ghost go back to the 60s in video for new track Kiss The Go-Goat
Episode 8 of Ghost's ongoing video series started with appearances from Papa Nihil and Sister Imperator before segueing into a brand new promo for the band's new single Kiss The Go-Goat which carried a distinctly 60s vibe. They then followed that with another new track Mary On A Cross.
Su-metal: Yuimetal is still a member of the Babymetal family
Babymetal spoke about their former member Yuimetal who quit the band in October last year in an exclusive interview in the new issue of Metal Hammer magazine. And despite the split, there's clearly no animosity between the two camps.
Cult indie songwriter, musician and artist Daniel Johnston dead at 58
The influential underground artist who was championed by artists including Kurt Cobain, Tom Waits and The Flaming Lips died after suffering a suspected heart attack at his home just outside of Houston, Texas. Tributes to Johnston were paid from then world of music, TV and film.
The world of prog celebrated at annual awards bash
On Thursday evening, the great and the good from the world of prog gathered at The Underglobe in London for the 2019 Progressive Music Awards. Not only was Nick Mason there to be named this year's Prog God, but another 14 awards were handed out.
Kiss drummer Eric Singer is made an honorary cop
Kiss stickman Eric Singer was sworn in as an Honorary Corporal of the Wharton Police Department this week… while wearing his stage gear and makeup. The police reported that they were "humbled" to have the Kiss star join their ranks.
Montana police blast bison with AC/DC to herd them off the highway
AC/DC classic Hells Bells has kept fans headbanging for 39 years and can be routinely heard at sports events to keep fans entertained. But for police in Montana, the Back In Black track is being used, not to keep deputies rocking during their shifts, but to help clear bison from busy highways in West Yellowstone.
Slipknot's Jay Weinberg meets teenager whose blistering cover of Unsainted went viral
After blowing up the internet with her drum cover of Slipknot's Unsainted, 14-year-old Maren Alford got the chance to meet drummer Jay Weinberg in Dallas when the Knotfest Roadshow rolled into town.
Tool's Fear Inoculum dislodges Taylor Swift from top of the charts
The release of Tool's new album Fear Inoculum turned this week's charts on its head and managed to knock Taylor Swift from the top spot on the Billboard 200 chart… and Maynard James Keenan wasn't slow to react.
Five Finger Death Punch detail European headline tour with Megadeth
Last month, Five Finger Death Punch, Megadeth and Bad Wolves launched a website announcing their intentions to tour together… and this week, all the details will be revealed. Ivan Moody and co later teased fans with a clip of new material.

Below, find all the biggest news stories from September 2 - September 7
Could Guns N' Roses be working on a track for Terminator: Dark Fate? Well, according to online sources, that's exactly what Guns N' Roses have been doing – although there's been no official word from the band. The film will see Arnold Schwarzenegger and Linda Hamilton reprise their roles as The Terminator and Sarah Connor, with the movie set for release on October 23.
Metallica donate €1.5 million to charity on European leg of WorldWired tour Metallica recently wrapped up the latest leg of their European WorldWired tour, with the band revealing this week that €1.5 million was raised for charity during the 25-date run. James Hetfield, Lars Ulrich, Kirk Hammett and Robert Trujillo issued a statement thanking fans for their support.
Freddie Mercury solo box set detailed On Thursday, on what would have been Queen frontman Freddie Mercury's 73rd birthday, it was revealed that a collection of his solo work would be released later this year. Never Boring brings together his albums, a new compilation and much more.
Kiss star Paul Stanley reacts to latest mass shooting in the US Kiss vocalist and guitarist Paul Stanley said that "prayers and sympathy are not enough" after a gunman killed seven people and injured 22 more in Odessa, Texas, last weekend.
Roger Waters performs a Pink Floyd classic at pro-Julian Assange rally On Monday, Roger Waters appeared at a rally in support of Wikileaks founder Julian Assange and performed an acoustic version of Pink Floyd classic Wish You Were Here. Assange is facing extradition to the US over his alleged role in the release of classified military material in 2010, with a five day extradition hearing set for February 2020.
Korn launch new single and announce The Nothing podcast series Not only are Korn about to release their new album The Nothing next week, but the band also announced that a six-part podcast series would launch to tie in with the album. And that's not all – they also unveiled their new single Can You Hear Me.
Jay Weinberg recreates the moment he first met Slipknot as a youngster After a video appeared earlier this year showing Jay Weinberg meeting his Slipknot idols when he was a youngster, the drummer recreated the moment with his father Max before their recent show in New Jersey.
Fred Durst's new film The Fanatic bombs at the box office
Limp Bizkit frontman Fred Durst released his new movie starring John Travolta in the US last week. But despite the draw of the big-name actor, The Fanatic failed to spark interest in its opening weekend – grossing just over $3000.
Motley Crue announce Dr. Feelgood 30th anniversary reissue
Motley Crue announced that they would celebrate the 30th anniversary of their fifth studio album Dr. Feelgood with a reissue. It'll feature the full album along with studio demos, with the deluxe edition containing the album on 'coke bottle green' vinyl, CD, three 7-inch picture discs and more.
Marillion detail Afraid Of Sunlight deluxe edition
After Marillion announced plans to reissue their 1995 album Afraid Of Sunlight, the band revealed what's in store for fans when it drops in November. There's a 2019 remix, live cuts, a documentary, studio jams and more.
Bring Me The Horizon to support Babymetal in Japan
Babymetal have lined up two shows at Saitama Super Arena on November 16 & 17 and at the Osaka Jo Hall on November 20 & 21 in support of their new studio album Metal Galaxy, which will be released on October 11 – and Bring Me The Horizon will be their special guests.
Lamb Of God announce first UK headline tour in 6 years
Lamb Of God announced this week that they were coming back to the UK in 2020 – six years after their last headline tour. And that's not all as they'll be bringing Kreator and Power Trip along for the ride.
Tool's Maynard James Keenan: Justin Bieber is probably a good kid
After causing a bit of an uproar on social media earlier this year after finding out pop star Justin Bieber was a Tool fan, Maynard James Keenan explained exactly why he used the hashtag #bummer when he discovered the news.
Sabaton injured in car crash in Tunisia
Sabaton reported they were left "broken, badly beaten, bleeding and stitched up" after they were involved in a car crash after filming a video in the Sahara desert earlier this week. As a result, the Swedish outfit cancelled their planned show in Gdansk, Poland.
Judas Priest's Rob Halford announces new Christmas album
We might only be in the beginning of September, but that hasn't stopped Judas Priest frontman Rob Halford from announcing a new Christmas album. The Metal God marked the news of the Celestial record by releasing a video for Donner And Blitzen.

Below, find all the biggest news stories from August 26 - August 31
Ozzy Osbourne: 2019 has been one of the most f*****-up years of my life It's been a tough year for Ozzy Osbourne. The Prince Of Darkness has battled pneumonia, blood clots and had a nasty fall at home which forced him to postpone all of his 2019 tour dates. And he was pulling no punches when he spoke about what the last eight months have been like for him.
Brian Johnson on the tropical storm that inspired AC/DC classic Hells Bells Brian Johnson will be a guest on the new series of AXS TV's The Big Interview, with the vocalist telling host Dan Rather about the tropical storm that inspired AC/DC's classic Back In Black track Hells Bells. The full episode will be broadcast on October 1.
Jon Bon Jovi reveals title of band's new album Jon Bon Jovi has been sailing around the Mediterranean on the Runaway To Paradise music cruise – and this week the vocalist gave the 2500 fans onboard a treat when he revealed the name of Bon Jovi's upcoming studio album.
Pink Floyd: The Later Years box set detailed A deluxe box set focusing on Pink Floyd's material from 1987 onwards was announced this week – and it's quite a collection. It's spread across 16 discs and features remixed studio albums, live records and a host of other bonus material
Roger Waters reveals another clip from Us + Them Roger Waters' Us + Them concert will premiere at the Venice International Film Festival on September 6 and go on general release on October 2 and 6 – and this week, Waters shared footage of Pink Floyd's The Dark Side Of The Moon classic Us And Them from the performance.
Guitarist Neal Casal dies at the age of 50 The musician who played with Chris Robinson Brotherhood, Blackfoot, Ryan Adams & The Cardinals, along with dozens of other artists, died at the age of 50 earlier this week.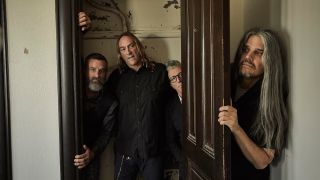 Tool announce North American tour
Tool launched their long-awaited new album Fear Inoculum on Friday along with videos to some of their best-loved tracks. And as if that wasn't enough, the band revealed details of a 26-date North American tour that'll take place later this year.
Leprous return with new single and album
Leprous revealed they would release their new studio album titled Pitfalls later this year – a record vocalist and keyboardist Einar Solberg says is "not only by far the biggest production and musical departure we've done, but the also most personal and honest." And to mark the announcement, the band also launched a video for the track Below.
Godsmack's Sully Erna helps land a knockout blow
Godsmack frontman Sully Erna was a corner coach for David Tubbs in a recent boxing match, which also helped raise money for The Scars Foundation. And Erna's coaching career got off to a flying start when Tubbs knocked out Ranieri Souza in just 18 seconds!
Corey Taylor talks Slipknot's unreleased material from 2008
When Slipknot were recording their 2008 album All Hope Is Gone, Corey Taylor, Shawn 'Clown' Crahan, Jim Root and Sid Wilson set up in a separate studio and began to record. The results have still to be released, with Taylor revealing that the tracks carried "a Radiohead vibe."
Peter Murphy gives health update after suffering heart attack
Bauhaus frontman Peter Murphy checked in this week to give fans a health update after he suffered a heart attack before a show in New York City earlier this month. Murphy reported that he's made a full recovery and was now "up and running again."
Foo Fighters and Rick Astley rickrolled the Reading Festival
Foo Fighters thrilled the crowds at the Reading and Leeds festivals last weekend, but it was their set on Sunday night which had people talking. Foos leader Dave Grohl teased fans into thinking the band were about to launch into an old Nirvana classic, only for 80s pop star Rick Astley to hit the stage and give the crowd something a little different!

Below, find all the biggest news stories from August 19 - August 24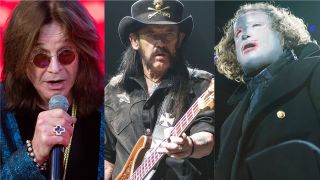 Ozzy: "I was in agony beyond anything I ever experienced before in my life" Ozzy Osbourne spoke this week about his fall at home which resulted in the vocalist having to shelve his entire 2019 touring schedule.
The Price Of Darkness is working with occupational therapists to get him back to his old self, with the rocker hoping to be fully fit in time for his UK and European tour in early 2020.
Ozzy Osbourne reveals solo career-spanning vinyl box set Ozzy will also release the See You On The Other Side vinyl box side in November. Not only does the limited edition package cram in his solo albums, it'll come with a host of extras, including a disc of non-LP tracks.
Lemmy's long-lost duet with Lynda Kay surfaces Late Motorhead icon Lemmy began writing The Mask back in 1979 and hooked up with Americana Star Lynda Kay in 2009 to finish the recording process – and it'll appear on Kay's brand new album Black & Gold.
Plague concerns disrupt Phish fans' plans While Phish are gearing ups for three shows near Denver at the end of August, it was revealed that fans planning on camping overnight would have to find other arrangements after cases of plague in prairie dogs in the area was reported.
Die Antwoord dropped from festivals amid claims of homophobic abuse Chicago's Riot Fest became the latest festival to drop Die Antwoord after a video from 2012 surfaces showing an altercation between the band's Ninja and Hercules and Love Affair's Andy Butler.
Slipknot reveal their 2020 touring plans for the UK and Europe Earlier this summer, Slipknot announced their intentions to tour across the UK and Europe in 2020 in support of their new album We Are Not Your Kind – and this week the Iowa heroes divulged all the information, including dates, cities and venues. Next year can't come soon enough!
Have Slipknot fans finally unmasked the mysterious Tortilla Man? Well, it appears they might well have done after Reddit users did some more digging after Slipknot guitarist Jim Root gave up some interesting information about their new percussionist in a recent interview.
Roger Waters shares live clip of Pigs from Us + Them concert film
Roger Waters' Us + Them film will have its premiere at the Venice International Film Festival and be screened around the world in October.
This week, in a Prog exclusive, Waters shared a live clip from the concert film showing him playing 1977 Pink Floyd track Pigs (Three Different Ones).
Canned Heat bassist Larry Taylor dies at 77
It was revealed earlier this week that Larry 'The Mole' Taylor had died at his home in California following a 12-year battle with cancer.
Along with his work with Canned Heat, Taylor was an accomplished session musician, lending his talents to artists including The Monkees, Albert King, Buddy Guy, Charlie Musselwhite, JJ Cale, Ry Cooder, Harvey Mandel, John Mayall, John Lee Hooker and Tom Waits.
Killswitch Engage hook up with Howard Jones in The Signal Fire video
Killswitch Engage fans have been waiting for this video with baited breath ever since the collaboration was first announced in April 2018.
The video for The Signal Fire sees former Killswitch frontman Howard Jones trade vocals with current vocalist Jesse Leach - and the result is something very special.
Rush's Clockwork Angels Tour set for 5LP vinyl set
Rush might have brought the curtain down on their career back in 2015, but there's still plenty of reasons for fans of the trio to get excited about.
This week, it was revealed that their live 2013 album documenting their Clockwork Angels tour would be reissued across five heavyweight vinyl discs – a collection that features a total of 33 tracks.
Five-year-old Foo Fighters fans steals the show in Belfast
When it comes to inviting fans on to the stage, nobody does it quite like Dave Grohl and Foo Fighters. And this week at their show in Belfast, they gave five-year-old Taylor the opportunity to join them – and the youngster made the most of it by dancing his way through All My Life, much to the delight of the crowd.
David Hasselhoff recruits Todd Rundgren, Ministry and Tracii Guns
After reporting in April that he'd like his new album to have more of a metal edge, actor and singer David Hasselhoff came through on his promise by inviting a host of artists – including Ministry – to play on his Open Your Eyes record.
US Justice Department backs Led Zeppelin in Stairway To Heaven trial
With the Stairway To Heaven legal battle set to return to court in September, Led Zeppelin were given the backing by the Trump administration's US Justice Department. The news came after more than 100 artists pledged their support for Zeppelin earlier in the month.
Rocketman star Taron Egerton to narrate Elton John audiobook
Fresh from his portrayal of Elton John in the hit film Rocketman, it was revealed that actor and singer Taron Egerton will narrate the audiobook version of Elton's upcoming autobiography Me.

Below, find all the biggest news stories from August 12 - August 17
Tool: We received death threats over album delay
Tool reveal that frontman Maynard James Keenan received death threats from fans over delays in releasing upcoming album Fear Inoculum.
DNA research claims Ozzy is a "genetic mutant"
Yes, you read that right. Ozzy Osbourne, The Prince Of Darkness himself, has had his DNA studied – and the final results throw up some very interesting information – which has been documented in professor Bill Sullivan's new book Pleased To Meet Me: Genes, Germs And The Curious Forces That Make Us Who We Are.
New Gene Simmons Pokemon lookalike draws a reaction from the Kiss star
When Nintendo unveiled a selection of their new characters from upcoming Nintendo Switch games Pokemon Sword and Shield, there was one in particular that caught the eye of rock fans and Kiss star Gene Simmons.
Judas Priest's Glenn Tipton Foundation raises more than $150,000
Judas Priest's Glenn Tipton delivered a personal message to fans earlier this week to announce that the Parkinson's disease charity set up in his name had raised $150,000.
Cash raised on behalf of the foundation is going towards pioneering new research into the disease.
Tool's Fear Inoculum breaks Billboard chart record
Not content with smashing into the charts thanks to their new presence on digital and streaming platforms, Tool went one better this week and broke a record on the Billboard charts with their Fear Inoculum single.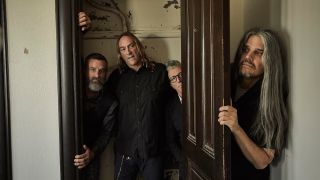 Mr Bungle reunite for first live shows in 20 years
Mike Patton, Trevor Dunn and Trey Spruance will play their 1986 demo tape The Raging Wrath Of The Easter Bunny live at three shows in the US early next year - and they'll be joined by Anthrax's Scott Ian and former Slayerdrummer Dave Lombardo.
Steve Hackett details new live orchestral album
Steve Hackett revealed that he would release Genesis Revisited Band & Orchestra: Live At The Royal Festival Hall - recorded during the guitarist's 2018 tour with the 41-piece Heart Of England Orchestra.
Hackett marked the news by releasing a trailer for the live package, giving fans a flavour as to what they can expect.
The Clash's London Calling exhibition will open its doors in November
This new exhibition will be held at the Museum Of London from mid-November and has been organised in celebration of the 40th anniversary of The Clash's London Calling album.
Among the exhibits will be Paul Simonon's bass which he famously smashed at The Palladium in New York City – an image that was captured by Pennie Smith and used on the iconic cover.
Metallica's James Hetfield talks about THAT …And Justice For All mix
It might have been released way back in 1988, but people are still talking about the Metallica's …And Justice For All – and in particular why Jason Newsted's bass was buried deep in the mix.
New Suzi Quatro documentary gets its first trailer
The upcoming Suzi Quatro documentary about the career of the vocalist, bassist and songwriter, who became the first female rocker to break into the mainstream in the 70s, will be released in October. And this week saw the first trailer released.
The documentary will feature interviews with artists including Joan Jett, Debbie Harry, Lita Ford, Cherie Currie, Tina Weymouth, Donita Sparks, Alice Cooper and KT Tunstall, along with members of Quatro's family.
Corey Taylor: There are too many f****** guns in America
The Slipknot frontman made the comments just two days before 22 people were killed and a further 24 injured in a mass shooting at a Walmart in El Paso. Just hours later, another nine people were were killed and 27 injured in a separate shooting in Dayton, Ohio.
The interview was published last weekend with Taylor saying: "There's a very toxic gun culture here, it's a cult and it worries me."
Rush release live Distant Early Warning clip
On August 21, for one night only, the new Rush film Cinema Stangiato: An Annual Exercise In Fan Indulgence will be released in cinemas around the world.
And, to whet fans' appetites, a video of Lerxst, Dirk and Pratt playing their 1984 Grace Under Pressure track Distant Early Warning was released, with the footage captured on the trio's final R40 tour.