Mick Jagger "on the mend" after heart surgery
The Rolling Stones frontman checked in earlier this week to let fans know that he's recovering well after his recent heart valve replacement procedure.

Slash liked The Dirt but can't see a Guns N' Roses film happening
There seems to be music biopics everywhere at the moment – but don't expect one involving Guns N' Roses, says Slash.

Iron Maiden's Bruce Dickinson made honorary citizen of Sarajevo
He played a solo show in the middle of the siege of the city in 1994 – now Bruce Dickinson has been honoured in the capital of Bosnia-Herzegovina.

Corey Taylor announces engagement to Alicia Dove
All thoughts of the new Slipknot album were moved to one side this week, after it was revealed that Corey and his girlfriend Alicia Dove were trying the knot.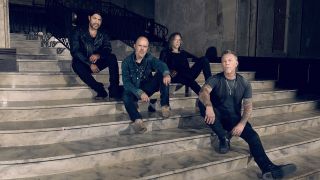 Metallica call on fans to volunteer at their local food bank
For the second year running, Metallica team up with Feeding America for a Day Of Service to help tackle hunger across the US.

Jason Bonham: Jimmy Page gave me cocaine when I was 16
Drummer Jason Bonham recalls the moment he was introduced to cocaine by Led Zeppelin's Jimmy Page when he was a teenager: "I just did all of it," he says

King Crimson's studio albums will be streaming soon
All 13 of King Crimson's studio albums are coming to streaming services this year as part of the band's 50th anniversary celebrations.

Fleetwood Mac postpone remainder of North American tour
After replacing the Rolling Stones at New Orleans Jazz Fest due to Mick Jagger's heart surgery, Fleetwood Mac are forced to cancel performance as Stevie Nicks recovers from flu.

Confirmed! AC/DC have been back in the studio
AC/DC's longtime engineer and mixer Mike Fraser reported that the band have indeed been back in the studio and have been "doing something."

The full extent of Ozzy's injuries are revealed
Ozzy Osbourne's wife and manager Sharon Osbourne spoke of the injuries Ozzy sustained after falling recently – an accident that led to the postponement of all of his 2019 tour dates.

David Hasselhoff is going heavy on his new album
It's true! The Baywatch and Knight Rider star says his new album will contain some heavy metal. We need to hear this right now!

Five Finger Death Punch and Brian May team up for charity single
The unlikely collaboration saw Five Finger Death Punch, Queen's Brian May, Kenny Wayne Shepherd and Brantley Gilbert release a video for Shepherd's track Blue On Black.

Geddy Lee joins The Claypool Lennon Delirium for Beatles cover
Rush bassist Geddy Lee joined Les Claypool and Sean Lennon onstage at their show in Toronto... and the result was something special.

Below, find all the biggest news stories from April 1 - April 5.
Ozzy cancels all his 2019 live dates after surgery
Ozzy Osbourne was forced to pull the plug on his entire 2019 touring schedule and will remain "under doctor's care in Los Angeles" after sustaining a recent injury.

Def Leppard are inducted into the Rock And Roll Hall Of Fame
Queen's Brian May inducted Def Leppard into the Rock Hall, while Joe Elliott and the boys ripped through a range of classic tracks AND led an all-star jam at the end of the ceremony.

It's Van Halen's Jump… but not as you've ever heard it before
Van Halen's David Lee Roth surprised everyone at Miami's Ultra Music Fest when he joined DJ Armin van Buuren onstage for a dance-inducing remix of Jump.

Motley Crue return to the charts thanks to The Dirt
Motley Crue enter the top 10 on the Billboard 200 chart with The Dirt soundtrack - their first album to reach such heady heights since 2008's Saints Of Los Angeles. The book the film is based on is also back in the charts.

Babymetal confirm that album no.3 is on the way
Babymetal confirmed that their new studio album would be released later this year – and it looks as if they're not replacing Yuimetal in the lineup.

Ted Bundy thriller starring Metallica's James Hetfield is heading to Netflix
After it had its premiere at the Sundance Film Festival in Utah earlier this year, it was confirmed that Extremely Wicked, Shockingly Evil And Vile will come to Netflix later this year – as a new trailer was revealed.

Slipknot's Sid Wilson checks in from the studio
As Slipknot continue work on their highly anticipated new studio album, DJ Sid Wilson gave fans an update on how work is progressing.

Queen's Roger Taylor releases his new solo single
Queen drummer Roger Taylor released his new solo single titled Gangsters Are Running This World this week – a sincere look at the current state of the world.

Yes announce the Royal Affair Tour
Yes will head out on the road this summer with special guests Asia, John Lodge of The Moody Blues, and Carl Palmer's ELP legacy featuring guest vocals from Arthur Brown.

From snow globes to skateboards - Slayer look back at 37 years of swag
Slayer look back at some of their favourite band-related merchandise in new video celebrating their legendary career.

Tool update their logo with new 2019 image
Tool updated their logo on Facebook earlier this week to add the Roman numerals MMXIX – and even although it was a minor update, it sparked debate among fans.

Mick Jagger undergoes heart surgery in New York
After the Rolling Stones cancelled the North American leg of their No Filter tour, it emerged that vocalist Mick Jagger was to have heart surgery in New York.

The Darkness cancel Easter plans
The Darkness revealed this week that they'd release their new studio album later this year. It's titled Easter Is Cancelled… even though it's out in October!

Below, find all the biggest news stories from March 25 - March 29.
Nikki Sixx: Motley Crue fans love The Dirt, critics hate it
It's the film that some movie critics love to hate – but Motley Crue's Nikki Sixx says it doesn't matter as the fans are loving The Dirt.

Scott Walker dies at the age of 76
The influential singer, songwriter Scott Walker, who found fame in the 60s with The Walker Brothers and went on to push boundaries as an avant garde musician, died this week at the age of 76.

Big Big Train will go on a Grand Tour in May
Big Big Train revealed they would release their new studio album titled Grand Tour later this spring. It's said to be a "celebration of the human experience, of science and art, and of what it means to be alive."


Machine Head announce Burn My Eyes 25th anniversary shows
Machine Head took everyone by surprise this week by announcing that they'd play a series of dates to celebrate the 25th anniversary of Burn My Eyes with original drummer Chris Kontos and guitarist Logan Mader.

Rammstein shock the world with new video for Deutschland
We've been waiting a long time for the follow-up to Rammstein's 2009 album Liebe ist für alle da – but we won't have too much longer to wait for their eagerly-anticipated seventh record as they reveal its release date and new single Deutschland.

UK rapper Kid Bookie releases his collaboration with Corey Taylor
It seems an unlikely pairing: A UK rapper with one of metal's best-loved vocalists. But you know what? It works!

Who paid $14,000 for a letter written by AC/DC legend Bon Scott?
The three-page letter penned by late AC/DC vocalist Bon Scott when the band were on tour in the US in 1978 was purchased by a mystery buyer in January… now all has been revealed.

Voivod win their first Juno Award for The Wake
Canadian outfit Voivod had been nominated for a prestigious Juno Award on two previous occasions, but it was third time lucky for the band earlier this week.

Rob Zombie wants YOU to choose a track for him and Marilyn Manson to cover
After The Twins Of Evil covered Beatles classic Helter Skelter last year, Rob Zombie is looking for suggestions for another collaboration. This could get interesting!

Everclear's Art Alexakis reveals multiple sclerosis diagnosis
Everclear vocalist and guitarist Art Alexakis revealed that he was diagnosed with multiple sclerosis three years ago after he began to feel numbness in his arm following a car accident.

Slipknot share eerie vocal teaser from new album sessions
Slipknot released a short, grainy video featuring some strange and creepy vocals – as work progresses on their highly anticipated sixth studio album.

Online campaign launched to have Ozzy knighted
A petition on Change.org wants the Prince Of Darkness to be named Sir Ozzy Osbourne in light of his contributions to music. Could it happen?

Jon Anderson reads Prog magazine in his new video
Jon Anderson launched a video for his new track Makes Me Happy this week - which had a guest star in the shape of Prog magazine!

Below, find all the biggest news stories from March 18 - March 22.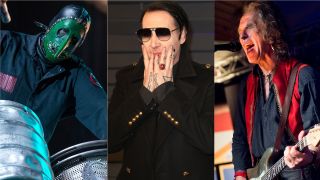 Chris Fehn leaves Slipknot
Slipknot have been putting the pieces in place for their new album, but the Iowa heavyweights announced that they'd be continuing without the services of percussionist Chris Fehn.

Marilyn Manson has almost finished his new album
As he prepares to head out on the road with Rob Zombie on the Twins Of Evil tour, Marilyn Manson reveals his new studio album is almost complete.

Surf rock pioneer Dick Dale dies at the age of 81
The King of the Surf Guitar Dick Dale passed away earlier this week. He was a hugely influential musician who helped popularise both surf music and the Fender Stratocaster.

Megadeth have eight songs in play for their new album
Megadeth leader Dave Mustaine checked in to say that although the band have eight songs for the follow-up to Dystopia, they still have more to come.

Jon Anderson is open to a Yes reunion
The former Yes vocalist reported this week that he was ready to hook up with his old bandmates, as he also revealed that his project with Trevor Rabin and Rick Wakeman was on indefinite hiatus.

Woodstock 50 reveals first wave of artists
The 50th anniversary of the legendary Woodstock festival will be celebrated in August – and artists including Robert Plant, David Crosby and Greta Van Fleet will be there.

Phil Anselmo's New Zealand shows cancelled after 2016 'white power' controversy
Clubs pointed to the vocalist's 'white power' gesture from 2016 as the reason why two shows were cancelled – with the decision coming in the wake of the Christchurch terror attacks which left 50 people dead.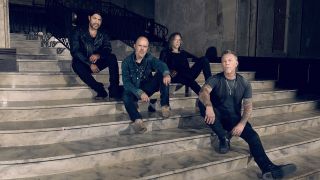 Metallica plan to mark the 20th anniversary of the S&M album
It's hard to believe that Metallica's groundbreaking live S&M album was released 20 years ago, but it hasn't escaped the band's attention – and they've lined up a one-off show in September with the San Francisco Symphony Orchestra.

Former Ozzy and Gillan guitarist Bernie Tormé dies at 66
Tormé's family confirmed the guitarist had died earlier this week after he had been admitted to hospital suffering from post-flu complications.

9-year-old guitarist shreds Guns N' Roses classic on US TV
Youngster Taj Farrant was a special guest on The Ellen Degeneres Show this week – and he surprised everyone with a blistering performance of Guns N' Roses classic Sweet Child O' Mine.

Steve Perry releases his first official music video in 25 years
Watch the former Journey vocalist drive around the bright lights of Hollywood in his brand new video for We're Still Here – his first since the 90s.

Below, find all the biggest news stories from March 11 - March 15.
Rob Halford confirms a new Judas Priest album will happen
The Priest vocalist says the reaction from fans to their latest album Firepower stands them in good stead for a new studio release.

Watain slam Singapore's "tragic excuse for a government" after ban
Watain issued a statement after their show in Singapore was cancelled at the last minute following an online petition calling for them to be banned.

Drumming legend Hal Blaine dies at the age of 90
Blaine was a member of the famous Wrecking Crew group of session musicians.

Rush will celebrate their touring career with new book
Wandering The Face Of The Earth will be published later this year - and will feature every setlist, previously unpublished photos and a whole lot more.

Could we see Bohemian Rhapsody 2?
Well, according to Queen video director Rudi Doleful, a follow-up to the smash hit biopic is "being heavily discussed in the Queen family."

David Gilmour shares Jimi Hendrix connection
The former Pink Floyd man told Prog that he mixed the sound for Jimi Hendrix's 1970 Isle Of Wight set: "Not a lot of people know that," said Gilmour.

Motley Crue launch version of Madonna's Like A Virgin
Nikki Sixx says Vince Neil is "the least virgin guy I know" as the band release a cover of Madonna's Like A Virgin, taken from the soundtrack to the long-awaited Netflix release of The Dirt.

Megadeth will launch a graphic novel to mark their 35th anniversary
A new 350-page graphic novel is on its way - with each chapter based on tracks from Megadeth's career.

Metallica have begun "jamming" through new ideas
Metallica bassist Robert Trujillo says the band have been working on new ideas while they've been out on their WorldWired tour – and vowed to "get this one going sooner than later."

Steven Wilson takes aim at Greta Van Fleet
Steven Wilson didn't hold back when discussing rising Michigan stars Greta Van Fleet in a recent interview, calling their music "absolutely abysmal" and a "piss-poor, third-rate impersonation of Led Zeppelin."

Brian May to induct Def Leppard into The Rock And Roll Hall Of Fame
Queen guitarist will induct Def Leppard into The Rock And Roll Hall Of Fame later this month - as other special guests are revealed.