Quick menu
1. Quick links
2. Top US deals
3. Top UK deals
4. FAQ
5. Shopping tips
6. How we choose deals
7. Why trust us
Just when you thought the Cyber Monday record player deals were over for another year, along comes news that some of the discounts are still live. That means that while the choice won't be quite as comprehensive as it was over Cyber Weekend, there's still the chance to grab a turntable for less.
If you want a recommendation without any messing about, Amazon have chopped down the price of the fully automatic Audio-Technica AT-LP3BK by 20%, taking the price down from $249 to $199. But you don't just have to be on the lookout for a new deck.
The wood-finished House Of Marley Stir it Up turntable is one of our favourite record players here at Louder - and in the UK Amazon still have 55% off the RRP - taking the price down from £219.99 to £99.90.
Just remember that these deals and the ones below could end at any time, so if you want a shiny new turntable and you see something you like, grab it. Good luck!
Cyber Monday record player deals: Quick links
Cyber Monday record player deals: US deals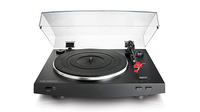 Audio-Technica AT-LP3BK: Was $249.99, now $199
Audio-Technica's AT-LP3BK turntable has a respectable $50 off on Amazon and is definitely worth your consideration. It's one of our favourites. It comes with a built-in phono preamp, sounds absolutely mint and is a steal for comfortably under 200 bucks. Take a look at our full 5-star review here.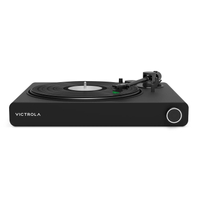 Victrola Stream Onyx: Was $599.99, now $399.99
In this deal, Best Buy has slashed a whopping $200 off one of the most stylish record players we've seen in recent years, reducing it from $599.99 to a much more affordable $399.99. Seeing as this fully manual, belt-driven, two-speed turntable offers great sound, a premium build, plus the ability to connect wirelessly to any Sonos speaker, we'd say that's an excellent discount.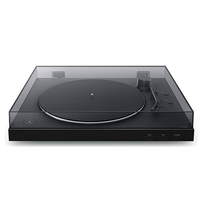 Sony PSLX310BT Bluetooth: Was $249.99, now $199.99
You can't really go wrong with a Sony product, and this Bluetooth stereo turntable currently being sold by Best Buy is a lovely little package. Offering stylish, minimalist looks, wireless connectivity, a USB output and a high-performance, moving-magnet cartridge, this fully automatic, belt-driven record player would make a great addition to any living room. With the retailer offering it for $50 less in the Black Friday sale, you can now get it for $199.99 instead of the usual $249.99. Read our five star review here.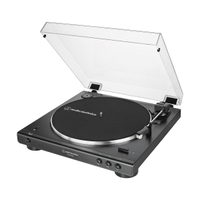 Audio-Technica AT-LP60X-BK: $230.99, now $179
Target has really hit the spot with this top deal. The fully automatic, belt-driven AT-LP60X-BK is an impressive mid-range turntable, marrying a chic aesthetic with some top-notch features (including a built-in phono preamp, a redesigned tonearm base and head shell, plus an anti-resonance, die-cast aluminium platter). And it's even more attractive now that the retailer has knocked 23% off the price. Read our full 4 star review here.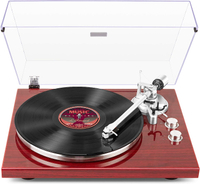 1 BY ONE Bluetooth turntable: $179.97, now $159.97
This belt-driven Bluetooth turntable delivers fantastic value for money with this 11% discount at Amazon. It has a diamond-tipped stylus for clarity and richness and you can hook it up to Bluetooth speakers or headphones.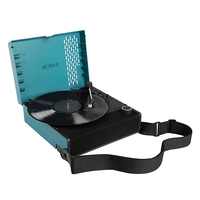 Victrola Revolution Go: Was $199.99, now $129.99
Victrola's Revolution Go is aptly named as it's the world's first rechargeable portable Bluetooth record player. Ideal for a camping trip as much as a party with friends... and Best Buy currently have it for sale with $70 off.
Cyber Monday record player deals: UK deals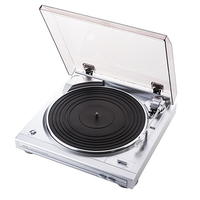 Denon DP-29F turntable: Was £169, now £99
This fully automatic, belt-driven turntable is rated 4.5 out of five by people who've bought it, so that tells you how good it is. Formed from a single piece of aluminium, the DP-29F packs some cool features, including a built-in RIAA phono equalizer and a high-quality moving-magnet cartridge. Pretty impressive considering you can now get it for just £99.99 in this hot Currys deal.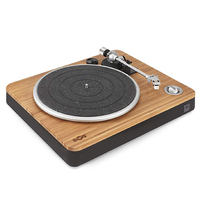 House Of Marley Stir It Up: Was £219.99, now £99.90
We're big fans of House of Marley's products here at Louder thanks to their sustainable philosophy and their top notch audio delivery. Right now you can grab the brilliant Stir It Up turntable at Amazon with £120 off.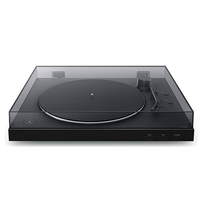 Sony PSLX310BT Bluetooth: Was £299, now £249
Imagine paying less than £250 for a turntable that scores 4.6 out of five based on more than 160 customer reviews and five stars in our review. Well, you don't have to imagine ­– Very has slashed a few quid off the price of this fully automatic, belt-driven deck. With wireless connectivity and a phono EQ built into this elegant spinner, that's a pretty mouth-watering deal.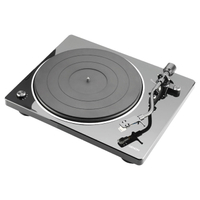 Denon DP-400 turntable: Was £529, now £449
The DP-400 is one of the nicest turntables we've seen in a while – but this semi-automatic, belt-driven deck is much more than just a pretty face, with features such as a built-in phono equalizer, a switchable moving-magnet cartridge and three-speed playback. With Very taking a generous £80 off the price, you can take home a VERY nice bargain.
Cyber Monday record player deals FAQ
When is Cyber Monday?
This year Cyber Monday is set to take place on Monday 27 November – and comes 3 days after Black Friday. Once an America-only event, the rise in internet shopping habits in particular means that just about everyone gets involved these days. If you have something on your wishlist, the likelihood is you'll find it for less, somewhere, on Cyber Monday.
As with previous years, we expect to see record player price drops in the weeks leading up to the big sales event and for a while after, too.
What deals should I expect?
Cyber Monday record player deals are going to be everywhere around November 27 and we're expecting turntable deals galore from audio masters including Sony, Rega, Audio-Technica, House Of Marley, ION, Victrola and more. In our experience, these are the main brands who get stuck into Cyber Monday pricing.
Deals can drop at any time, day or night while some stock could be limited and only stick around for a matter of hours. If you have a product in mind and you see it on sale, we suggest picking it up straight away to avoid disappointment.
This year, look out for price drops on turntables such as Rega's excellent Planar 3, plus the Technics SL-1500C and the Cambridge Audio Alva T. If we see something special, we'll let you know right here.
How to spot the best deals
Here at Louder, we'll keep you up to date on the best Cyber Monday record player deals we spot, bringing you our favourite products at the best prices, right here on this page.
But what should you be looking for as you shop? We recommend first finding the original RRP of the turntable you're looking for. Then you'll be able to see at a glance just how much of a deal you're actually getting.
Some record player deals will be cut by just a handful of dollars or pounds, while others could be reduced in price dramatically. Others might also come with added bells and whistles, such as bundled vinyl, or free speakers.
We expect to see the likes of Amazon, Argos, John Lewis, Very, Best Buy, Walmart, World Wide Stereo and AV Online to all chop chunks of change from their turntable stock. Keep Louder bookmarked so you don't miss any of the action.
Are Cyber Monday deals worth it?
Our experience of covering deals turntable year-round tells us that Cyber Monday is unequivocally the best time of year to find genuinely good offers on the top record player brands and the widest range of offers. It's a very lucrative time for the big online retailers, so they save their best deals for this time of year.
We did see some great deals around Amazon's Prime Day Big Deal Days event earlier this year, but we're hoping this is a great sign of things to come in the big Cyber Monday bonanza.
We only cover deals that we know are decent and represent the best prices of the year, so if you're overwhelmed by options and don't know which offers are genuinely worth your hard-earned cash, if we've not covered it on Louder then it's probably not worth your time.
Cyber Monday record player deals: How to prepare
With so many Cyber Monday record players deals coming down the pipe, to grab the top choice bargains, it really does pay to do a little prep work before you wade into the sales. Here's a handful of tips, base don our years of experience covering this event, to help you get the jump on the deals
1. Make notes: First off, make a note of the products you're interested in and mark down their current price. This will let you see at a glance how much of a saving there is on a product you really want. Amazon's list function really come into its own here as you can create individual folders to keep everything neat and tidy.
2. Decide your budget: It's easy to be tempted to dive right into a great deal when you see it, but keep your budget in mind before flinging your chosen product into the basket. You don't want to overpay for something you might find cheaper elsewhere. Here at Louder, we'll be keeping our eyes peeled for awesome deals across the internet and posting them right here for you to see.
3. Sell older products in advance: If you've got your heart set on on upgrading a bit of kit such as a turntable or Bluetooth speaker, selling your older model before the Cyber Monday music deals kick in could net you a decent chunk of change to spend on that shiny new bit of tech when the sales get under way.
4. Sign up to retailers' mailing lists: One of the quickest ways to get a heads up about what's going on sale or when the savings are due to begin is to sign up to an online retailer's mailing list. Getting this info early could steer you in the right direction of a top deal on a product you really want quickly. Sure, constant emails after the event can get a bit annoying, but you can always unsubscribe at any time you want. And of course, don't forget to keep this page bookmarked and check back regularly, too.
How we choose which deals to cover
We've reviewed many music products here at Louder over the years, with our team of experts and enthusiasts covering everything from headphones, speakers and turntables, to earplugs, books and smartphones.
That's given us a broad overview of what's going on across the musical landscape and allows us to compare and contrast products and pick out items that excite us and things we think you'll like too. That means there's no room for tinny-sounding headphones or speakers that don't cut the mustard.
Why trust us
Here at Louder, we've been covering big sales events including Cyber Monday and Amazon Prime Day for a number of years and have also created a wide range of buyer's guides and product reviews. In those we dig deep into the essential specs of a product and also give hands-on information about how it performs, how easy it is to use and if it's good value for money.
We test headphones, speakers and record players in a real-world environment - our living rooms or out on the streets as we feel this gives a more genuine insight into how you'll be using the product. If we're recommending a pair of earplugs for musicians, we test those either in the studio or up on stage to give accurate information.
We also give pros and cons for products in our buyer's guides, while all our reviews always feature a couple of alternative options to give you as much choice as possible when it comes to choosing something that's going to be right for you.
That means, when recommending which deals you should shop, we have the knowledge to point you towards products that we rate, at the best prices.
More Cyber Monday content