Looking to buy a present for your music-loving friend or relative this Christmas? Then you've come to the right place as we've hunted down the Christmas gifts for music fans so that you don't have to spend hours trawling the high street or the web for something they'll cherish.
Obviously, there are many facets to being a music fan. For some people, kicking back and listening to some classic tunes is their idea of heaven; others prefer to make their own melodies while strumming an instrument; and there are some who get their buzz from reading about the music that inspires them. Whatever it is that interests your special someone, you're sure to find a gift on our list that'll put a smile on their face.
Our gift ideas cover a wide range of budgets, too, meaning you should be able to pick up a perfect pressie no matter how much money you have in the bank. Just remember to order ASAP to ensure the items arrive before the big day.
Christmas gifts for music fans: Where to buy
If you want to get straight in on the gift-buying action, we've included a range of online shopping retailers on both sides of the Atlantic below where you'll find a huge range of great presents.
US
Why you can trust Louder Our expert reviewers spend hours testing and comparing products and services so you can choose the best for you. Find out more about how we test.
UK
Christmas gifts for music fans: Headphones, speakers & amps
If you're looking to snag a quality gift for a brilliant price, then the Cambridge Audio Melomania 1 Plus earbuds are definitely worth considering. Sure, they might not feature noise cancelling, but at this price, we're not complaining. There's up to nine hours of playback on a single charge - and that can be boosted to 36 hours with the included charging case. They also carry an IPX5 rating for sweat and water resistance and use Bluetooth 5.0. Want to know more? Then check out our Cambridge Audio Melomania 1 Plus review.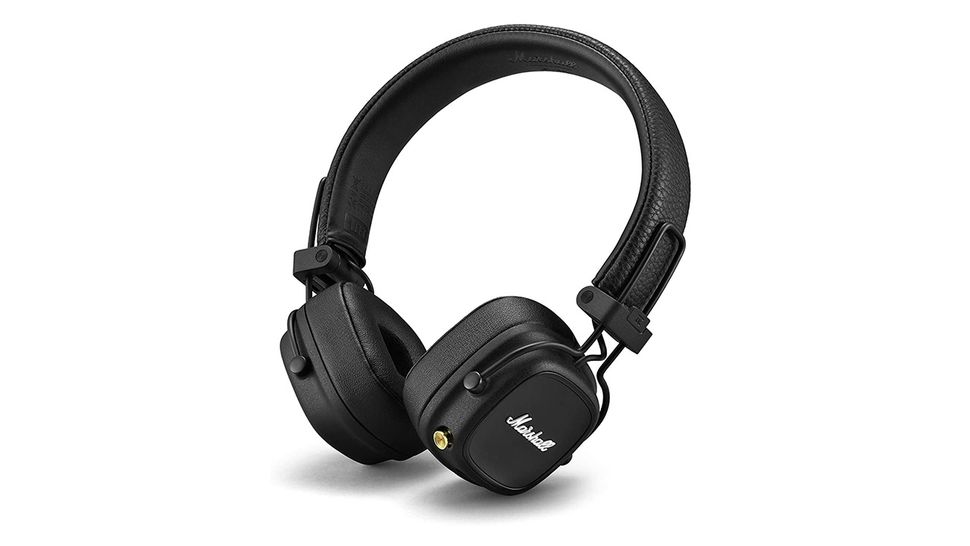 Marshall have been at the centre of the rock universe for decades, with their cabs adorning stages of some of the world's biggest acts. And when it comes to their home audio equipment, Marshall also deliver – and as a result, it's no surprise that they feature in our loudest Bluetooth speakers guide and our list of the best over-ear headphones on the market right now.
If you're looking for a great pair of Bluetooth headphones to give as a gift, we recommend the Marshall Major IV, which not only look the part, but also sound fantastic thanks to their aggressive take on rock and metal and beautiful balance.
Battery life is also awesome, with a fully charged up pair giving 80 hours of riffs, solos and drum beats – and let's not forget that a quick 15-minute charge will reward him with 15-hours of music.
House Of Marley were founded by Bob Marley's son Rohan and are known in audio circles for their range of headphones, speakers and headphones - and we've been really impressed with their in-ear Redemption ANC 2 headphones and think they'd make a great gift.
Not only do they deliver a lovely warm sound, but they're also incredibly comfortable to wear for extended periods. They carry an IPX5 rating meaning they're sweat and water resistant and while fully-charged, you'll get six hours of ANC playtime and eight in ambient mode. EQ settings can be tweaked through the dedicated House Of Marley app and overall we were very impressed with them, as you can read in our House Of Marley Redemption ANC 2 review.
The Redemption ANC 2 - like all House Of Marley products - have been made with sustainability in mind and have been crafted from bamboo, natural wood fibre composite and recycled plastic - and that's something we can all get behind.
Marshall's dinky portable Emberton Bluetooth speaker has only been on the market since the summer of 2020 but it's quickly made a name for itself and has gone on to become Marshall's top-selling speaker - and that's quite something when you consider how many established models are in the audio firm's range.
It carries the familiar Marshall script logo on the front and is perfect for outdoor use thank to its IPX7 water-resistance rating. It also boasts Marshall's True Stereophonic tech – a multi-directional sound which delivers 360° audio. In addition, it's loaded with Bluetooth 5.0 and has an audio range of 30ft. The Emberton comes in various colour combinations: Black, Black & Brass and Vintage Cream. For the price, this would make an idea gift this festive season.
If you want to buy your friend or family member one of the Loudest Bluetooth speakers currently on the market, then look no further than the bone-shaking Amazon Echo Studio – a real behemoth in the audio world. It has superior sound quality – which is reflected in the higher price – it comes with the super-intelligent Amazon Alexa on board, and it represents the smart speaker world finding a new level of sophistication and power.
Positive Grid's Spark amp turned heads when it launched back in 2020 thanks to its all-in-one design which is perfect for practice, learning and home recording. However, if you're looking for a rechargeable and more compact amp that still packs a punch then the Spark amp Mini will be music to your ears.
It's around a third of the size of the Positive Grid Spark amp and is a perfect pick-up-and play option for guitarists. It also doubles as a Bluetooth speaker and like its older sibling is packed with features including Smart Jam, many of which are accessed through the Spark smartphone app. That includes a whopping 10,000 different electric guitar, acoustic guitar, and bass amplifier/effects, so your guitarist friend or relative will be able to noodle away to their heart's content. A perfect gift, whether they're beginner or pro.
Christmas gifts for music fans: Vinyl & turntables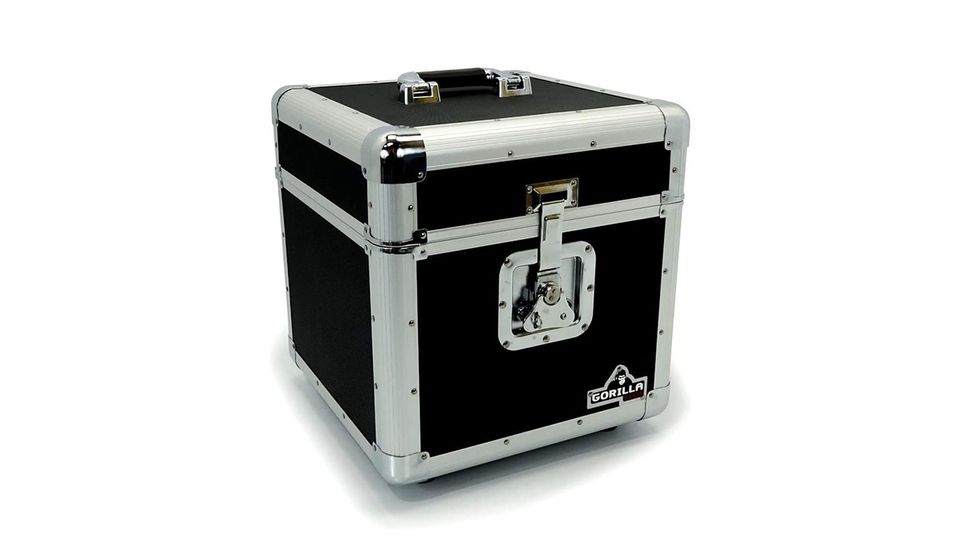 Does your friend or loved one have that really annoying habit of leaving their vinyl collection spread all over the floor? Perhaps they don't even have the common decency to organise their records in alphabetical order which is, frankly, unforgivable. If these issues ring a bell, then perhaps a vinyl storage solution would help mend their messy ways – or at least encourage them to take more care of their LPs.
Thankfully, Gorilla are on hand to offer some solid vinyl storage, with this robust box able to safely store 100 12-inch records. And, despite its chunky appearance, the record storage box is surprisingly lightweight and can be easily moved around.
Giving someone a present that can't be found on the high street is always pretty cool, and it's even better if that present just so happens to look absolutely awesome.
Available on Etsy, this handmade piece of wall art by Dutchess Wall Decor (opens in new tab) sees a real-life copy of Led Zeppelin's self-titled debut album displayed upon a precision-cut mat and within a choice of black or coloured frames. OK, so it's not the first pressing of the album with the red and plum label, but that won't matter to your Zep-loving friend or family member, who'll have it hanging up on their living room wall before you can say Communication Breakdown.
And if the person you need to buy a gift for doesn't like Led Zeppelin, no problem – there are lots of other album choices on the Etsy seller's page.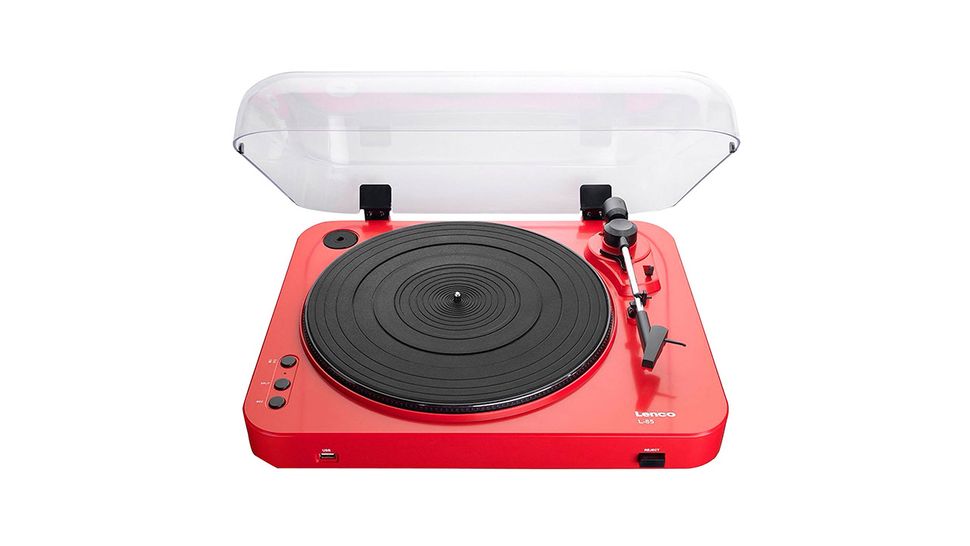 When it comes to choosing something from the best turntables online, it can be a bit of a minefield. Prices vary dramatically and you'll have to weight up whether a phono pre-amp and a USB connection are needed, and figure out if the record player has digital capabilities.
Thankfully, Lenco have come up with a cracker in the shape of the Lenco L-85 which has just about everything your friend or loved one will need under the shiny red hood thanks to being a semi-automatic, belt-driven turntable with a built-in phono stage and the ability to record via USB.
OK, it can look a little plasticky, but with a choice of colours and its ease of use, this would make a great present. You really can't go wrong with this option.
And if you're on the hunt for vinyl to gift, here are the 20 best classic rock albums to own on vinyl.
Christmas gifts for music fans: Posters
Think periodic tables are boring? Well, check this one out. Etsy seller Northern Line Studio (opens in new tab) - who have loads of neat poster designs - have designed a poster that reimagines some of history's most iconic music artists as 'elements'. So, Nirvana are 'Ni', Genesis are 'Ge', Public Image Ltd are 'Pb', and so on. These entries have then been colour-coordinated to match their genre, whether it be alternative/indie, electro, ska/reggae or whatever.
Northern Line Studio say: "A play on the Periodic Table in which the chemical elements and their symbols have been converted into famous bands and solo artists. Other categories include alt rock, electro, hip hop and rock. Other bands have been included under the title 'Other Matters and Substance'. The dates reflect the year each band or artist first performed."
Available either framed or unframed, this A2-sized poster doesn't have any scientific basis to it, but your loved one is unlikely to care when it's hung on their wall looking cool and colourful.
When I was growing up in the 80s, the vast majority of music I had was in cassette form - perfect for my double tape deck music system. While this format has enjoyed a bit of time in the limelight over recent years, they are regarded more of a curio than serious way to digest music. However, those of us of a certain age would be absolutely delighted to receive this poster by Mister Mustard Prints over at Etsy.
Highlights in this A4-A1-size print include Iron Maiden's The Number Of The Beast, Slayer's Reign In Blood, Metallica's "Black" album and Guns N' Roses ' Appetite For Destruction. There's even a nod to Nightfall by Candlemass which I had on tape back in the day. Love it!
Whether they hang it above the breakfast table or opposite the bed, your loved one will enjoy counting how many of the albums they had when they were younger. The only downside is that they won't be able to play them. That's where Alexa comes in...
If your friend or family member has been to the Download Festival in the past, then this piece of wall art will serve as a stylish memento of their trip. Sold on Etsy by Bucket List Print Show, the print is available in a wide range of sizes, and either framed or unframed, with prices starting from as little as £25.
The picture is one of a huge range celebrating iconic music locations, with everything from Camden's Electric Ballroom to Cream in Liverpool getting the graphic treatment. You never know, your gift might just inspire your loved one to build their own collection.
Imagine if some of your favourite songs were novels. That's what artist Todd Alcott has done with his series of cultural mash-ups at Etsy. Featuring covers of make-believe books including Paranoid Android, Heart-Shaped Box and Love Will Tear Us Apart, these clever prints marry the striking imagery of classic pulp fiction with slogans and motifs related to the song in question.
Perfect for music fans, these colourful creations would look awesome adorning a living room wall or music studio. We just wish that someone would actually write these books, as we're dying to read them!
Christmas gifts for music fans: Books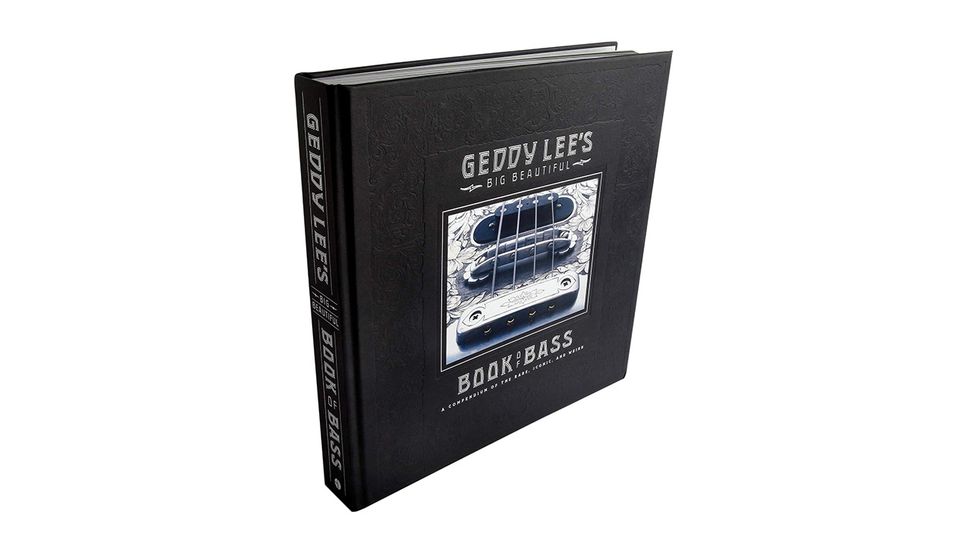 Rush legend Geddy Lee released his Big Beautiful Book of Bass in in 2018 and backed it with a series of in-store book signings across North America and Europe, which allowed some of us to meet the man face to face. However, if your friend missed out on meeting Geddy on the road, then the next best thing is to pick up this lavish coffee table publication for them to pore over.
Spread across 400 pages, Geddy highlights a selection of the basses he owns, which have all been meticulously captured by photographer Richard Sibbald. It's not even essential to be a Rush fan to appreciate what's in Geddy Lee's Big Beautiful Book Of Bass, with the book also featuring interviews with artists including Led Zeppelin's John Paul Jones, Metallica's Robert Trujillo, Primus' Les Claypool, and former Rolling Stone Bill Wyman.
Christmas gifts for music fans: Board games & jigsaws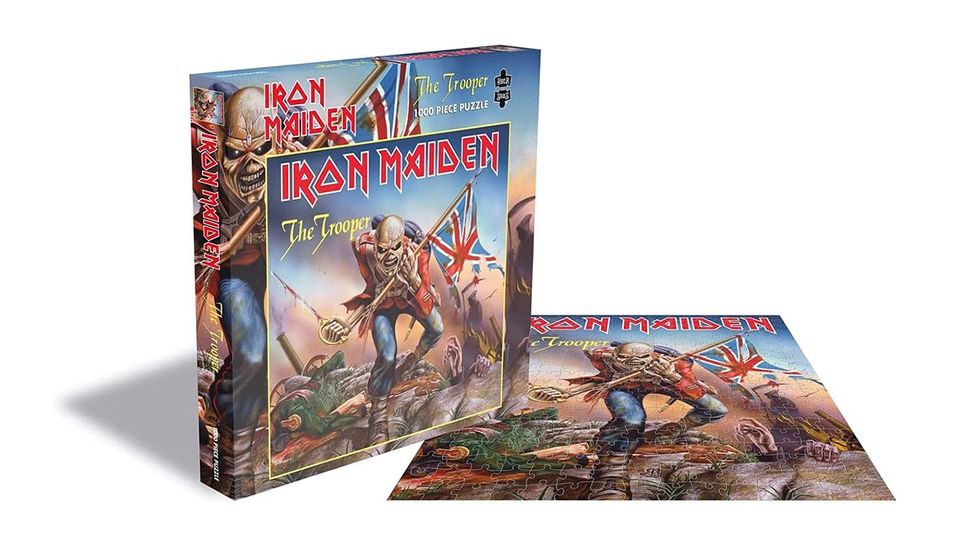 OK, we'll admit that settling down to vanquish a jigsaw puzzle isn't the most rock'n'roll way to spend a Wednesday night, but the Zee Productions RockSaws range are too good not to dive head first into.
Their officially licensed jigsaw puzzles come in 500 or 1000 piece variations, with each one depicting a classic album cover from some of the biggest names in rock and metal, including Metallica, Slayer, Kiss, Rush, Def Leppard, Alice Cooper, Queen, Guns N' Roses, Status Quo, Motorhead and Judas Priest.
One of our favourites is this 1000-piece jigsaw puzzle featuring the cover of Iron Maiden's The Trooper, with Eddie sweeping through a battlefield.
The whole range are also great to frame once complete and are pretty much guaranteed to be a hit with your rock-loving friend or relative.
Buying your special someone a standard Monopoly set for their birthday or Christmas wouldn't be very inspiring. But Queen Monopoly? Now, that's a whole different kettle of fish.
Instead of advancing to Pall Mall, Bond Street, Old Kent Road et al, you'll find yourself landing on properties such as Wembley, Hyde Park and The Forum in Los Angeles as you embark on a quest for world domination. As with the standard Monopoly, though, you'll need to avoid jail, taxes and bankruptcy – after all, what would the tabloids say?
With loads of Queen-related references and a set of game pieces that are themed around the band's iconic songs, this special-edition Monopoly will make your friend or loved one go Ga Ga.
Christmas gifts for music fans: Collectables & quirky gifts
Much like socks, guitar picks have a tendency to go missing – which is why it makes sense to have somewhere safe to keep them. Sold by Love From Clare on Etsy, these little storage boxes are sure to strike a chord with the musician in your life, designed as they are to look like vintage amps from Marshall, Peavey, Fender and other top brands.
With a lift-off lid and a removable storage tray, they're about as uncomplicated as you can get, making them ideal for musicians who like to start strumming as soon as the mood takes them. It's just a shame they're not big enough to store socks!
If your loved one is a fan of music and movies, then they're sure to appreciate this fantastic cotton t-shirt by Red Chilli Apparel (opens in new tab) on Etsy. It's a clever play on Queen's famous Bohemian Rhapsody video, it sees four Star Wars baddies: Darth Vader, Darth Maul, The Emperor and Kylo Ren, taking the place of the four band members, almost as if they've hijacked Messrs. Mercury, May, Deakin and Taylor for their own evil intent.
If you're after something a bit different, then Red Chilli Apparel sell a whole range of clothing inspired by popular culture, with everything from hoodies to beanies in its repertoire. And with sizes ranging from kids' right up to 5XL, you can find something for everyone you know.
And don't forget, if you friend or family member is a Star Wars fan, then you could also get them a subscription to Disney+ (opens in new tab) - home to the Star Wars universe.
If your music-loving friend or family member is an avid reader of Metal Hammer (opens in new tab), Classic Rock (opens in new tab) or Prog (opens in new tab) magazine - and let's face it, who here isn't? - then a gift of a mag-branded t-shirt will be the perfect fit this Christmas. There are loads to choose from, like a cammo-themed Metal Hammer shirt, a 1982 thrash t-shirt, and my personal favourite: a "Drink tea and listen to Prog" maroon tee.
The range is also currently on sale for the festive period, so it's the perfect time to jump in and pick up a couple.
Don't waste your money buying the horror fan in your life a DVD box set, as they can stream everything on one of the many TV and film streaming services these days. Instead, consider these brilliant cooking utensils, which feature characters and slogans from some of Hollywood's most famous scary films.
Sold by Custom Spoon Boutique on Etsy, the utensils are crafted from 100% organic, non-stick bamboo, which is not only good for the planet but will also prevent your loved one's saucepans from getting scratched while they're stirring their soup or porridge. Let's just hope you don't give them nightmares, eh?
Calling this rock hand a 'sculpture' is doing it a bit of a disservice. Designed by Etsy seller Horns In The Air and priced at £16, it could actually carry out a wide range of functions, from holding jewellery and headphones to scratching your arse.
Constructed from plaster with a bronze colouring, the hand features a velvet base that should prevent it from marking your loved one's mantelpiece or table. And since these gifts are handmade, no two sculptures will be exactly the same – meaning your gift will be truly unique.
Such is the value of classic vinyl these days, it's initially going to feel a bit weird plonking down a hot cup of tea on one of these drinks coasters – they look so much like the real thing! Once your loved one has got used to that, though, they'll love having these dotted around the home, highlighting what a cool dude they are.
Each coaster features an iconic band's artwork, with everyone from Led Zeppelin to Nirvana represented, and also comes with an anti-slip ring to ensure that glasses or bottles won't easily topple over. We'll drink to that.
Looking at concert tickets from decades ago makes some of us feel sad that we weren't alive to see such great bands in action. However, if your friend or family member was around back then, they'll love these rock-themed drinks coasters which are emblazoned with vintage American stubs.
Featuring legendary names such as The Beatles and Bowie, the handmade cork and wood accessories are sure to kindle nostalgia, but they'll also make for a great conversation starter as different generations argue about which era had the best music. One thing's for sure – gigs were a lot cheaper in those days. And if these artists aren't ideal, maker From The Shed also does packs containing rock and metal (opens in new tab), vintage punk (opens in new tab) and 90s grunge (opens in new tab)-themed coasters too.
Christmas gifts for music fans: Booze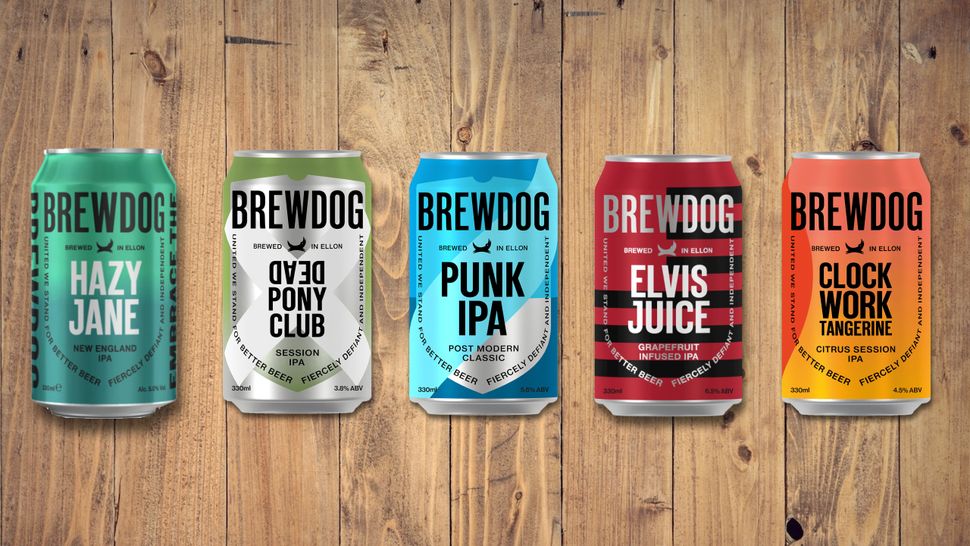 BrewDog have been quenching our thirst since 2007 and have poured out a number of fine bottles and cans since then thanks to their wide range of beers, limited edition concoctions, collaborative projects and cool bars all over the world. But with so many brews to choose, where do you start if you're looking for a gift for that special someone?
Over on BrewDog's official website (opens in new tab) you'll find a range of their best-sellers such as Punk IPA, Dead Pony Club, Elvis Juice, Hazy Jane and more. If that's still too many to choose between, BrewDog have created bundle packs of 24 or 48 cans which will go down a treat.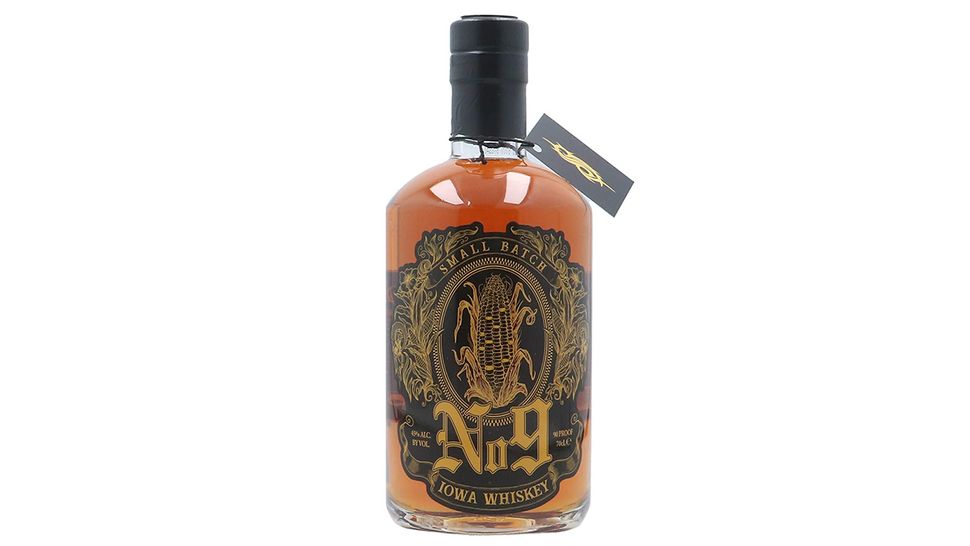 We already have Motorhead and Scorpions single malt whisky and Metallica's Blackened American whiskey – but there's always room for more and Slipknot are now keeping their spirits up with their No.9 Iowa whiskey. It's a collaboration with the Cedar Ridge Winery & Distillery and, like the bottles mentioned above, it's thoroughly enjoyable stuff.
The mash bill is made from 56% corn, 36% rye and 9% malted barley and special credit goes to Cedar Ridge for bottling it at 90 Proof (45% ABV) rather than watering it down to the bog standard 40% ABV (take note some Scotch whisky producers). Why is that important? Basically, more alcohol means more flavour and the No.9 Iowa whiskey has a lot of flavour.
Upon sipping, the recipient of your gift will find notes of honey, orchard fruits, lemon and chocolate – and then there's a lovely spicy kick from the rye to round everything off. Brilliant stuff from the Iowa favourites.
If your friend or family member is a fan of appreciating whisky, whiskey, bourbon, rye, rum or any type of quality spirits, then a Glencairn glass is a must. The tulip-shaped design allows the aromas to focus on top of the glass, giving your loved one more bang for their buck than a regular tumbler which lets those delicious smells waft away.
The Glencairn is industry standard and they're used around the world in good whisky bars, at whisky festivals and on distillery tours and tastings. They can be prone to breaking though, but this presentation pack contains two Glencairns, so it's all good. Word of advice: Tell the recipient of your gift not to put these in the dishwasher - hand-washing them is a much better option.
Christmas gifts for music fans: Subscriptions
If your friend or loved one is just starting out on their musical journey, then a subscription to Fender Play would make a brilliant gift.
Fender Play has been made specifically for those looking to learn guitar, bass or ukulele, and is the perfect way to get started, as the musical maestros at Fender have created bite-sized video lessons to help people play and learn at their own pace. And rather than being a chore, the lessons concentrate on popular songs to make learning engaging and, most of all, fun.
A Fender Play subscription costs $9.99/£9.99 per month or $89.99/£89.99 a year direct from the official website (opens in new tab), with the first seven days free to new subscribers – and no credit card is required during the week trial period. Once registered, you can then download the Fender Play app on either Apple Music (opens in new tab) or Google Play.
Even better, use this exclusive code louder50 at checkout to receive 50% off an annual subscription!
Disney+ has really made a home for itself in the packed TV and film streaming services sector thanks to a huge range of films, series and documentaries that go way beyond the traditional Disney fare. Of course, all those family favourites are available, but for music fans there's plenty to get stuck into. That includes Peter Jackson's Beatles doc Get Back, Pam & Tommy, Sex Pistols' biopic Pistol and Queen's smash hit flick Bohemian Rhapsody. As if that wasn't enough, the entire Star Wars saga is available, the Marvel universe is there to explore in full, all those brilliant Pixar films and shorts, along with National Geographic features and hours of thrillers, horrors, comedies, dramas, musicals and more through the Star channel. A monthly sub costs $7.99/£7.99 a month and would make a great gift.
Christmas gifts for music fans: Cards & gift wrap
When choosing a perfect present, don't forget about the all-important wrapping paper and Christmas card. There are loads of options out there, but we particularly like the products that are sold through Etsy, such as this awesome retro-themed music cassette gift wrap (opens in new tab)
Christmas gifts for music fans: Last minute gift cards
If you've left getting something special for your friend or family member until the last minute, don't worry – we have several gift card options available from some of the biggest online retailers. All the ones we've selected have the option to be delivered to your their email address on the day itself. Phew!