Gifts for music lovers: Quick menu
1. Editor's picks
2. Headphones
3. Speakers
4. Vinyl & turntables
5. Posters & art
6. Books
7. Games & jigsaws
8. T-shirts
8. Quirky gifts
9. Booze
10. Subscriptions
11. Cards & paper
12. Gift cards
13. Where to shop
The festive season might seem a long way off, but I find that by getting my shopping done early, I can relax a bit more nearer the time and not fret over those last-minute, desperate panic buys. So to help you secure a gift or two, I've come up with a list of Christmas gifts for music lovers which covers a whole range of products at a variety of prices.
In the list below, you'll not only find headphones, portable Bluetooth speakers, a neat vinyl storage solution, awesome posters with a difference and guitar lessons, but there's also essential rock books, board games, music-themed jigsaws, band-branded spirits, beer, gift cards, wrapping paper and more. I've also tried to pick out products that cover a spread of prices so you can either splash out, or keep to a tight budget.
In addition, I've also included a list of reliable online retailers at the bottom of the page to hopefully give you further options to grab a great Christmas present or two with a rock'n'roll twist before the festive season kicks in.
Editor's picks
Before I get into the guide proper, I've picked out six products from the list that I think will be of interest. Further details on the items can also be found further down the page.
Headphones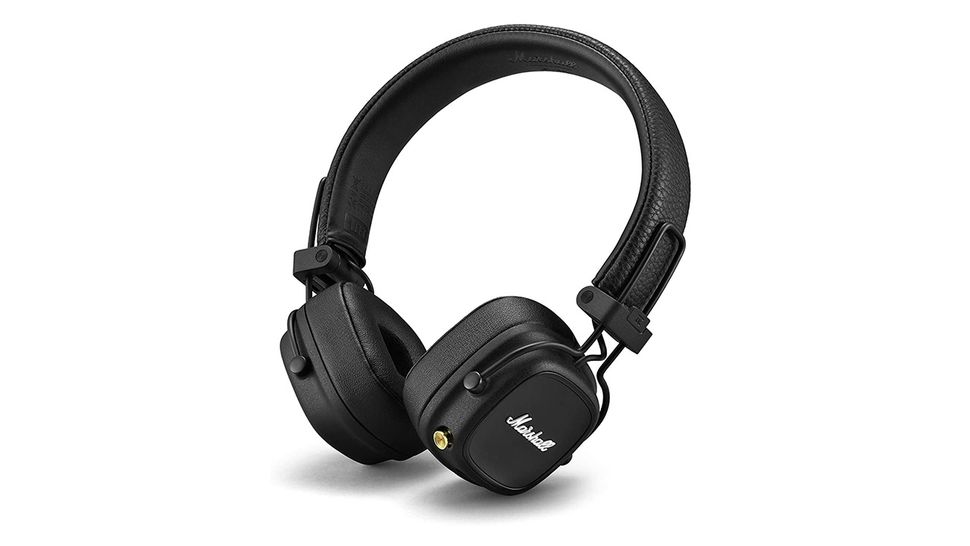 Marshall have been at the centre of the rock universe for decades, with their cabs adorning stages of some of the world's biggest acts. And when it comes to their home audio equipment, Marshall also deliver – and as a result, it's no surprise that they feature in our loudest Bluetooth speakers guide and our list of the best over-ear headphones on the market right now.
If you're looking for a great pair of Bluetooth headphones as a gift, I recommend the Marshall Major IV, which not only look the part, but also sound fantastic thanks to their aggressive take on rock and metal and beautiful balance.
Battery life is also awesome, with a fully charged up pair giving 80 hours of riffs, solos and drum beats – and let's not forget that a quick 15-minute charge will reward them with 15-hours of music.
House Of Marley were founded by Bob Marley's son Rohan and are known in audio circles for their range of headphones and speakers - and I've been really impressed with their in-ear Redemption ANC 2 headphones and think they'd make a great gift.
Not only do they deliver a lovely warm sound, but they're also incredibly comfortable to wear for extended periods. They carry an IPX5 rating meaning they're sweat and water resistant and while fully-charged, you'll get six hours of ANC playtime and eight in ambient mode. EQ settings can be tweaked through the dedicated House Of Marley app and overall we were very impressed with them, as you can read in our House Of Marley Redemption ANC 2 review.
The Redemption ANC 2 - like all House Of Marley products - have been made with sustainability in mind and have been crafted from bamboo, natural wood fibre composite and recycled plastic - and that's something we can all get behind.
Speakers
Positive Grid's Spark amp turned heads when it launched back in 2020 thanks to its all-in-one design which is perfect for practice, learning and home recording. Then came the neat Spark Mini which paired everything down to a handier size. Now Positive Grid have shrunk the size even more with the brilliant Spark Go.
It doubles as a portable amp and Bluetooth speaker and it really is ultra portable due to its size - not quite pocked-sized, but not far off. It comes loaded with 33 authentic amp models, 43 effects and is also fully integrated with the Spark app which gives you access to more than 50,000 guitar tones, AI-powered auto chords, Smart Jam and more.
It's rechargeable and it'll give eight hours playback when fully powered. All in all, a great gift for a guitarist or someone looking for a versatile Bluetooth speaker.
Marshall's portable Emberton Bluetooth speaker hit the market back in the summer of 2020 and quickly made a name for itself and has gone on to become Marshall's top-selling speaker - and that's quite something when you consider how many established models are in the audio firm's range.
Now Marshall have released the Emberton II which carries the same price as its predecessor but adds Bluetooth 5.1, along with a lighter weight, an IP67 rating meaning it's dust and water-resistant and an extra 10 hours of battery life, taking it up to 30 hours from a full charge. It still carries the familiar Marshall script logo on the front and boasts Marshall's True Stereophonic tech – a multi-directional sound which delivers 360° audio.
If you want to buy one of the Loudest Bluetooth speakers currently on the market, then look no further than the bone-shaking Amazon Echo Studio – a real behemoth in the audio world. It has superior sound quality – which is reflected in the higher price – it comes with the super-intelligent Amazon Alexa on board, and it represents the smart speaker world finding a new level of sophistication and power.
Vinyl & turntables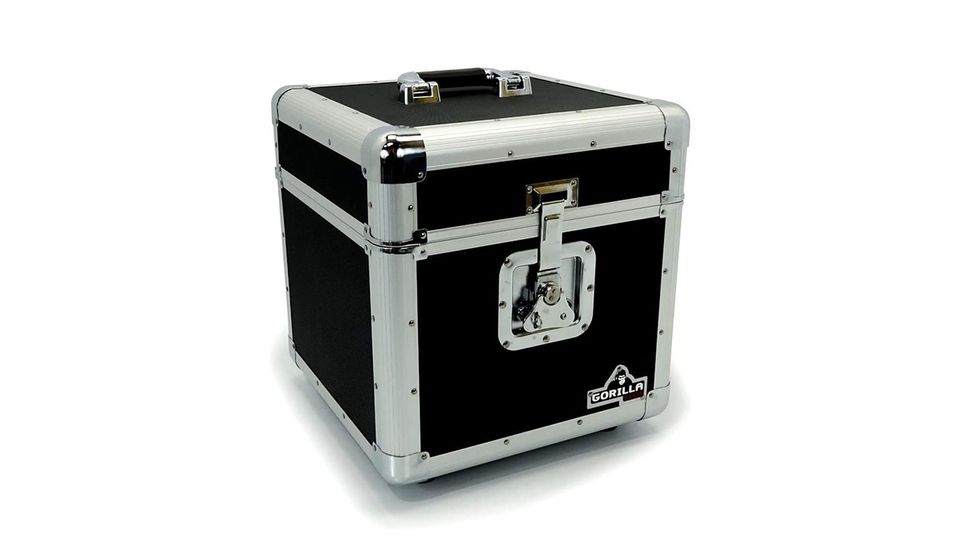 Does your friend have that really annoying habit of leaving threir vinyl collection spread all over the floor? Perhaps they don't even have the common decency to organise their records in alphabetical order which is, frankly, unforgivable. If these issues ring a bell, then perhaps a vinyl storage solution would help mend their messy ways – or at least encourage them to take more care of their LPs.
Thankfully, Gorilla are on hand to offer some solid vinyl storage, with this robust box able to safely store 100 12-inch records. And, despite its chunky appearance, the record storage box is surprisingly lightweight and can be easily moved around.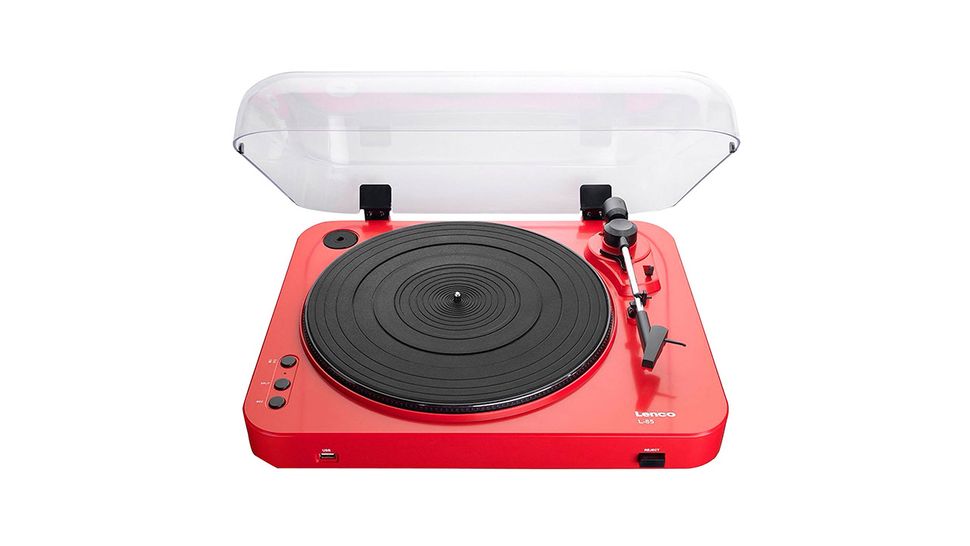 When it comes to choosing something from the best turntables online, it can be a bit of a minefield. Prices vary dramatically and you'll have to weight up whether a phono pre-amp and a USB connection are needed, and figure out if the record player has digital capabilities.
Thankfully, Lenco have come up with a cracker in the shape of the Lenco L-85 which has just about everything your friend or loved one will need under the shiny red hood thanks to being a semi-automatic, belt-driven turntable with a built-in phono stage and the ability to record via USB.
OK, it can look a little plasticky, but with a choice of colours and its ease of use, this would make a great present. You really can't go wrong with this option.
And if you're on the hunt for vinyl to gift, here are the 20 best classic rock albums to own on vinyl.
Posters & art
Rather than produce straightforward paper posters, Displate instead print vivid designs covering music, video games and pop culture on to metal sheets which your friend or loved one can then place on the wall using magnets which are provided with every purchase.
All designs have been officially licensed and come in medium, large and extra large and they look amazing. I highlighted their range of Ghost designs earlier this year, but there's thousands of cool options to explore. Just be aware they hang perfectly on flat walls, but struggle if there's a few lumps and bumps.
It's also worth noting that Displate have an eye on the environment and plant a tree with every purchase made. Find out more about their support for the Trees For The Future project.
Giving someone a present that can't be found on the high street is always pretty cool, and it's even better if that present just so happens to look awesome.
Available on Etsy, this handmade piece of wall art by Miles Oliver Art gives us a trio of Led Zeppelin prints which are box-framed and ready to hang right off the bat. They depict the band's rune symbols, the world famous Swan Song image based on the William Rimmer sketch, and their hermit illustration.
The prints are also available to purchase individually, while Miles Oliver Art also has loads of other neat stuff like Kiss prints and stylised travel illustrations from around the UK.
Think periodic tables are boring? Well, check this one out. Etsy seller Northern Line Studio - who have loads of neat poster designs - have designed a poster that reimagines some of history's most iconic music artists as 'elements'. So, Nirvana are 'Ni', Genesis are 'Ge', Public Image Ltd are 'Pb', and so on. These entries have then been colour-coordinated to match their genre, whether it be alternative/indie, electro, ska/reggae or whatever.
Northern Line Studio say: "A play on the Periodic Table in which the chemical elements and their symbols have been converted into famous bands and solo artists. Other categories include alt rock, electro, hip hop and rock. Other bands have been included under the title 'Other Matters and Substance'. The dates reflect the year each band or artist first performed."
Available either framed or unframed, this A2-sized poster doesn't have any scientific basis to it, but your loved one is unlikely to care when it's hung on their wall looking cool and colourful.
When I was growing up in the 80s, the vast majority of music I had was in cassette form - perfect for my double tape deck music system. While this format has enjoyed a bit of time in the limelight over recent years, cassettes are regarded more of a curio than a serious way to digest music. However, those of us of a certain age would be absolutely delighted to receive this poster by Mister Mustard Prints over at Etsy.
Highlights in this A4-A1-size print include Iron Maiden's The Number Of The Beast, Slayer's Reign In Blood, Metallica's "Black" album and Guns N' Roses ' Appetite For Destruction. There's even a nod to Nightfall by Candlemass which I had on tape back in the day. Love it!
Whether they hang it above the breakfast table or opposite the bed, your friend will enjoy counting how many of the albums they had when they were younger. The only downside is they won't be able to play them. That's where Alexa comes in.
Imagine if some of your friend or loved one's favourite songs were novels. That's what artist Todd Alcott has done with his series of cultural mash-ups at Etsy. Featuring covers of make-believe books including Paranoid Android, Heart-Shaped Box and Love Will Tear Us Apart, these clever prints marry the striking imagery of classic pulp fiction with slogans and motifs related to the song in question.
Perfect for music fan fathers, these colourful creations would look awesome adorning a living room wall or music studio. We just wish that someone would actually write these books, as we're dying to read them.
Books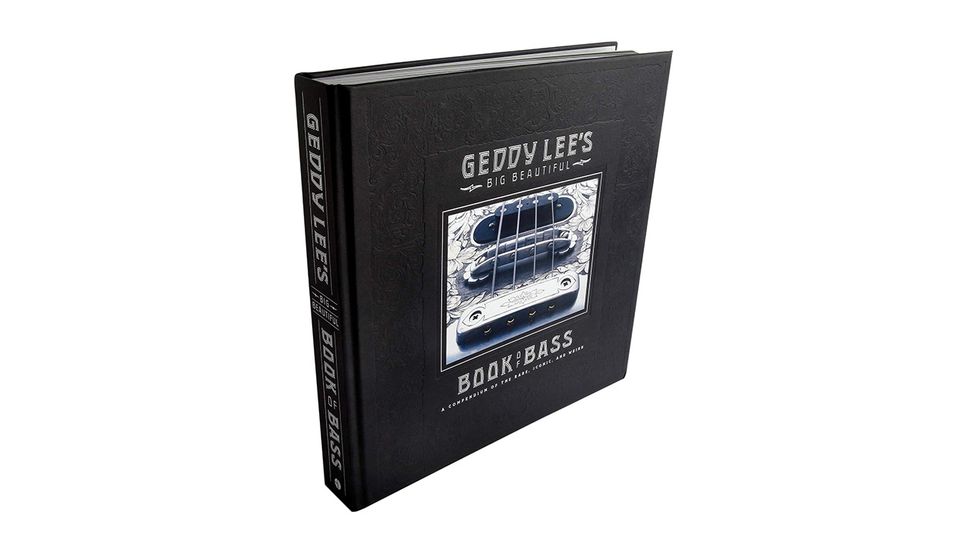 Rush legend Geddy Lee released his Big Beautiful Book Of Bass in in 2018 and backed it with a series of in-store book signings across North America and Europe, which allowed some of us to meet the man face to face. However, if your friend or family member missed out on meeting Geddy on the road, then the next best thing is to pick up this lavish coffee table publication for them.
Spread across 400 pages, Geddy highlights a selection of the basses he owns, which have all been meticulously captured by photographer Richard Sibbald. It's not even essential to be a Rush fan to appreciate what's in Geddy Lee's Big Beautiful Book Of Bass, with the book also featuring interviews with artists including Led Zeppelin's John Paul Jones, Metallica's Robert Trujillo, Primus' Les Claypool, and former Rolling Stone Bill Wyman.
Mark Andrews' takes a deep dive into the history of one of the UK's most revered post-punk bands The Sisters Of Mercy and it's simply a must-read for fans of the band. It also serves as a gritty look at mid-late 70's Leeds and its bustling underground music scene - a city where punks were targeted by local bullyboys - and how Andy Taylor (Andrew Eldritch), Mark Pearman (Gary Marx) and Craig Adams formed and began their rise through the underground music scene, recruiting members along the way, including Wayne Hussey.
Paint My Name in Black and Gold's 450 pages are crammed with details about the band, complete with brilliant info that may have passed Sisters Of Mercy fans by, including an ill-fated attempt to secure a support slot with Motorhead in 1981 and how Tony James tried to prise Eldritch away from the Sisters to front his new project that would become Sigue Sigue Sputnik. The pair, of course, eventually came together for the Vision Thing album in 1991.
Brilliantly written by Andrews and if your mate is even remotely a fan of post-punk/goth, I'm pretty sure they'll enjoy this book.
Games & jigsaws
OK, we'll admit that settling down to vanquish a jigsaw puzzle isn't the most rock'n'roll way to spend a Wednesday night, but the Zee Productions RockSaws range are too good not to dive head first into.
Their officially licensed jigsaw puzzles come in 500 or 1000 piece variations, with each one depicting a classic album cover from some of the biggest names in rock and metal, including Metallica, Slayer, Kiss, Rush, Def Leppard, Alice Cooper, Queen, Guns N' Roses, Status Quo, Motorhead and Judas Priest.
One of our favourites is this 500-piece jigsaw puzzle featuring the cover of Iron Maiden's Somewhere In Time, with Cyborg Eddie making his way through a futuristic London. Is this the greatest Maiden album artwork? Yes, I think it is!
The whole range are also great to frame once complete and are pretty much guaranteed to be a hit.
Buying your friend a standard Monopoly set wouldn't be very inspiring. But Queen Monopoly? Now, that's a whole different kettle of fish.
Instead of advancing to Pall Mall, Bond Street, Old Kent Road et al, your pal will instead land on properties such as Wembley, Hyde Park and The Forum in Los Angeles as they embarks on a quest for world domination. As with the standard Monopoly, though, you'll need to avoid jail, taxes and bankruptcy – after all, what would the tabloids say?
With loads of Queen-related references and a set of game pieces that are themed around the band's iconic songs, this special-edition Monopoly will make your mate go Ga Ga.
T-shirts
If your music-loving friend is an avid reader of Metal Hammer, Classic Rock or Prog magazine - and let's face it, who here isn't? - then a gift of a mag-branded t-shirt will be the perfect fit. There are loads to choose from, like a cammo-themed Metal Hammer shirt, a 1982 thrash t-shirt, and my personal favourite: a "Drink tea and listen to Prog" maroon tee.
This is a fantastic cotton t-shirt by Grangehill Creations over at Etsy. It's a clever play on the Beatles famous Abbey Road cover and features four of Star Wars' most famous droids (K-2SO, C-3PO, R2-D2 and the speedy BB-8) crossing the London Road made famous by The Fab Four.
If you're after something a bit different than this Beatles-inspired design, then Grangehill Creations have plenty of other pop culture designs in a massive range of sizes
And don't forget, if your friend or loved-one is a Star Wars fan, then you could also get them a subscription to Disney+ - home to the Star Wars universe and more.
Quirky gifts
The first gaming console I ever got to experience was the famous Atari 2600, complete with sleek ridges and THAT wood-finish veneer. My stepdad bought it for himself for Christmas 1981 and while he did managed to get a bit of time with it, my brother and I commandeered it.
We rented cartridges from the local video store and played the hell out of games such as Adventure, Space Invaders, Combat, Night Driver, Enduro, Frogger and Superman along with total clunkers like the infamous E.T.: The Extra Terrestrial, and the baffling Raiders Of The Lost Ark. So when I saw that Lego had released a replica of the Atari 2600 I got quite excited - especially as it comes with a bunch of extras including three game carts, a joystick, three models inspired by classic Atari titles and an 80's throwback bedroom scene.
It'll also take a while to piece everything together as the package contains 2532 pieces. Perfect nostalgia for those of us of a certain age.
Calling this rock hand a 'sculpture' is doing it a bit of a disservice. Designed by Etsy seller Horns In The Air and priced at £16, it could actually carry out a wide range of functions, from holding jewellery and headphones to scratching your arse.
Constructed from plaster with a bronze colouring, the hand features a velvet base that should prevent it from marking a desk or table. And since these gifts are handmade, no two sculptures will be exactly the same – meaning your present will be truly unique.
Such is the value of classic vinyl these days, it's initially going to feel a bit weird plonking down a hot cup of Joe on one of these drinks coasters – they look so much like the real thing! Once your friend has got used to that, though, they'll love having these dotted around the home, highlighting what a cool person they are.
Each coaster features an iconic band's artwork, with everyone from Led Zeppelin to Nirvana represented, and also comes with an anti-slip ring to ensure that glasses or bottles won't easily topple over. We'll drink to that.
Looking at concert tickets from decades ago makes some of us feel sad that we weren't alive to see such great bands in action. However, if your friend or loved-one was around back then, they'll love these rock-themed drinks coasters which are emblazoned with vintage American stubs.
Featuring legendary names such as The Beatles and Bowie, the handmade cork and wood accessories are sure to kindle nostalgia, but they'll also make for a great conversation starter as different generations argue about which era had the best music. One thing's for sure – gigs were a lot cheaper in those days. And if these artists aren't ideal, maker From The Shed also does packs containing rock and metal, vintage punk and 90s grunge-themed coasters too.
Booze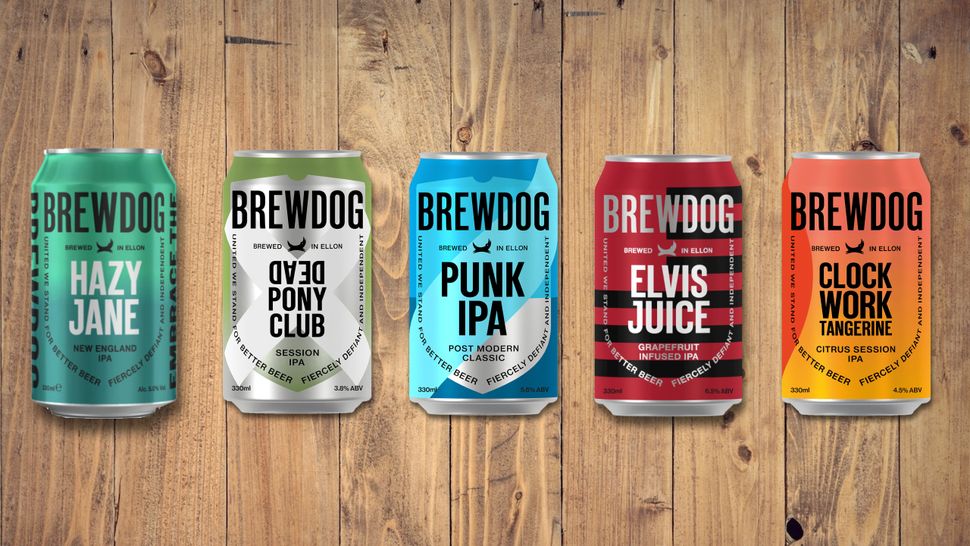 BrewDog have been quenching our thirst since 2007 and have poured out a number of fine bottles and cans since then thanks to their wide range of beers, limited edition concoctions, collaborative projects and cool bars all over the world. But with so many brews to choose, where do you start if you're looking for a gift?
Over on BrewDog's official website you'll find a range of their best-sellers such as Punk IPA, Dead Pony Club, Elvis Juice, Hazy Jane and more. If that's still too many to choose between, BrewDog have created bundle packs of 24 or 48 cans which will go down a treat.
And if you're looking to buy some non-alcoholic beer, we've picked out a great selection too.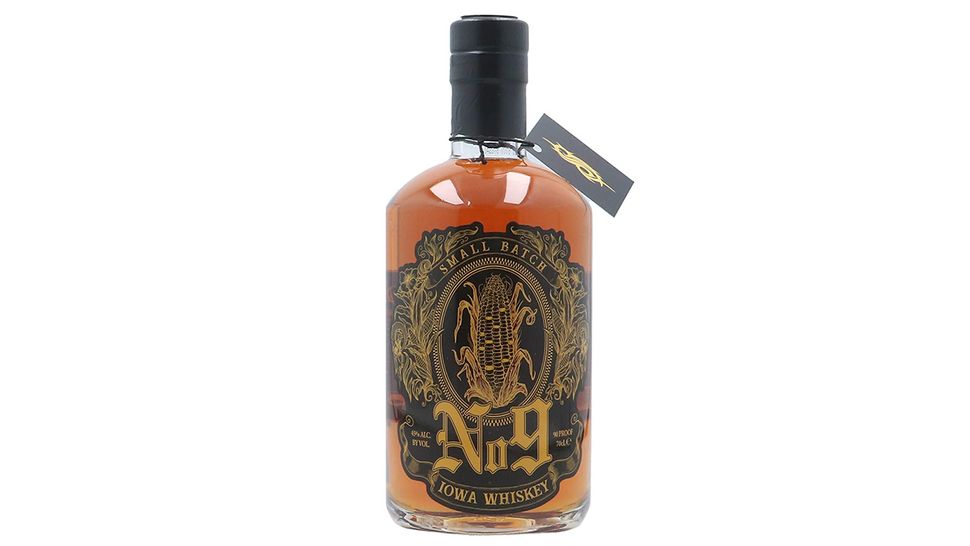 We already have Motorhead and Scorpions single malt whisky and Metallica's Blackened American whiskey – but there's always room for more and Slipknot are keeping their spirits up with their No.9 Iowa whiskey. It's a collaboration with the Cedar Ridge Winery & Distillery and, like the bottles mentioned above, it's thoroughly enjoyable stuff.
The mash bill is made from 56% corn, 36% rye and 9% malted barley and special credit goes to Cedar Ridge for bottling it at 90 Proof (45% ABV) rather than watering it down to the bog standard 40% ABV (take note some Scotch whisky producers). Why is that important? Basically, more alcohol means more flavour and the No.9 Iowa whiskey has a lot of flavour.
Upon sipping, your old man will find notes of honey, orchard fruits, lemon and chocolate – and then there's a lovely spicy kick from the rye to round everything off. Brilliant stuff from the Iowa favourites.
I mentioned Motorhead's single malt from Sweden's Mackmyra distillery above, but if rum with a bit of rock is more your thing, then I recommend a drop of the excellent Motorhead dark rum.
It's been aged for eight years and bottled at 40% which has a bit more grip than some rums on the market - although even higher would be a nice bonus - and it's a decent sipper while you crank out a bit of Killed By Death. However, it's in a rum-based cocktail where this blend of ex-bourbon matured Caribbean rums really shines. Packed with notes of brown sugar, vanilla and fruit, it's definitely a crowd pleaser and makes a mean Dark & Stormy - just add a healthy splash of the rum to a glass with ice, ginger beer and a wedge of lime and you're good to go.
Subscriptions
If your friend is just starting out on their musical journey, then a subscription to Fender Play would make a brilliant gift.
Fender Play has been made specifically for those looking to learn guitar, bass or ukulele, and is the perfect way to get started, as the musical maestros at Fender have created bite-sized video lessons to help people play and learn at their own pace. And rather than being a chore, the lessons concentrate on popular songs to make learning engaging and, most of all, fun.
A Fender Play subscription costs $9.99/£9.99 per month or $89.99/£89.99 a year direct from the official website, with the first seven days free to new subscribers – and no credit card is required during the week trial period. Once registered, you can then download the Fender Play app on either Apple Music or Google Play.
Cards & paper
When choosing a perfect present, don't forget about the all-important wrapping paper and birthday card. There are loads of options out there, but we particularly like the products that are sold through Etsy, such as this awesome retro-themed music cassette gift wrap
Gift cards
If you've left getting something special for your friend or loved one until the last minute, don't worry – we have several gift card options available from some of the biggest online retailers. All the ones we've selected have the option to be delivered to your their email address on the day itself. Phew!
Where to shop
US
You can trust Louder Our experienced team has worked for some of the biggest brands in music. From testing headphones to reviewing albums, our experts aim to create reviews you can trust. Find out more about how we review.
UK