Mudhoney have premiered a video for their new single Kill Yourself Live.
The track features on the band's upcoming 10th album Digital Garbage which will launch on Friday (September 28) via Sub Pop. It's their first record since 2013's Vanishing Point.
The Carlos A.F. Lopez-directed promo is described as a "bleak look at the way notoriety goes viral" with Lopez presenting "a social media system update of Jesus Christ's crucifixion."
Speaking about the album, vocalist Mark Arm said: "My sense of humour is dark, and these are dark times. I suppose it's only getting darker.
"I've tried to keep things somewhat universal, so that this album doesn't just seem like of this time. Hopefully some of this stuff will go away.
"You don't want to say in the future, 'Hey, those lyrics are still relevant. Great!'"
Arm is joined in the lineup by guitarist Steve Turner, bassist Guy Maddison and drummer Dan Peter.
They're currently on tour across North America and will return to the UK and Europe later this year.
Mudhoney Digital Garbage tracklist
1. Nerve Attack
2. Paranoid Core
3. Please Mr. Gunman
4. Kill Yourself Live
5. Night and Fog
6. 21st Century Pharisees
7. Hey Neanderfuck
8. Prosperity Gospel
9. Messiah's Lament
10. Next Mass Extinction
11. Oh Yeah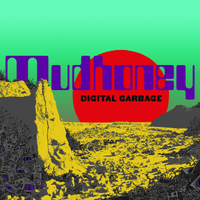 Mudhoney - Digital Garbage
Mudhoney return with their 10th album and first work since 2013's Vanishing Point. It features blistering lead singles Paranoid Core and Kill Yourself Live.