Iamthemorning have released a video to accompany their track 5/4.
It's the first song from Gleb Kolyadin and Marjana Semkina's upcoming studio film Ocean Sounds, which is set to arrive on October 19 via Kscope.
Semkina says: "We usually say that 5/4 is one of the two cheerful songs we have in our discography – the second one being about burning houses down!
"To me, it feels that when you grow up and live in Russia, specifically in St Petersburg, everything you do is soaked up in this very special type of melancholy, which makes it difficult to write happy music.
"This song was always a very nice change from the ongoing drama of our live setlist which is usually filled with images of drowning women, dead flowers and people buried alive.
"Besides, it's always very lovely to see the audience engaging and clapping along with us."
Ocean Sounds will feature 12 tracks spanning the duo's first three albums, with an acoustic performance of Blue Sea from their as-yet-untitled fourth album, which will appear exclusively on the Blu-ray release.
The film's audio was mixed and mastered by the duo's longtime collaborator Vlad Avy, while the film was produced and edited by Miles Skarin at Crystal Spotlight. The watercolour cover art was designed by Constantine Nagishkin.
Iamthemorning previously released a trailer for the package (opens in new tab), which will be released on 2CD/Blu-ray, 180g LP and on digital formats.
Iamthemorning - Ocean Sounds
1. Inside
2. Scotland
3. To Human Misery
4. Romance
5. 5/4
6. Touching II
7. Os Lunatum
8. Matches
9. Sleeping Pills
10. Libretto Horror
11. Chalk & Coal
12. K. O. S.
13. Blue Sea (Blu-ray only)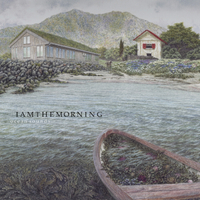 (opens in new tab)
Iamthemorning - Ocean Sounds (opens in new tab)
Recorded and filmed on the Norwegian island of Giske, Ocean Sounds charts the creative process behind Gleb Kolyadin and Marjana Semkina's beautiful music.