Metallica are the biggest metal band on the planet bar none. Since forming in 1982, they've released 10 studio albums, selling more than 125 million copies worldwide. With their debut album, Kill 'Em All, they put thrash on the map, changing the course of metal in the 1980s, and iconic songs such as One and Enter Sandman are among the most recognisable metal anthems ever.
The band have been holed up in their HQ near San Francisco, reportedly working on new material during lockdown and releasing archive shows as part of the Metallica Mondays series. But Metalli-fans aren't being starved of new music – the band release their epic new live album, S&M2, on August 28.
The albums was recorded during Metallica's two shows with the San Francisco Symphony Orchestra at the city's Chase Centre in September 2019 – two nights which celebrated the 20th anniversary of the original S&M album.
Now is the perfect time to share your love of Metallica with the world. And how about some cracking merch to go along with the sounds? Look no further, as we've hand-picked some of our very favourite items from the Metallica universe.
---

The best Metallica merch you can buy right now
1. S&M2 massive vinyl box set
---
2. …And Justice For All jigsaw puzzle
---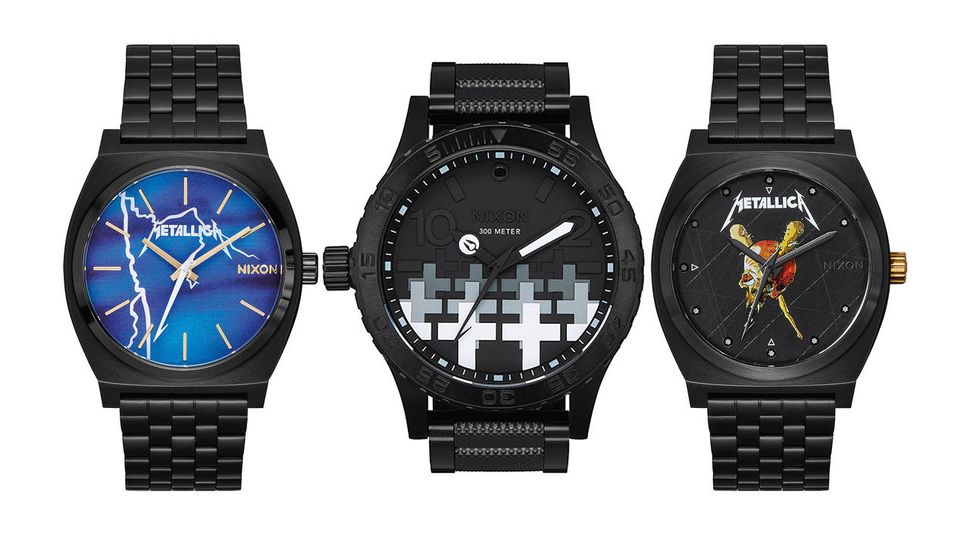 3. Metallica Nixon watches
4. Metallica Funko Rocks figures
---
5. Ride The Lightning jacket
6. Limited edition James Hetfield ESP signature guitar
---
7. Master Of Puppets short sleeve shirt
---
8. Enter Night biography by Mick Wall
---
9. Cliff Burton t-shirt
---
10. Lars Ulrich signature "Scary Guy" drumsticks
---
11. Sad But True skull
12. Metallica Monopoly Game
13. Handmade woodcut Metallica clock
14. Don't Tread On Me doormat
15. No Life 'Til Leather patch
16. Blackened American Whiskey
17. Bespoke tour posters
18. James Hetfield canvas print
19. Master Of Poopies baby bib
20. Metallica x Billabong board shorts
21. Misfits T-shirt
22. Damage Inc earrings
23. Scary Guy shot glasses