Guns N' Roses have made their video for Appetite For Destruction track It's So Easy available for everyone to watch.
The promo was shot at the Cathouse, Los Angeles, in October 1989, but was never released until the band launched it exclusively with Apple Music last week.
Now Guns N' Roses have made the video available to a wider audience and it can be watched below.
Before Guns N' Roses kick into the song, frontman Axl Rose explains to the crowd: "What we're going to do is do this song and we're making this for the home video… actually, that's wrong. It'll be on the home video but what we're making this for is ourselves.
"So if we made a nice video for MTV, we could put it out, sell more records, but instead we're going to spend $150,000 just to make something we want to see."
It's So Easy will appear on the upcoming Appetite For Destruction deluxe edition which is out on June 29 via UMC/Polydor.
It'll launch on various formats including CD, 2CD deluxe edition, 2LP 180g vinyl, a super deluxe edition CD box set and a massive Locked N' Loaded vinyl box set.
Guns N' Roses will return to Europe this summer for a run of shows including a headline set at the UK's Download festival.
Last week, GNR released videos for Yesterdays, The Garden and an "alternate" take on Sweet Child O' Mine (opens in new tab).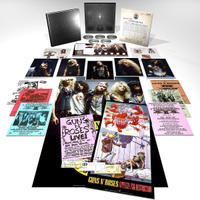 (opens in new tab)
Guns N' Roses 2018 European tour dates
Jun 03: Berlin Olympiastadion, Germany
Jun 06: Odense Dyrskueplausen, Denmark
Jun 09: Donington Download Festival, UK
Jun 12: Gelsenkirchen Veltins-Arena, Germany
Jun 18: Paris Download Festival, France
Jun 25: Mannheim Maimarktgelane, Germany
Jun 26: Bordeaux Matmut Stadium, France
Jun 29: Madrid Download Festival, Spain
Jul 05: Nijmegen Goffertpark, Netherlands
Jul 07: Leipzig Festwiese, Germany
Jul 09: Chorzoq Stadion Slaski, Poland
Jul 13: Moscow Spartak Otkritie, Russia
Jul 16: Tallinn Song Festival Grounds, Estonia
Jul 19: Oslo Valle Hovin, Norway
Jul 21: Gothenburg Ullevi Stadium, Sweden