Tarja Turunen has announced that she'll release the follow-up to her 2012 debut live album Act I: Live In Rosario this summer.
Simply titled Act II, it will launch on July 27 via earMUSIC on 2CD digipak, 3LP, DVD, Blu-ray, limited edition mediabook 2CD/2Blu-ray and on digital formats.
The release will be split into two chapters, with the first, Metropolis Alive, filmed two months prior to the release of Tarja's 2016 album The Shadow Self at London's Metropolis Studios.
The second chapter was captured on November 29, 2016, at Milan's Teatro della Luna Allago, and features tracks from all four of Tarja's solo albums, including Innocence, Die Alive, Until My Last Breath and a cover of Muse track Supremacy.
The Blu-ray package will also feature two full live shows filmed at Hellfest in France and Poland's Woodstock Festival.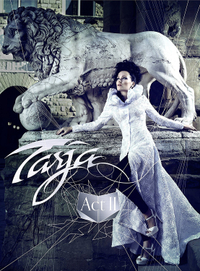 Tarja - Act II
Former Nightwish vocalist Tarja Turunen returns with the sequel to her 2012 debut solo album Act I: Live In Rosario. Featuring material from all four of her albums, this is not to be missed.
Tarja: Act II DVD & Blu-ray contents
Filmed at London's Metropolis Studios, June 6, 2016
1. No Bitter End
2. Eagle Eye
3. Sing For Me
4. Love To Hate
5. The Living End
6. Medusa
7. Calling From The Wild
8. Victim Of Ritual
9. Die Alive
10. Innocence
11. Until My Last Breath
12. Too Many
Filmed at Milan's Teatro della Luna Assago on November 29, 2016
1. Against The Odds
2. No Bitter End
3. 500 Letters
4. Eagle Eye
5. Demons In You
6. Lucid Dreamer
7. Shameless
8. The Living End
9. Calling From The Wild
10. Supremacy
11. Tutankhamen, Ever Dream, The Riddler
12. Slaying the Dreamer
13. Goldfinger
14. Deliverance
Acoustic Set
1. Until Silence
2. The Reign
3. Mystique Voyage
4. House of Wax
5. I Walk Alone
6. Love To Hate
7. Victim of Ritual
8. Undertaker
9. Too Many
10. Innocence
11. Die Alive
12. Until My Last Breath
Bonus Material
Interviews with Tarja and band members
PhotoGallery 1: Through the eyes of the fans
PhotoGallery 2: From stages and streets by Tim Tronckoe