Circles - The Last One
1. Winter
2. Breaker
3. The Messenger
4. Arrival
5. Tether
6. Resolution
7. Dream Sequence
8. Renegade
9. Blueprints For A Great Escape
10. Alone With Ghosts
Circles have released a video for their new single Dream Sequence.
It's the latest track taken from the Australian outfit's upcoming album The Last One, which is set to arrive on August 31 via Wild Thing Records and Season Of Mist.
Dream Sequence follows Tether and Breaker from the record.
Speaking about the new video, drummer Dave Hunter says: "The song follows our singer Ben as he journeys into his own sub-conscious and confronts an inevitable world of change.
"The place we first see him is in his 'happy place'. In a sea of peaceful white he floats through his life without risk or fear. The world in which the band are performing slowly begins to consume his peaceful world and he must face a new, unknown way of being.
"This concept follows the story in the lyrics and was derived from life experiences I've had, where I knew certain situations I was in were too good to be true and some unexpected change would present itself at any given time."
Hunter adds: "We wanted to create something more conceptual than what we had ever done in the past. We had some pretty ambitious ideas and just went for it. We stayed true to our DIY approach and shot and produced the whole video ourselves in our rehearsal space in Melbourne, Australia.
"When I'm not playing drums for Circles, I do video production for a living, working with many bands directing their music videos.
"We spent one day shooting and seven days in post production, so a fairly hefty turn-around."
Circles will embark on an Australian tour with Tesseract in September and will then head over to Europe later in the year for an extensive run of dates with Caligula's Horse. Find details below.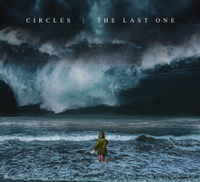 Circles - The Last One
Australian prog-metal outfit Circles will release their new album The Last One In August – featuring the tracks Breaker, Tether and Dream Sequence.