Joe Bonamassa - Redemption
1. Evil Mama
2. King Bee Shakedown
3. Molly O'
4. Deep In The Blues Again
5. Self-Inflicted Wounds
6. Pick Up The Pieces
7. The Ghost Of Macon Jones
8. Just 'Cos You Can Don't Mean You Should
9. Redemption
10. I've Got Some Mind Over What Matters
11. Stronger Now In Broken Places
12. Love Is A Gamble
Joe Bonamassa has announced that he'll release his new studio album later this year.
The follow-up to 2016's Blues Of Desperation is titled Redemption, and it'll arrive on September 21 via Provogue/Mascot Label Group in Europe and through J&R Adventures in North America.
Bonamassa again hooked up with producer Kevin Shirley, with the record featuring a range of musicians and vocalists, including Anton Fig, Michael Rhodes, Reese Wynans, Lee Thornburg, Paulie Cerra, Gary Pinto, Mahalia Barnes, Jade McRae, Juanita Tippins, Kenny Greenberg and Doug Lancio.
Redemption is described as Bonamassa's "most ambitious and diverse" album to date, with the vocalist and guitarist adding: "I'm going through some other stuff in my life I didn't expect to be going through.
"It's a rising, it's contrition, it's acceptance, it's everything. It's painful, but knowing that there's a rising coming.
"I really feel the new material is deeper, lyrically and musically. We try to get a little deeper every time we come out."
Shirley adds: "From a producer's perspective, this is far and away the most challenging and diverse album that Joe has ever made. It is a brand-new look at the blues, in what is clearly Joe's deepest and darkest most personal album yet, which is a masterpiece of desperation – melodic and cinematic in this presentation."
To mark the album announcement, Bonamassa has released a video for the record's title track which can be watched below.
Bonamassa will head out on tour across Europe later this year.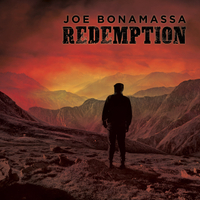 Joe Bonamassa - Redemption
The follow up to Bonamassa's 2016 album Blues Of Desperation was once again helmed by producer Kevin Shirley and features a range of musicians - along with the foot-stomping title track.
Joe Bonamassa 2018 European tour dates
Sep 22: Helsinki Helsingin Jäähalli, Finland
Sep 24: Stockholm Hovet, Sweden
Sep 26: Gothenburg Lisebergshallen, Sweden
Sep 28: Oslo Spektrum, Norway
Sep 29: Copenhagen Operaen, Denmark
Oct 01: Rostock Stadthalle, Germany
Oct 02: Oberhausen König-Pilsener-Arena, Germany
Oct 03: Mannheim SAP Arena, Germany
Oct 05: Fulda Esperantohalle, Germany
Oct 06: Wetzlar Rittal Arena, Germany
Oct 08: Neu-Ulm Ratiopharm Arena, Germany
Oct 11: Plymouth Pavilions, UK
Oct 12: Nottingham Motorpoint Arena, UK
Oct 13: Bournemouth International Centre, UK