When it comes to great gift ideas for rock fans, there's plenty to choose from. The same can also be said for branded beers, wines and spirits, which have seen a huge rise in popularity in recent years.
Iron Maiden's ever-expanding range of Trooper beer has been a huge success since the rock giants teamed up with Robinsons Brewery back in 2013, while other artists including Metallica, Motorhead and more have also been keen to climb aboard the booze bandwagon.
The team behind Marshall's iconic amps have also got in on the act by launching their very own range of brews, so it's a pretty good time to grab something tasty for a weekend at home.
Here are some of our favourites tipples currently on the market. Please drink responsibly and always remember to keep it quality over quantity.
---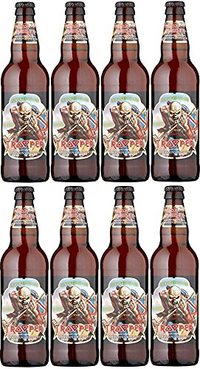 Iron Maiden Trooper 8 x 500ml pack
Back in 2015, we reported that Maiden had sold 10 million pints of Trooper, so Eddie only knows what they must be at now! Amazon do it in 8 packs – a great starter beer guaranteed to satisfy any self-respecting rock/metalhead.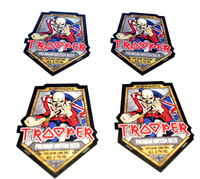 Iron Maiden Trooper Beer Mats
So, if you're planning on enjoying a tin of Trooper while watching Maiden's classic Live After Death on DVD or giving The Book Of Souls another spin from the comfort of your living room, why not go all in and grab a few Trooper beer mats? Rumours that Trooper cocktail umbrellas are coming soon are untrue and just made up by me.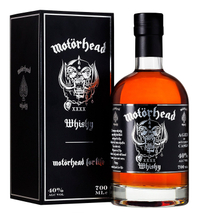 Motorhead Single Malt Whisky
If pints of the fizzy stuff aren't quite your thing and you prefer something a wee bit stronger, then a bottle of Motorhead whisky is highly recommended. It was created by Swedish distillery Mackmyra and is a splendid drop. Toasty oak and vanilla come to the fore, making this dangerously drinkable.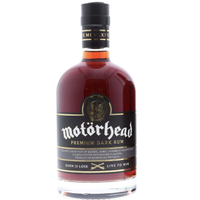 Motorhead Premium Dark Rum
Not content with just releasing a whisky, the Motorhead team also decided to introduce a dark rum on to the market – and it's a swashbuckling thing of beauty. It's been made from the finest selection of ex-bourbon aged Caribbean reserve rums and definitely worth a swig or two.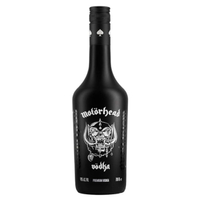 Motorhead Vodka
When it comes to spirits, Motorhead have clearly got it covered... well, apart from their own gin. One day maybe? The Motorhead vodka is ideal for long drinks and creating your own cocktails – and look at that bottle! One to keep after the contents have been enjoyed.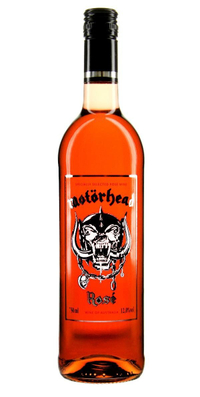 Motorhead Shiraz Rose Wine
Ready for more Motorhead-branded goodness? Of course you are – and what better than a drop of wine? This is a very drinkable rose that smacks the ol' tastebuds when pulled straight from the fridge and poured into a large glass on a lovely warm day.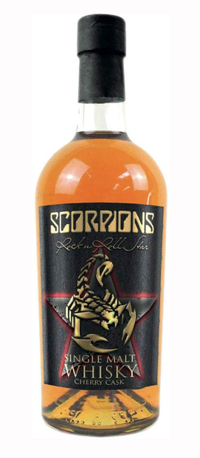 Scorpions Single Malt Whisky
Scorpions also teamed up with Swedish distillery Mackmyra for their very own single malt. It's matured in ex-bourbon barrels and oloroso sherry casks - with the twist that it was finished in sweet German cherry wine casks. Read all about it.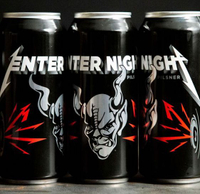 Metallica Enter Night Lager (case of 12)
Available on Metallica's 2019 tour dates, this "crisp and refreshing pilsner that has a richly hopped background and a sound bitterness on the finish." Enter Night can be hard to find, but if you're quick, you can snap up a case of 12 here.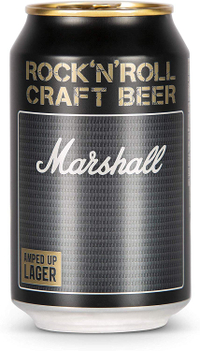 Marshall Amped Up lager
Coming in an array of packages that look like amp heads and combos, the most novel thing about Marshall's Amped Up lager is that it's really good. We know. We went to the launch party and tested it thoroughly.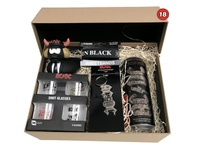 AC/DC Luxury Gift Hamper
AC/DC launched their own line of beers a few years ago, but our current favourite product from the Aussie giants is this cracking gift hamper. It comes with a can of their Rock Or Bust beer, a set of five shot glasses, an AC/DC keychain, a Back In Black wristband and, best of all, an Angus Young rubber duck!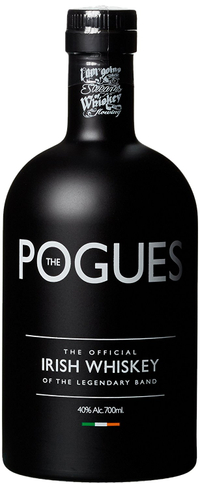 The Pogues Whiskey
The Pogues Whiskey is actually a decent drop, proven by the fact that it's available in decent pubs everywhere. It doesn't make you as poetic as Shane MacGowan but neither do your teeth fall out, so swings and roundabouts. Also available in a Gift Hamper. Lend me 10 pounds and I'll buy you a drink etc.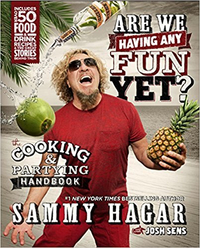 Sammy Hagar's Cooking & Partying Handbook
Listen, if there's a guy who knows how to have a good time, it's the Red Rocker: former Montrose and Van Halen singer Sammy Hagar. If you're having a party, do it properly: the Hagar way.