Motley Crue, Def Leppard (opens in new tab) and Poison (opens in new tab) are poised to announce a US summer stadium tour, according to an online report.
Rolling Stone (opens in new tab) say a source has confirmed to them that the trio will play together, although dates and venues have still to be confirmed.
If true, it would mean the Crue would have to tear up the legal document they signed prior to heading out on the road in 2015. The high profile contract said they would be sued if they ever hit the road again under the Motley Crue name.
The report comes after the Bring Back Motley Crue campaign (opens in new tab) was recently launched by Crue fan Motley Mann, who was looking to pick up 15,000 signatures. Motley Crue's Twitter account briefly posted a link to the petition with the caption: "This is interesting." However, the tweet was later removed.
Rumours of a Motley Crue comeback began to swirl recently when unsubstantiated reports emerged suggesting a potential $150 million was on the table for a Crue live reunion (opens in new tab).
However, frontman Vince Neil distanced himself from the gossip saying he hadn't been in touch with his Motley Crue bandmates since the premiere of The Dirt earlier this year.
Motley Crue brought the curtain down on their live career when they played an emotional farewell show in Los Angeles on New Year's Eve 2015. But they got back together in the studio in 2018 to record four new tracks for The Dirt, with bassist Nikki Sixx telling Classic Rock back in February there had been no decision to make the reunion permanent.
At the time of writing, the reported tour with Def Leppard and Poison has not been confirmed by official sources.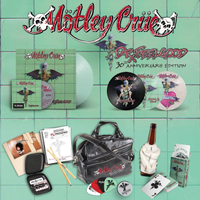 (opens in new tab)
Motley Crue: Dr. Feelgood 30th Anniversary (opens in new tab)
Motley Crue will celebrate the 30th anniversary of their 1989 album Dr. Feelgood in November with this special edition featuring album cuts and studio demos.