Behemoth have released a video for their new single Wolves Ov Siberia.
It's been lifted from the band's upcoming album I Loved You At Your Darkest, which is set to launch on October 5 via Nuclear Blast and follows censored (opens in new tab) and uncensored (opens in new tab) promos for God = Dog.
Speaking about the album title, vocalist and guitarist Nergal said: "It doesn't get more blasphemous than this. It's a verse from the Bible – it's actually a quote from Jesus Christ himself. For Behemoth to use it as the basis of our record, it's sacrilege to the extreme."
The band will be holding an in-store signing event at HMV's Oxford Street store in London on October 5. Details of how to get involved are on the HMV website (opens in new tab).
There's also a separate, exclusive launch event taking place on the same day – tickets can be obtained through limited-edition album pre-orders through the Nuclear Blast Store.
Behemoth will head out on tour in support of the follow-up to 2014's The Satanist across the UK and Europe early next year.
Find details below.
Behemoth - I Loved You At Your Darkest
1. Solve
2. Wolves Ov Siberia
3. God = Dog
4. Ecclesia Diabolica Catholica
5. Bartzabel
6. If Crucifixion Was Not Enough
7. Angelus XIII
8. Sabbath Mater
9. Havohej Pantocrator
10. Rom 5:8
11. We Are The Next 1000 Years
12. Coagula
Behemoth Ecclesia Diabolica Evropa 2019 e.v. tour dates
Jan 10: Frankfurt Batschkapp, Germany
Jan 11: Munich Tonhalle, Germany
Jan 13: Vienna Arena, Austria
Jan 15: Zurich Komplex 457, Switzerland
Jan 16: Milano Alcatraz, Italy
Jan 17: Lyon Le Transbordeur, France
Jan 18: Barcelona Razzmatazz, Spain
Jan 19: Madrid La Riviera, Spain
Jan 21: Toulouse Le Bikini, France
Jan 22: Paris Bataclan, France
Jan 23: Oberhausen Turbinenhalle, Germany
Jan 24: Berlin Huxleys, Germany
Jan 25: Copenhagen Vega, Denmark
Jan 26: Stockholm Annexet, Sweden
Jan 29: Helsinki The Circus, Finland
Jan 30: Tampere Pakkahuone, Finland
Feb 01: Hamburg Grosse Freiheit 36, Germany
Feb 04: Esch-sur-Alzette Rockhal, Luxembourg
Feb 06: Bristol Motion, UK
Feb 07: Birmingham O2 Institute, UK
Feb 08: London O2 Forum Kentish Town, UK
Feb 09: Manchester O2 Ritz, UK
Feb 10: Dublin Vicar Street, Ireland
Feb 11: Glasgow QM Union, UK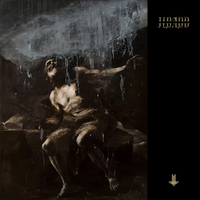 (opens in new tab)
Behemoth - I Loved You At Your Darkest (opens in new tab)
Judging by lead singles God = Dog and Wolves Ov Siberia, Behemoth's follow-up to 2014's The Satanist should be something very special.