Behemoth have released a stream of their brand new single titled God = Dog.
It's the first material taken from the band's upcoming studio album I Loved You At Your Darkest which will be released on October 5 via Nuclear Blast – and comes just days after they previewed a snippet of new material on their website, which required fans to say a prayer to access the clip (opens in new tab).
The cover art and tracklist for the follow-up to 2014's The Satanist have also been revealed, while various streams of God = Dog can be listened to below.
The band confirmed they had begun work on what will be their 11th album in November last year at Gniewoszów's Monochrome Studio in their home land of Poland, with Nergal telling Full Metal Jackie last month that it had a more "organic sound" to their previous work.
He said: "The Satanist was recorded four years ago. We've been living our lives, we've been going through different periods and we have changed again. So it's different music – it's a different endeavour.
"But what we captured this time is maybe an even more organic sound yet still very striking and very aggressive.
"It's going to be a different record, a different approach. I don't want to talk much about it, because we've got to stay confident about it and just keep it to ourselves.
"But the whole structure of the album, the way it's built, it's one of a kind and it's something that we've never done before."
Behemoth will head out on tour across North America with At The Gates and Wolves In The Throne Room from October.
Behemoth - I Loved You At Your Darkest
1. Solve
2. Wolves Ov Siberia
3. God = Dog
4. Ecclesia Diabolica Catholica
5. Bartzabel
6. If Crucifixion Was Not Enough
7. Angelus XIII
8. Sabbath Mater
9. Havohej Pantocrator
10. Rom 5:8
11. We Are The Next 1000 Years
12. Coagula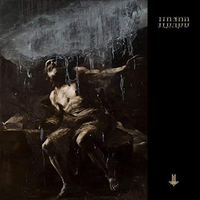 (opens in new tab)
Behemoth - I Loved You At Your Darkest (opens in new tab)
Behemoth are back with their first studio album since 2014 classic The Satanist, featuring 12 tracks including ferocious lead single God = Dog.
Behemoth 2018 North American tour dates
Oct 20: Phoenix Van Buren, AZ
Oct 22: Dallas House Of Blues, TX
Oct 23: San Antonio The Aztec Theatre, TX
Oct 24: Houston House Of Blues, TX
Oct 26: Atlanta Masquerade, GA
Oct 27: Tampa Janus Landing, FL
Oct 29: Charlotte The Underground, NC
Oct 30: Philadelphia The Fillmore, PA
Nov 01: Boston House Of Blues, MA
Nov 02: Silver Spring The Fillmore, MD
Nov 03: New York Playstation Theater, NY
Nov 04: Montreal M-Telus, QC
Nov 06: Toronto The Danforth, ON
Nov 07: Detroit St. Andrews Hall, MI
Nov 09: Chicago House Of Blues, IL
Nov 10: Minneapolis Cabooz, MN
Nov 11: Kansas City The Truman, MO
Nov 13: Denver The Ogden Theatre, CO
Nov 14: Salt Lake City The Depot, UT
Nov 16: Calgary MacEwan Ballroom, AB
Nov 17: Edmonton Union Hall, AB
Nov 19: Vancouver The Commodore Ballroom, BC
Nov 20: Seattle Showbox Market, WA
Nov 21: Portland Crystal Ballroom, OR
Nov 23: San Francisco The Regency Ballroom, CA
Nov 24: Los Angeles The Wiltern Theatre, CA