Def Leppard have shared lyric videos for their classic tracks Hysteria and Let's Get Rocked.
They've both been released ahead of the launch of Volume 1 – the first of four career-spanning box sets, which will land tomorrow (June 1) via Bludgeon Riffola/Mercury/UMe.
Earlier this month, the band released a lyric video for Pour Some Sugar On Me.
Watch both videos below.
The first box set instalment features 1980's On Through The Night, 1981's High 'N' Dry, 1983's Pyromania and 1987's Hysteria. The collection will also feature Live At The LA Forum 1983, which was originally released as a bonus disc on the deluxe CD version of Pyromania.
Also included is a disc titled Rarities Volume 1, which has been compiled by Def Lep frontman Joe Elliott and contains b-sides and early recordings. The Sheffield outfit's self-titled EP from 1979 will also be packed in on 7-inch vinyl and 3-inch CD.
Volume One will also come with a hardback book with photographs by Ross Halfin and liner notes from Paul Elliott. Bassist Rick Savage, drummer Rick Allen and guitarist Phil Collen have also contributed to the book.
Def Leppard have just kicked off their run of North American shows with Journey. They'll return to the UK and Ireland in December for a run of Hysteria tour dates.
Find a full list of dates and how to get tickets on our Def Leppard tour page.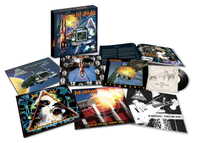 Def Leppard - Volume 1 box set
The first of four career-spanning box sets celebrates Def Leppard albums On Through The Night, High 'N' Dry, Pyromania and Hysteria, along with a wealth of bonus features.