Gungfly have released a lyric video for their new single Ghost Of Vanity.
The song has been lifted from the Rikard Sjöblom project's upcoming album Friendship, which is set to arrive on November 9 via InsideOut Music.
Speaking about the track, Sjöblom says: "A song that really just came to me all at once while I was strumming away on my guitar one day, lyrics and all.
"I kept singing, 'I don't want no part in this' over and over at first and then started thinking about what it was I didn't want to partake in. Well, vanity is something I've never been a big fan of but one way or another we're all slaves to it.
"I think most people, especially teenagers and young adults strive to live up to unrealistic expectations from TV commercials or the superficial parts of showbiz.
"I remember when I was a kid and thought everything they said on TV was true, or at least didn't reflect too much about whether it was real or not."
He adds: "No matter how much we try to not care about how cool or pretty or rich we are, I think it gets to us. The ghost of vanity is always present and I guess it takes a lot of reflecting over your own identity and a lot of courage to try to be yourself. I admire those who truly are."
Friendship is now available for pre-order. Find further details below.
Richard Sjöblom's Gungfly - Friendship
1. Ghost Of Vanity
2. Friendship
3. They Fade
4. A Treehouse In A Glade
5. Stone Cold
6. If You Fall, Pt. 2
7. Crown Of Leaves
8. Slow Dancer (Bonus Track)
9. Past Generation (Bonus Track)
10. Friendship (Utopian Radio Edit) (Bonus Track)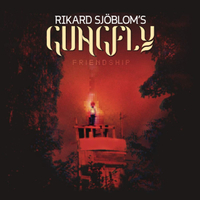 Richard Sjöblom's Gungfly - Friendship
Richard Sjöblom's Gungfly return with their new album Friendship - the follow-up to On Her Journey To The Sun. It features the lead track Ghost Of Vanity.