Gazpacho have released a video for their new single Hypomania.
The song features on the Norwegian outfit's latest album Soyuz, which launched last week via Kscope.
The video was directed by Dewi Allen, who also created the promo for Exit Suite and is said to be the conclusion to a "visual duology and counters the calm, ethereal nature of Exit Suite with an emotionally raw, heavy rock track represented by the fast-paced urban based scenes."
Gazpacho keyboardist Thomas Andersen explains: "Hypomania is a song about someone who realises that he is in love with his own projection of someone and not the real person. He has a crisis and ends up leaving.
"As a Gazpacho song, we spent a long time discussing if we should include it on the Soyuz album as it is different from the other songs there.
"It is a catchy straightforward rock song and we decided to keep it because it is exactly the kind of song men going through similar situations would be listening to while flying off to Vegas to lose all their money on gambling and drink."
Gazpacho will begin their European Soyuz tour tonight in the Netherlands, and Andersen has checked in to report that the band will play two sets each night.
He says: "The tour itself is not to be missed as we play almost three hours of music. New stuff, classics and older favourites that we haven't played before.
"This promises to be an emotional and exciting night and is a must for anyone interested in different music. I was going to add that there's free beer as well but that's not true!"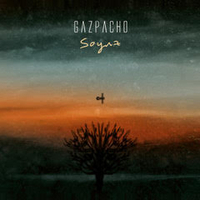 Gazpacho - Soyuz
Inspired by the ill-fated 1967 manned spaceflight by cosmonaut Vladimir Komarov, Gazpacho's latest album is a beautiful and emotion-packed journey not to be missed.
Gazpacho 2018 European tour dates
May 24: Maastricht Muziekgieterij, Netherlands
May 25: Uden De Pul, Netherlands
May 26: Zoetermeer De Boerderij, Netherlands
May 28: London The Dome, UK
May 31: Aschaffenburg Colos-saal, Germany
Jun 01: Cologne Die Kantine, Germany
Jun 02: Leeuwarden Neushoorn, Netherlands
Jun 23: Oslo John Dee, Norway
Jun 30: Barcelona Be Prog My Friend, Spain
Aug 25: Inowroclaw, Ino-Rock Festival, Poland