Arena have released a video for their track Poisoned exclusively with Prog.
Remarkably, it's the band's first-ever video single in their 23-year career, with the track lifted from their latest album Double Vision, which arrived earlier this year.
Poisoned was written by Arena in homage of loved ones lost to illness and specifically to cancer.
Keyboardist Clive Nolan tells Prog: "Poisoned was written at a particularly difficult time for me. While I was putting the songs together for the new Arena album, I was very aware that a good friend of mine was dying of cancer.
"There was something so raw, present and inescapable about this that it seemed obvious to me that this had to be written about.
"When singer Paul Manzi brought in some musical material at the beginning of January, I knew we had the foundation of what was needed."
Nolan adds: "In that first week of January, I told Ian that we were writing a song that reflected on him and others in similar situations, and he loved the idea.
"He said he really wanted to hear it, and I told him that should be fine, because we hoped to have a version ready by early February.
"Sadly he passed away before January was over."
Arena are now calling on fans to join them in a social media campaign to commemorate the deaths of friends, family and loved ones by using the hashtag #arenapoisoned on social media along with a picture of those who have died.
The band will collect all the images and create a montage which will appear in an upcoming vinyl edition of Double Vision.
Twitter users can tag @ArenaVerglas and those on Facebook can use @ArenaBandofficial. Photographs can also be sent to the band's email: arenabandUK@gmail.com.
Arena will head out on tour throughout March and April next year. Find a full list of dates below.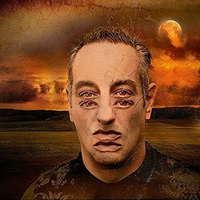 Arena - Double Vision
Arena return with their new album Double Vision - their first record since 2015's The Unquiet Sky. It features the single Poisoned, which resulted in the band's first-ever video single.
Arena 2019 tour dates
Mar 02: Wath Montgomery Hall, UK
Mar 30: Quebec City Salle Jean-Paul-Tardif, QC
Apr 03: Manchester Academy 3, UK
Apr 04: Bilston Robin 2, UK
Apr 05: Norwich Waterfront Studio, UK
Apr 06: London ULU, UK
Apr 09: Pratteln Z7, Switzerland
Apr 10: Munich Backstage, Germany
Apr 11: Rüsselsheim Das Rind, Germany
Apr 12: Essen Zeche Carl, Germany
Apr 13: Zoetermeer Boerderij, Netherlands
Apr 14: Reichenbach Neuberinhaus, Germany