Vola have premiered their video for new single Ghosts exclusively with Prog.
The track will feature on the band's upcoming album Applause Of A Distant Crowd, which will be released on October 12 via Mascot Records/Mascot Label Group.
It'll be the Copenhagen quartet's first record since their debut Inmazes, which launched in 2016.
Speaking about the promo, guitarist and vocalist Asger Mygind tells Prog: "We are exceptionally delighted to bring you the video for our brand new single Ghosts.
"The video was filmed, directed and edited by David and Dennis Kare Anderson and features the band in a more exposed visual representation than what we've tried before.
"We've been keen on letting some kind of fictional frame present a story in earlier videos, so for this track we decided that it was time to clearly show our faces and emphasise the atmosphere revolving around a band performance."
Mygind continues: "In conjunction with the obvious live vibe and more to-the-point character of the song itself, this made a lot of sense to us.
"The video was shot by the western and eastern coast of Zealand, Denmark, in the heat of a historically warm July."
The band previously explained that the album title is a metaphor derived from people's relationship with social media, with Mygind adding: "We spend a lot of time trying to present ourselves in a flattering light in the pursuit of continuous applause – even if it's a distant applause from those you may not connect with away from the screens."
Last month, Vola launched a video for the track Smartfriend (opens in new tab).
Vola - Applause Of A Distant Crowd
1. We Are Thin Air
2. Ghosts
3. Smartfriend
4. Ruby Pool
5. Alien Shivers
6. Vertigo
7. Still
8. Applause Of A Distant Crowd
9. Whaler
10. Green Screen Mother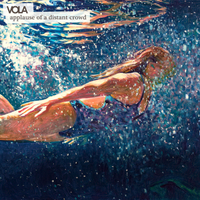 (opens in new tab)
Vola - Applause Of A Distant Crowd (opens in new tab)
Vola return with Applause Of A Distant Crowd – their second album and follow-up to 2016's Inmazes (opens in new tab), featuring the singles Smartfriend and Ghosts.