Voivod have released a video for their new single Always Moving.
They previously released the track on streaming services (opens in new tab), but they've now launched a Pierre Duplessis and Eric Massicotte-directed promo for the song, which will feature on their upcoming album The Wake.
Drummer Michel 'Away' Langevin says: "After a very cool summer playing festivals in North America, we are now refreshing the setlist with new material and old classics for the European tour.
"Aside from the first single Obsolete Beings (opens in new tab), we added Always Moving to the show and we are pleased to present the video for it. See you soon on the road!"
Voivod have also released a 7-inch single featuring Always Moving and a live cut of Order Of The Blackguards on the b-side. It's limited to just 1000 copies and is now available (opens in new tab).
Find a full list of VoiVod's European tour dates (opens in new tab).
Voivod - The Wake Deluxe Edition tracklist
1. Obsolete Beings
2. The End Of Dormancy
3. Orb Confusion
4. Iconspiracy
5. Spherical Perspective
6. Event Horizon
7. Always Moving
8. Sonic Mycelium
9. Inner Combustion (Live 2018)
10. Order Of The Blackguards (Live 2018)
11. Psychic Vacuum (Live 2018)
12. Lost Machine (Live 2018)
13. Fall (Live 2018)
14. Voivod (Live 2018)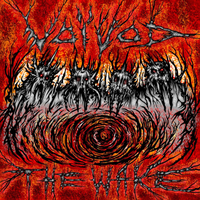 (opens in new tab)
Voivod - The Wake (opens in new tab)
Canadian veterans Voivod return with The Wake - the band's first album since 2013's Target Earth. The highly anticipated record features the singles Obsolete Beings and Always Moving.