Voivod drummer Michel 'Away' Langevin says the band's upcoming album The Wake is one of the most intricate they've ever made.
The follow-up to 2013's Target Earth will launch on September 21 via Century Media, with Langevin giving fans an insight into the record in a recent interview with Sonic Perspectives.
He says: "It's definitely one of the most intricate albums we've done. The songs are pretty long, very complicated and have lots of prog rock moments and a bit of psychedelia. Of course the punk/thrash metal signature is still there.
"It's vintage Voivod with a new twist because with bassist Rocky and guitarist Chewy, there's a futuristic touch to the band nowadays."
When asked if the band had considered recording the soundtrack to a film or making a movie based around the album concept, Langevin replies: "Of course. It's been a dream of ours for a long time.
"It's just that financially, it's very complicated for anybody to gather the funds to make a movie based on a Voivod album. At this point, we're hoping to be able to finish the movie about Voivod we started 12 years ago with Sam Dunn. We're still working on trying to finalise it.
He adds: "As for doing a soundtrack for a movie, that would be really amazing. I really think we could pull that off. But if anybody wants to do a movie based on a Voivod album, the logistics are difficult because of the huge amount of money it takes to make a movie."
Voivod launched the first track from The Wake, Obsolete Beings, back in July – and have now released a stream of Always Moving, which can be found below along with the full interview with Langevin.
Voivod - The Wake Deluxe Edition tracklist
1. Obsolete Beings
2. The End Of Dormancy
3. Orb Confusion
4. Iconspiracy
5. Spherical Perspective
6. Event Horizon
7. Always Moving
8. Sonic Mycelium
9. Inner Combustion (Live 2018)
10. Order Of The Blackguards (Live 2018)
11. Psychic Vacuum (Live 2018)
12. Lost Machine (Live 2018)
13. Fall (Live 2018)
14. Voivod (Live 2018)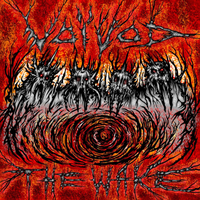 Voivod - The Wake
Canadian veterans Voivod return with The Wake - the band's first album since 2013's Target Earth. The highly anticipated record features the lead single Obsolete Beings.