Ayreon have released a stream of their epic track The Garden Of Emotions.
It'll feature on the upcoming 20th anniversary reissue of their 1998 album Into The Electric Castle, which has been remixed and remastered by Arjen Lucassen.
It's due to arrive on 3LP, 5-disc package and a limited edition box set on October 26 via Music Theories Recordings/Mascot Label Group.
The Garden Of Emotions features Anneke Van Giersbergen on vocals and is split into three parts: All In The Garden Of Emotions, Voices In The Sky and The Aggression Factor and weighs in at almost 10-minutes.
The album box set will include a framed 3D-sculpture of the cover, 4CDs containing the remixed album and an instrumental version, a DVD with a 5.1 remix of Into The Electric Castle plus documentaries, 3LPs on gold marbled vinyl, a download card and a certificate of authenticity, signed by Lucassen.
Last week, it was revealed that Ayreon will perform four nights at Tilburg's 013 in 2019 to celebrate the album's anniversary, in a run of shows which will feature "a massive, state-of-the-art live production with a unique decor, visuals and stage effects."
Into the Electric Castle was Ayreon's third album and, along with van Giersbergen, featured guests including Fish, Sharon den Adel, Damian Wilson, Edwards Reekers and Jay van Feggelen.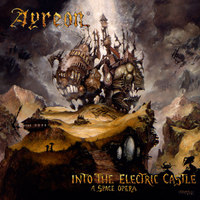 Ayreon - Into The Electric Castle
Ayreon mastermind Arjen Lucassen has remastered the band's 1998 album to celebrate its 20th anniversary. It'll be released on multiple formats, including a limited edition box set.