Ayreon have announced that they'll play four special shows at Tilburg's 013 in the Netherlands next year.
The live dates have been organised in celebration of the 20th anniversary of their album Into The Electric Castle, which will be reissued on October 26 via Music Theories Recordings/Mascot Label Group.
The shows will take place on September 13 and 14, with two more on the 15th.
And after three sold out Ayreon Universe appearances at the venue in 2017, Arjen Lucassen will bring together the majority of musicians who appeared on the 1998 record for the September 2019 "space opera" where the album will be performed in its entirety.
The shows are expected to take the form of "a massive, state-of-the-art live production with a unique decor, visuals and stage effects."
Along with playing the full album, fans can expect "extra surprises" which will be revealed in the coming weeks.
Ayreon mastermind Lucassen says: "The Ayreon Universe shows were such a fantastic experience for everyone involved, and I've had loads of requests for more live shows, so we have decided to perform the entire Electric Castle album live in 2019, again in the venue 013!
"Because it's the 20th anniversary of the album and it's just been re-mixed and re-released, we figured this is the perfect moment to do this."
A total of 22 vocalist and musicians will take part in the live shows, including Lucassen, Fish, Anneke van Giersbergen, Damian Wilson, Thijs van Leer, Ed Warby, Edward Reekers, Edwin Balogh and George Oosthoek.
Special guests will include Simone Simons, Mark Jansen, John Jaycee Cuijpers, Marcela Bovio, Dianne van Giersbergen and Jan Willem Ketelaars, with more to be confirmed.
The roster of live musicians include Johan van Stratum, Joost van den Broek, Marcel Singor, Ferry Duijsens, Bob Wijtsma and Ben Mathot.
Lead producer Joost van den Broek says: "It's a huge challenge, both with respect to the music and the production but with the experience we've gathered by doing the Universe and festival shows and the amazing team we have, I'm sure we're ready to take this next step in bringing Into The Electric Castle to the stage.
"We are aiming for the most authentic and very detailed translation of the entire album, staying true to the original vibe, dynamics and sound, plus adding some extras here and there.
"It will be a big pleasure to share the stage with all these excellent musicians, playing this classic prog-rock opus live for Ayreon's fans!"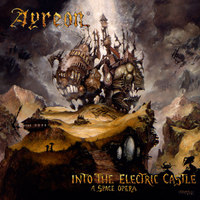 Ayreon - Into The Electric Castle
Ayreon mastermind Arjen Lucassen has remastered the band's 1998 album to celebrate its 20th anniversary. It'll be released on multiple formats, including a limited edition box set.