A black and white video for Pink Floyd's first single Arnold Layne has been released.
The footage was shot on the beach at East Wittering, West Sussex, England, in February 1967 and was directed by Derek Nice ahead of its launch in March of that year.
Arnold Layne subsequently appeared on the Relics album in 1971, 1983's Works and Echoes: The Best Of Pink Floyd, which arrived in 2001.
It most recently featured in the The Early Years 1965 - 1972 box set, which was split into six individual volumes and released in March this year.
The track is included on Cambridge St/Ation (1965-1967), with Germin/Ation (1968), Dramatis/Ation (1969), Devi/Ation (1970), Reverber/Ation (1971) and Obfusc/Ation (1972) completing the collection.
A statement on The Early Years 1965 - 1972 reads: "From the single Arnold Layne to the 20-minute epic Echoes, fans will see the invention of psychedelic progressive rock via an insightful collection that explores the Pink Floyd story from the time Roger Waters, Richard Wright, Nick Mason and Syd Barrett met at London's Regent Street Polytechnic, through to Syd's departure and David Gilmour joining to form the iconic lineup."
In July, a video for Floyd's 1967 track Apples And Oranges (opens in new tab), which was filmed in a Belgian fruit market, was released.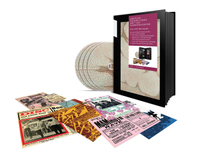 (opens in new tab)
Pink Floyd - Cambridge St/Ation (opens in new tab)
The first of six volumes covering Pink Floyd's early career – featuring Syd Barrett's time with the band, from the pre-EMI demos, through the non-album hit singles and related tracks.