A rare promotional video showing Pink Floyd performing Apples And Oranges has been released.
The song launched in 1967 and was the band's third UK single and the final track written by Syd Barrett before his departure from the group.
The video, recorded in a Belgian fruit market, features David Gilmour in Barrett's place and sees Roger Waters lip-synching along to the track.
The promo features on Pink Floyd's The Early Years 1965 - 1972, which was split into six individual volumes and released back in March.
Apples And Oranges is included on Cambridge St/Ation (1965-1967), with Germin/Ation (1968), Dramatis/Ation (1969), Devi/Ation (1970), Reverber/Ation (1971) and Obfusc/Ation (1972) completing the collection.
A statement on The Early Years 1965 - 1972 reads: "From the single Arnold Layne to the 20-minute epic Echoes, fans will see the invention of psychedelic progressive rock via an insightful collection that explores the Pink Floyd story from the time Roger Waters, Richard Wright, Nick Mason and Syd Barrett met at London's Regent Street Polytechnic, through to Syd's departure and David Gilmour joining to form the iconic lineup."
Pink Floyd are the cover stars in the latest issue of Prog, which is on sale now.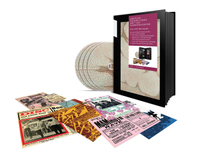 Pink Floyd - Cambridge St/Ation
The first of six volumes covering Pink Floyd's early career – featuring Syd Barrett's time with the band, from the pre-EMI demos, through the non-album hit singles and related tracks.