Ghost have released a new video for their Prequelle track Dance Macabre.
The band previously shared a disco remix of the track, along with a promo which showed Metallica's Kirk Hammett, Anthrax's Charlie Benante and Phil Anselmo rocking out to the song.
Now they've delved back into the track for another video, with the new clip showing how Sister Imperator and Papa Nihil first met, which resulted in the birth of the Ghost legend.
It opens with two guys gatecrashing a lavish party in a mansion, but once they get inside, things take a very unexpected twist. Check it out below.
On Halloween, Ghost will play a special show in Milwaukee in honour of fan Jeff Fortune who collapsed and later died after attending a Ghost show in the city in May.
The band were forced to cut the set short on the night, and will return to perform Act II. T-shirts featuring likenesses of Cardinal Copia and Fortune clad in Michael Meyers costumes will be on sale at the show. All proceeds from sales will go to Fortune's family.
Last month, Ghost released the fourth part of their Prequelle video series to announce their 2019 European tour.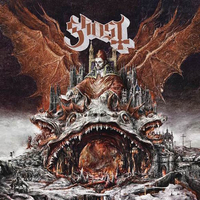 Ghost - Prequelle
Ghost return with their biggest and best record of their career with Prequelle. The follow-up to 2015's Meliora features instant classics Dance Macabre and Rats.