A video for the Chris Cornell track When Bad Does Good has been released to coincide with the launch of a new career-spanning collection of the vocalist's work.
The compilation simply titled Chris Cornell was released today, with When Bad Does Good one of the previously unreleased songs from Cornell's archive.
The Kevin Kerslake-directed video stars Chris and Vicky Cornell's son Christopher, who plays a paper boy, with snippets of Cornell's lyrics scattered throughout the city as Christopher rides his bike across Seattle.
Christopher says: For me, this video represents my dad and all the art he created throughout his life and what his music meant then and what it means now – not just to me and my family, but the city of Seattle and all of his fans."
Kerslake adds: "I wanted to highlight an aspect of Chris' talents often overshadowed by his more obvious virtues – his monstrous guitar chops, operatic vocal range or commanding physical presence – which is his place as one of this generation's greatest lyricists.
"But do it within a specific context that turned a simple, straightforward journey through the streets of Seattle into a eulogy, of sorts, with mystical undertones."
Earlier this week, it was revealed that a Chris Cornell tribute concert would be held at The Forum in Los Angeles in January.
The show will feature performances from the members of Soundgarden, Temple Of The Dog and Audioslave, plus Foo Fighters and Metallica members and many more.
Proceeds will go towards the EBMRF (The Epidermolysis Bullosa Medical Research Foundation).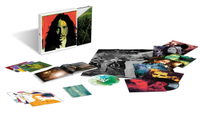 Chris Cornell Box Set
This new collection brings together choice cuts from the late Soundgarden, Audioslave and Temple Of The Dog frontman's career and features a total of 88 tracks. Not to be missed.