Dee Snider has released a video for his song For The Love Of Metal.
It's the title track from the former Twisted Sister frontman's new solo album, which launched in July via Napalm Records and follows the tracks Become The Storm, I Am The Hurricane and American Made (opens in new tab).
Check it out below.
Snider previously revealed that the seeds for the record were planted after he appeared on Jamey Jasta's podcast, where the Hatebreed vocalist challenged Snider to make "a true metal record."
Snider said: "This is a record of inspiration – everything about it is inspiration. It starts with the amazing Jamey Jasta being inspired by my music and my voice. He reached out to me and challenged me to make a true metal record – to use my voice and make a really hard record.
"I was then inspired by his passion, his words and his belief in me, and I took that inspiration and rose to the challenge."
For The Love Of Metal features a number of guest musicians and vocalists, including ex Killswitch Engage frontman Howard Jones, Lamb Of God guitarist Mark Morton, Joel Grind and Nick Bellmore from Toxic Holocaust and Arch Enemy's Alissa White-Gluz.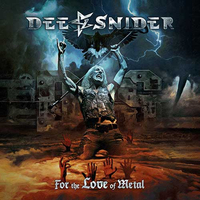 (opens in new tab)
Dee Snider: For The Love Of Metal (opens in new tab)
Twisted Sister icon Dee Snider returns with his new solo album, featuring guest appearances from artists including Lamb of God's Mark Morton, Howard Jones and Alissa White-Gluz.