Dee Snider has premiered a video for his track American Made.
It's the third single taken from the former Twister Sister vocalist's new album For The Love Of Metal (opens in new tab), which launched in July via Napalm Records and follows the tracks Become The Storm (opens in new tab) and I Am The Hurricane (opens in new tab).
Speaking about the track, Snider says: "I was watching the Olympics and couldn't help but notice that no matter how 'at each other's throats' we all appear to be politically these days, amazingly, we are all unified when it comes to our country against another.
"It made me realise that countries are like dysfunctional families: we may argue and fight amongst each other – you should have seen the extended Snider family Christmas this year - people literally almost came to blows – but should someone dare attack any one of us and the entire family will band together against the aggressor.
"This goes for all countries. This song is a song on unification – recognising that there is a very important something we all share and should be proud of: Where we are from."
The seeds for the new record were planted after Snider appeared on Jamey Jasta's podcast, where the Hatebreed vocalist challenged him to make "a true metal record."
For The Love Of Metal also features a number of guest musicians and vocalists, including ex Killswitch Engage frontman Howard Jones, Lamb Of God guitarist Mark Morton, Joel Grind and Nick Bellmore from Toxic Holocaust and Arch Enemy's Alissa White-Gluz.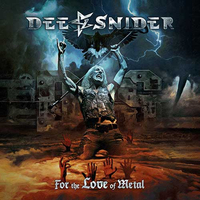 (opens in new tab)
Dee Snider - For The Love Of Metal (opens in new tab)
Twisted Sister icon Dee Snider returns with his new solo album, featuring guest appearances from artists including Lamb of God's Mark Morton, Howard Jones and Alissa White-Gluz.