The Pineapple Thief - Dissolution
1. Not Naming Any Names
2. Try As I Might
3. Threatening War
4. Uncovering Your Tracks
5. All That You've Got
6. Far Below
7. Pillar Of Salt
8. White Mist
9. Shed A Light
The Pineapple Thief have released a video for their new single Try As I Might.
It's the second track taken from the band's upcoming album Dissolution, with Bruce Soord and co revealing Far Below (opens in new tab) back in June.
Speaking about the George Laycock-directed promo, vocalist and guitarist Soord says: "The video follows the theme of the song and the album – if you sign up to this hyper connected world we live in, then you have to live with the consequences. Try as you might to get out of it."
Laycock says that the video has nods to The Truman Show, Black Mirror and reality shows such as Big Brother and adds: "It was about creating a storyline using these broad influences and encapsulating into an obscure three-minute film on a budget."
He adds: "I was interested in the concept of 'in-eye cameras' – scary technology I am sure isn't too far away from us. We decided to go down the optical medical route and follow our character on a journey from first pre-operation, to surgery, recovery and then trying to battle the decision he has made, while battling with the corporation he has signed up too.
"The film hopefully leaves the viewer to create their own conceptions on his outcome."
The promo was filmed on the Dorset and Devon coastline, with Laycock revealing they were fortunate to gain access to great locations.
The director continues: "To keep the cast down to a minimum, I decided that the camera that's watching Bruce would become the main supporting actor and his nemesis, appearing in scenes without anyone operating it. This allowed us to see the cameras point of view and tell the story to the fictional viewer.
"This old broadcast camera weighed an absolute ton, and carrying through remote woods, down a mile-long steep cliff path to a beach was a challenge on some of the hottest days of the year. Filming in the water at the end was a welcome refreshment."
Laycock concludes: "Many thanks to all those who helped with the film, especially everyone involved at Yeovil hospital for allowing us such amazing access – and to Bruce for being so amenable about having scalpels inches from his eyeball."
The Pineapple Thief will head out on the Dissolution tour from next month (opens in new tab), with dates planned across Europe and the UK.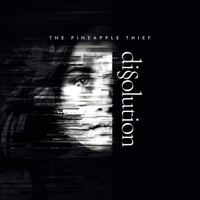 (opens in new tab)
The Pineapple Thief - Dissolution (opens in new tab)
The Pineapple Thief return with their highly anticipated follow-up to 2015's Your Wilderness - featuring the lead singles Far Below and Try As I Might.