The Joy Formidable have released a video for their new single The Better Me.
It's the latest track taken from the trio of Ritzy Bryan, Matthew James Thomas and Rhydian Dafydd's upcoming album Aaarth, which is set to arrive on September 28 via Hassle Records.
The band previously launched the singles The Wrong Side (opens in new tab) and Dance Of The Lotus (opens in new tab) from the record.
Speaking about the new track, vocalist and guitarist Bryan says: "The Better Me is a song about self-acceptance, living with your mistakes and appreciating how we all make up the whole and have something different to offer.
"A song of thanks to a loved one and a decision to love oneself."
The video was filmed in Las Vegas in the early evening and put together by Boston-based creative studio TRLLM, who attempted to capture the feelings of loneliness and hopefulness simultaneously.
The company say in a statement: "We knew we wanted to do something simple and centred around Ritzy's performance because it's a very personal song.
"There's also this natural defiance in walking forward, pushing forward through these deserted streets in a lonely corner of Las Vegas."
The Joy Formidable have a handful of live dates planned in the UK over the next few weeks. Find details below.
The Joy Formidable - Aaarth
1. Y Bluen Eira
2. The Wrong Side
3. Go Loving
4. Cicada (Land On Your Back)
5. All In All
6. What For
7. The Better Me
8. Absence
9. Dance Of The Lotus
10. You Can't Give Me
11. Caught On A Breeze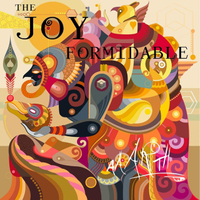 (opens in new tab)
The Joy Formidable - Aaarth (opens in new tab)
The Welsh trio of Ritzy Bryan, Rhydian Dafydd and Matthew James Thomas return with their first album since 2016's Hitch, featuring Dance Of The Lotus, The Wrong Side and The Better Me.
The Joy Formidable 2018 live dates
Sep 28: Cardiff Spillers Records (in-store performance)
Sep 29: Nottingham Rough Trade (in-store performance)
Sep 30: Bristol Rough Trade (in-store performance)
Oct 01: London East Rough Trade (in-store performance)