The Breeders have released a video for their new single Spacewoman.
It's the latest track taken from the band's latest album All Nerve, which launched back in March this year via 4AD.
The band teamed up with director, actor, TV presenter, author and comedian Richard Ayoade, who has been a fan of the band since he was a teenager in the 90s, for the promo.
Kim Deal has described Ayoade's visualisation of the track as "a sci-fi thriller with the soul of late author Harlan Ellison" with the video showing Deal in a spacesuit traversing a woodland landscape.
It was filmed on 35mm film and was shot in one take and also shows Breeders members Jim Macpherson, Josephine Wiggs and Kelley Deal in various states of trauma.
The Breeders are currently on tour across the US and will return to Europe next month before embarking on further dates in Australia and New Zealand.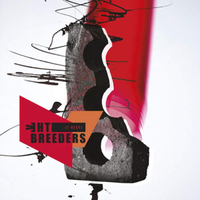 The Breeders - All Nerve
The Breeders are back with the lineup of Kim and Kelley Deal, Josephine Wiggs and Jim Macpherson for All Nerve – their first album together since 1993's Last Splash.