With Christmas on the horizon, now is the time to start planning for those festive parties – and the perfect accessory for any get-together is a draft beer dispenser. Really good ones can be expensive, which is why you need to pay attention to this Black Friday deal – Amazon have slapped a massive 45% discount on the awesome Philips PerfectDraft beer dispenser reducing the price from £374.99 to a much more modest £197.49.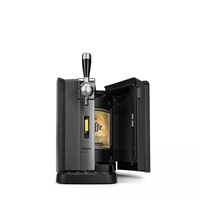 Philips PerfectDraft: Was £374.99, now £197.49
Despite the popularity of the Philips PerfectDraft beer dispenser, Amazon have slashed 45% off the usual price - that's a significant saving of £177.50. Not only that, but with PerfectDraft kegs available too, you'll have lots of beautiful beer to look forward to.
I bought a Philips PerfectDraft last summer and I just can't imagine it not sitting on my kitchen work surface. I love it and it gets regular use in our house. I like the convenience of it too - I can pour a pint when I'm in the mood on a Friday night, or a small glass while preparing dinner.
The PerfectDraft is simple to set up straight out the box and it has a range of features designed to make your beer taste fresh and delicious. It holds special six-litre kegs which can be purchased from Amazon or from PerfectDraft. Once a keg is inserted, the machine gradually brings the temperature down to three degrees to ensure you can have a cold one on tap any time you like.
Here's a quick tip: Before inserting the keg, it's a good idea to get it a bit cooler to help the PerfectDraft do its thing. If you have space in the fridge, pop the keg in for a couple of hours first. And if you don't, I find filling the sink with cold water and ice cubes/frozen blocks does the trick too. Doing this will also let you pour your first pint a bit quicker as it can take some time for the beer get down to a chilly three degrees.
The LCD display on the front of the machine lets you see at a glance how much beer is left in the keg, along with how many days left you have to drink it fresh. You needn't worry about hygiene or contamination either, as a fresh beer line that connects the keg to the PerfectDraft is included with every new keg you buy.
Ordinarily, a beer dispenser of this quality might be seen as a bit of an indulgence. However, this Black Friday deal has made the Philips PerfectDraft more affordable to all. And that's got to be something worth celebrating.
If you're in need of some inspiration for your big festive party, then take a peek at our guide to the best Black Friday alcohol deals - and you'll find even more products at discounted prices in our list of Black Friday music deals.