David Cross - Crossing The Tracks
1. White Bird (w/Sonja Kraushofer)
2. Kalahari Fantasy
3. For What It's Worth (w/Anne-Marie Hurst)
4. Prince Of Darkness
5. Love Me (w/Ofra Haza)
6. Into The Oblique
7. The Light Inside Me (w/Kimberly Freeman)
8. Shifting Sands
9. Hero Of Kingdom (w/Marion Küchenmeister)
10. Hallelujah
11. The Key (w/Ofra Haza)
12. Shadows Do Know (w/Eva O)
David Cross has released a brand new album titled Crossing The Tracks.
The former King Crimson violinist has teamed up with a variety of vocalists for the record, including Sonja Kraushofer, Anne-Marie Hurst, Ofra Haza, Kimberly Freeman, Marion Küchenmeister and Eva O.
Cross says: "Crossing The Tracks is an exciting new departure for me.
"Cleopatra Records and producer Jurgen Engler presented me with 12 tracks and gave me free reign to play on all of them, hence 'crossing the tracks.'
"This was an unusual situation for me as I am generally composer, performer and producer – albeit in collaboration with other band members, and I wasn't sure how I would fare as a 'session' player.
"However the lure of artistic freedom and a new musical challenge was too strong to resist."
Cross continues: "I wanted to stay true to the existing compositions and performances by the other artists and yet create an impact on the music by adding melody, string parts and solos.
"I surprised myself by having real fun doing this – I just had to play the violin and follow my instincts – leaving those difficult production decisions to Jurgen!"
Cross adds: "I love the cover artwork – heading for the light at the end of the tunnel without getting derailed!"
Cross is currently wrapping up a run of shows with Italian prog outfit Le Orme and is expected to announce further live 2018 shows in the near future.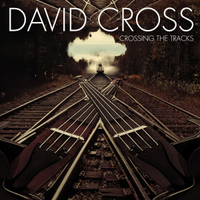 David Cross - Crossing The Tracks
Former King Crimson violinist David Cross releases his latest album Crossing The Tracks, featuring 12 tracks in collaboration with vocalists including Anne-Marie Hurst, Ofra Haza and Kimberly Freeman.