A previously unreleased demo of Joe Stummer's This Is England has received a lyric video.
Czechoslovak Song / Where Is England was recorded in 1983 during sessions for the Cut The Crap album and features Strummer on vocals and guitar, Paul Simonon on bass and Pete Howard on drums.
The song will feature on Joe Strummer 001 which will launch on Friday (September 28). It'll contain a total of 32 tracks, including rare cuts and remasters from Strummer's career outside of The Clash.
Along with Czechoslovak Song/Where Is England, the record will also have a demo of Letsagetabitarockin recorded in 1975, outtakes from Sid & Nancy with Mick Jones, and the unreleased songs Rose Of Erin, The Cool Impossible and London Is Burning – one of the last songs Strummer recorded with The Mescaleros.
Strummer's widow Lucinda Tait oversaw the compilation along with producer and art director Robert Gordon McHarg III. All 32 tracks were restored and mastered at the E. Room in Toronto by Grammy winner Peter J. Moore.
Joe Strummer 001 tracklist
CD1
1. Letsagetabitarockin' (2005 Remastered Version) - The 101ers
2. Keys To Your Heart (Version 2) [2005 Remastered Version] - The 101ers
3. Love Kills - Joe Strummer
4. Tennessee Rain - Joe Strummer
5. Trash City - Joe Strummer & The Latino Rockabilly War
6. 15th Brigade - Joe Strummer
7. Ride Your Donkey - Joe Strummer
8. Burning Lights - Joe Strummer
9. Afro-Cuban Be-Bop - The Astro-Physicians
10. Sandpaper Blues - Radar
11. Generations - Electric Dog House
12. It's A Rockin' World - Joe Strummer
13. Yalla Yalla - Joe Strummer & The Mescaleros
14. X-Ray Style - Joe Strummer & The Mescaleros
15. Johnny Appleseed - Joe Strummer & The Mescaleros
16. Minstrel Boy - Joe Strummer & The Mescaleros
17. Redemption Song - Johnny Cash & Joe Strummer
18. Over The Border - Jimmy Cliff & Joe Strummer
19. Coma Girl - Joe Strummer & The Mescaleros
20. Silver & Gold / Before I Grow Too Old - Joe Strummer & The Mescaleros
CD2
1. Letsagetabitarockin' (Strummer Demo) - Joe Strummer
2. Czechoslovak Song / Where Is England - Strummer, Simonon & Howard
3. Pouring Rain (1984) - Strummer, Simonon & Howard
4. Blues On The River - Joe Strummer
5. Crying On 23rd - The Soothsayers
6. 2 Bullets - Pearl Harbour
7. When Pigs Fly - Joe Strummer
8. Pouring Rain (1993) - Joe Strummer
9. Rose Of Erin - Joe Strummer
10. The Cool Impossible - Joe Strummer
11. London Is Burning - Joe Strummer & The Mescaleros
12. U.S. North - Joe Strummer & Mick Jones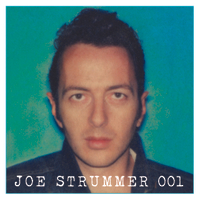 (opens in new tab)
Joe Strummer 001 (opens in new tab)
A 32-track compilation featuring demos and material from Joe Strummer's career outside of The Clash, including previously unreleased tracks Rose Of Erin, The Cool Impossible and London Is Burning