Therapy? - Cleave
1. Wreck It Like Beckett
2. Kakistocracy
3. Callow
4. Expelled
5. Success? Success Is Survival
6. Save Me From The Ordinary
7. Crutch
8. I Stand Alone
9. Dumbdown
10. No Sunshine
Therapy? have premiered a lyric video for their new single Wreck It Like Beckett exclusively with Louder.
The song will feature on their upcoming album Cleave, which is set to arrive on September 21 via Marshall Records.
Therapy? vocalist and guitarist Andy Cairns tells Louder: "This song originated with bassist Michael McKeegan. He told me he had a riff which reminded him of She Watch Channel Zero by Public Enemy and he sent me over a bass riff, a guitar riff and a drum beat.
"I thought the riff was incredible and so we chopped it up in the rehearsal room to make it more stop-start, like Knives or Screamager – and that really worked."
Cairns continues: "Lyrically, it's about trying to start anew. The reason that Irish playwright and poet Samuel Beckett is referenced in the title is that each time Beckett began a new project he used to imagine that he was sitting at a desk and could swipe his arm across the desk to clear away all the sheets of paper so that he could make a fresh start.
"This is a song that sets the album up as a new chapter for Therapy?."
Therapy? will head out on the road in support of Cleave from October, with dates planned in the Netherlands, Germany and the UK. Find details below.
Therapy? 2018 tour dates
Oct 10: Liege Reflektor, Belgium
Oct 11: Kortrijk De Kreun, Belgium
Oct 12: Alkmaar Kortrijk, Belgium
Oct 13: Hengelo Beerland Festival, Netherlands
Oct 14: Utrecht Tivoli Vredenburg, Netherlands
Oct 16: Hamburg Knust, Germany
Oct 17: Hannover Musikzentrum, Germany
Oct 18: Frankfurt Zoom, Germany
Oct 19: Cologne Gebaude 9, Germany
Oct 20: Munster Sputnikhalle, Germany
Oct 21: Berlin SO 36, Germany
Oct 23: Leuven Het Depot, Belgium
Nov 08: Cardiff The Globe, UK
Nov 09: Southampton Engine Rooms, UK
Nov 10: Norwich The Waterfront, UK
Nov 11: Nottingham Rescue Rooms, UK
Nov 12: Glasgow Garage, UK
Nov 13: Sheffield O2 Academy 2, UK
Nov 15: Stoke The Sugarmill, UK
Nov 16: Manchester Gorilla, UK
Nov 17: Leeds Brudenell Social Club, UK
Nov 19: Brighton Concorde 2, UK
Nov 20: Bristol SWX, UK
Nov 21: Exeter Phoenix, UK
Nov 22: London O2 Academy Islington, UK
Nov 23: Birmingham Asylum, UK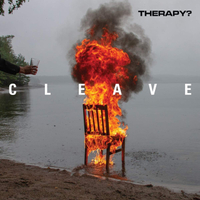 (opens in new tab)
Therapy? - Cleave (opens in new tab)
Therapy?'s first new album since 2015's Disquiet features the singles Callow (opens in new tab) and Wreck It Like Beckett. The trio will head out on tour later this year, with dates planned in October and November.