Emma Ruth Rundle has premiered a video for her new single Light Song.
The track has been taken from her upcoming album On Dark Horses, which is set to arrive on Friday (September 14) via Sargent House.
Rundle teamed up with Jaye Jayle on the 2017 split EP The Time Between Us, with the band's Evan Patterson appearing on the new song and in the video.
A statement on the record reads: "Written during rare and fleeting moments of calm during the past two years' relentless touring, Rundle's new batch of songs that comprise On Dark Horses vibrate with restlessness and forward motion.
"Prodding and preening the wounds unmasked in Marked For Death, Rundle's third album for Sargent House brings cinematic instrumentals to her sprawling narratives.
"These eight new tracks capture the evolution of Rundle as an artist. Vestigial traces of 2011's Electric Guitar: One's savvy guitar work, the heart-on-sleeve intensity of 2014's Some Heavy Ocean and the high-stakes torch songs of Marked For Death can all be heard in equal and harmonious accord."
Rundle and Jaye Jayle will head out on the road together later this month (opens in new tab), with dates planned throughout the remainder of the year across North America, the UK and Europe.
In June, Rundle released the single Fever Dreams (opens in new tab).
Emma Ruth Rundle - On Dark Horses
1. Fever Dreams
2. Control
3. Darkhorse
4. Races
5. Dead Set Eyes
6. Light Song
7. Apathy On The Indiana Border
8. You Don't Have To Cry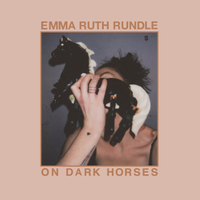 (opens in new tab)
Emma Ruth Rundle - On Dark Horses (opens in new tab)
Rundle's follow-up to 2016's Marked For Death sees the vocalist and guitarist collaborate with artists including Jaye Jayle's Evan Patterson and Todd Cook, and features the lead tracks Fever Dreams and Light Song.