Never mind "a long time ago in a galaxy far, far away" – you can get your hands on cheap Star Wars Lego right now thanks to this amazing Black Friday deal. To celebrate the annual shopping event, Amazon is selling the Lego Star Wars AT-AT Walker at a massive 42% discount, meaning you can add this spectacular bit of kit to your collection for just £191.99 instead of the usual price of £329.35.
Earlier this month, the price was as low as £149.99, but you're still saving a huge amount of cash with this revised price drop - and there are plenty of other Star Wars Lego up for grabs, too.
Released in 2017 to celebrate the 40th anniversary of the original Star Wars film A New Hope, this 1,267-piece set would make an unbelievable gift for any fan of the iconic series – whether that be a friend, a family member or, indeed, yourself. And now that it's available for a massively reduced price, there's never been a better time to buy it. To find out more about this fabulous set, and the deal that's made it much more affordable, unclip your lightsaber and walk this way...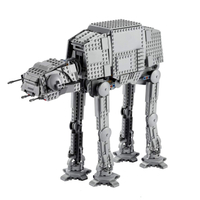 Star Wars Lego AT-AT deal: Was £329.35, now £191.99
Amazon is loaded with deals right now, with discounts on everything from audio equipment to clothes and toys. As big fans of Star Wars, though, we're especially excited by this one, which slashes a ginormous 42% off the price of the Lego Star Wars AT-AT Walker set. That's equivalent to a £137.36 saving – truly Jedi-like!
Star Wars is the gift that keeps on giving, with generation after generation of viewers becoming enraptured by George Lucas's blockbusting sci-fi series, along with its associated toys and merchandise. If you're one of those fans who loves to collect Star Wars merch – or you know someone who is – then this Amazon deal is definitely a reason to be excited.
The Lego Star Wars AT-AT Walker is one of the most sought-after sets in the Lego range. Packing 1,267 pieces, it's a joy to build and looks the business – it would make a great addition to any Star Wars fan's bedroom. To make it even more fun, the set comes with six Lego mini-figures – Luke Skywalker, General Veers, 2 AT-AT Drivers and 2 Snowtroopers – plus an assortment of weapons and accessories.
But that's not all, there's a host of other Lego Star Wars models up for grabs for less from Amazon at the moment. There's 20% off this sweet 474-piece X-Wing model, while this smart 2,315-piece R2-D2 droid model is an essential for any serious collection, particularly with a 16% discount (was £209.99, now £176.98).
We've handpicked more of the best Lego kits for adults here and we're keeping tabs on all the best Black Friday music deals on our main hub page. And don't forget to check out Disney+ - the home to the entire Star Wars universe.