Behemoth have released a trailer showing the packaging for their God = Dog dog food.
The promotional item is named after the band's first single from their upcoming album I Loved You At Your Darkest, which is set to arrive October 5 via Nuclear Blast.
The product made its debut at the band's album listening party in New York earlier this month, when some fans were given packets at the event.
The new trailer shows shots of the packaging, while in an Instagram video, Nergal feeds his dog some of the crucifix-shaped snacks and eats one himself, saying they are "fully vegan, healthy and cruelty free."
Nergal says: "We have just released a limited edition of God = Dog dog food just to support our friends – animals, dogs.
"They're little black snacks in the shape of crosses – and I think maybe this is the first time in the history of mankind that a cross actually has a purpose, that a cross can actually do something useful for us."
Nergal also posted an black and white image of himself holding the dog food packet.
Behemoth will hold an in-store I Loved You At Your Darkest signing event at HMV's Oxford Street store in London on October 5. Details of how to get involved are on the HMV website.
There's also a separate, exclusive launch event taking place on the same day – tickets can be obtained through limited-edition album pre-orders through the Nuclear Blast Store.
Behemoth will head out on tour in support of the follow-up to 2014's The Satanist across the UK and Europe early next year.
Find details below.
Behemoth - I Loved You At Your Darkest
1. Solve
2. Wolves Ov Siberia
3. God = Dog
4. Ecclesia Diabolica Catholica
5. Bartzabel
6. If Crucifixion Was Not Enough
7. Angelus XIII
8. Sabbath Mater
9. Havohej Pantocrator
10. Rom 5:8
11. We Are The Next 1000 Years
12. Coagula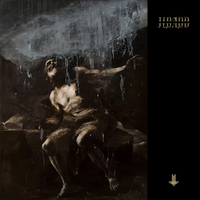 Behemoth Ecclesia Diabolica Evropa 2019 e.v. tour dates
Jan 10: Frankfurt Batschkapp, Germany
Jan 11: Munich Tonhalle, Germany
Jan 13: Vienna Arena, Austria
Jan 15: Zurich Komplex 457, Switzerland
Jan 16: Milano Alcatraz, Italy
Jan 17: Lyon Le Transbordeur, France
Jan 18: Barcelona Razzmatazz, Spain
Jan 19: Madrid La Riviera, Spain
Jan 21: Toulouse Le Bikini, France
Jan 22: Paris Bataclan, France
Jan 23: Oberhausen Turbinenhalle, Germany
Jan 24: Berlin Huxleys, Germany
Jan 25: Copenhagen Vega, Denmark
Jan 26: Stockholm Annexet, Sweden
Jan 29: Helsinki The Circus, Finland
Jan 30: Tampere Pakkahuone, Finland
Feb 01: Hamburg Grosse Freiheit 36, Germany
Feb 04: Esch-sur-Alzette Rockhal, Luxembourg
Feb 06: Bristol Motion, UK
Feb 07: Birmingham O2 Institute, UK
Feb 08: London O2 Forum Kentish Town, UK
Feb 09: Manchester O2 Ritz, UK
Feb 10: Dublin Vicar Street, Ireland
Feb 11: Glasgow QM Union, UK