Arch Enemy have announced that they'll release an album of cover versions early next year.
It'll be titled Covered In Blood and is a compilation of all the covers the band have recorded throughout their career. It's set to arrive on January 18 via Century Media, and while a full tracklist will be revealed in due course, the final cover art can be seen below.
In addition, Arch Enemy will launch a limited edition 7-inch vinyl single of their Will To Power (opens in new tab) track Reason To Believe on December 7. It'll be backed by their version of the Tears For Fears song Shout.
The single will be available on black vinyl (300 copies), white vinyl (200 copies), clear vinyl (100 copies - available at CMDistro EU), silver vinyl (200 copies - available at Nuclear Blast) and red vinyl (200 copies - available at EMP).
All are now available to pre-order (opens in new tab), while both tracks will also be released on digital platforms.
Arch Enemy's Michael Amott says: "Reason To Believe is a song that was born out of reminiscing about my own youth and also the stories from our fans around the world. This one's for you. Always keep on fighting, my friends!"
The band also have several 2019 European festival appearances booked. Find details below.
Arch Enemy 2019 European tour dates
May 31: Pilsen Metalfest Open Air, Czech Republic
Jun 05: Sölvesborg Sweden Rock Festival, Sweden
Jun 07: Nürburg Rock Am Ring, Germany
Jul 12: Kvinesdal Norway Rock Festival, Norway
Jul 20: Laukaa John Smith Rock Festival, Finland
Aug 06: Nuremberg Rock Im Park, Germany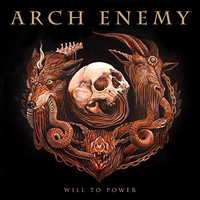 (opens in new tab)
Arch Enemy: Will To Power (opens in new tab)
Arch Enemy's latest studio album Will To Power was released back in 2017 and features tracks including The Eagle Flies Alone and Reason To Believe.