Dr. Martens are synonymous with rock, punk, metal and goth – with the rugged and much-loved brand adorning feet across the nation at clubs, gigs and festivals down through the years.
Years ago – and I'm going back to the late 80s – there wasn't a great deal of choice when it came to Docs (at least in my hazy memory) with really only eight-hole Cherry Reds, 10-hole black and steel-toe versions springing to mind.
But that's not the case in 2020, with the British company now selling a dazzling array of fab footwear. And, of course, being Dr. Martens, not only do they look amazing, but they're hard-wearing and will see you through all seasons – no matter what the weather.
And now is the perfect time to buy yourself a new pair, as the official Dr. Martens website is currently holding a sale, where you can save up to 50% on selected brands (opens in new tab).
But with so much choice, where do you start? Well, we've picked out a selection of our favourites below and we're sure you'll find something to like.
And don't forget, you can get 10% off your first order on any of the other items on the site if you're a first-time customer.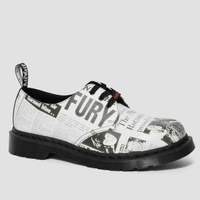 (opens in new tab)
1461 Leather Sex Pistol Shoes: Were £129 now £89 (opens in new tab)
Show off your love of the Sex Pistols with these cracking leather shoes. The design is based around the newspaper headlines that followed their infamous appearance on Bill Grundy's TV show!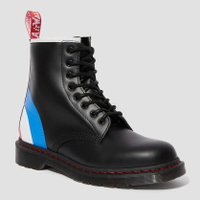 (opens in new tab)
1460 The Who ankle boots: Were £149 now £75 (opens in new tab)
A collaboration with The Who sees the 1460 transformed into something quite special. The boots feature a smooth leather upper with a large target icon emblazoned across the heel.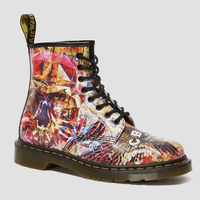 (opens in new tab)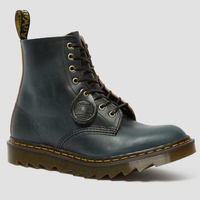 (opens in new tab)
1460 Ripple Leather Ankle Boots: Were £239 - now £169 (opens in new tab)
These sturdy 8-hole boots have been modified from the original 1460 version for the new season. Hard wearing but stylish, they are tagged with an embossed leather label and a premium gold-scripted heel loop. They're available in Navy and Dark Brown.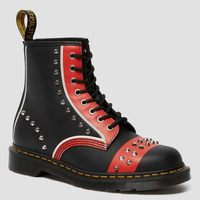 (opens in new tab)
1460 Studded Leather Ankle Boots: Were £149 - now £105 (opens in new tab)
Now we're talking! Just look at these. For years, music fans have been customising their Docs – but now the company have done the hard work for you. Black, red and white with metal bolts – what's not to love?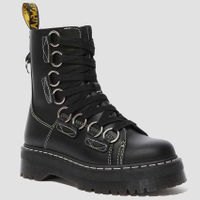 (opens in new tab)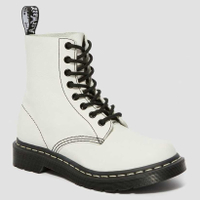 (opens in new tab)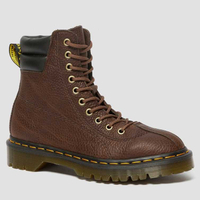 (opens in new tab)
Santo Leather Padded Collar Boots: Were £159 now £49 (opens in new tab)
The original Santo Grizzly was inspired by hiking boots, with this new take featuring a grain finish which gives a toned-down, earthy appearance. These are a great pair of boots for every day wear.