Slash ft Myles Kennedy And The Conspirators have released a video for their track Driving Rain.
The song made its debut back in July, but, rather than going with a standard promo to accompany the single, the band turned to Stoopid Buddy Stoodios (opens in new tab) to transform them into puppets.
Slash explains: "The idea behind doing an animated video for Driving Rain is mostly due to the dark subject matter of the song influencing directors to come up with very dramatic, dark and sullen regular live action treatments that weren't any fun at all – no offence to those guys.
"So, I wanted to create something that could be tongue-in-cheek and yet still be dark with live-action animation.
"We're all big fans of Stoopid Buddy and they came up with a great concept and treatment. We love the video and it came out brilliant. For your information, no puppets were harmed during the making of this video."
Stoopid Buddy Stoodios' creative director and co-founder John Harvatine adds: "Our whole team was beyond excited to work with Slash, Myles, and those hard rocking Conspirators.
"We had a blast creating a dramatic heart-pounding music video with rag-doll-like rod puppets and adrenaline-filled RC Jeeps. From this moment forward, Driving Rain is now the Citizen Kane of music videos!"
Driving Rain features on Slash ft Myles Kennedy And The Conspirators' new album Living The Dream (opens in new tab) which was released last week.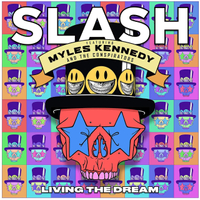 (opens in new tab)