Alice In Chains have released a video for their new single Never Fade.
The song features on their latest studio album Rainier Fog, which launched back in August via BMG.
The Adam Mason-directed video shows the band performing the track, but is also interspersed with a gruesome and violent tale – which is just what we needed to see after Halloween!
Vocalist and guitarist William DuVall says: "The Never Fade video is a continuation of The One You Know. The full story will gradually be revealed.
"For now, check out what we love to do best – play live and tell a story with our music."
Speaking previously about the band's follow-up to 2013's The Devil Put Dinosaurs Here, guitarist Jerry Cantrell said: "It's a record we haven't done yet, but it's also a record that has all the elements of anything you would expect from us. It's got our fingerprint.
"We're really proud of the material we wrote and the performances we captured. There's some really heavy shit, some really ugly stuff, some really beautiful stuff, some weirdo trippy shit… it's good."
Alice In Chains are currently on tour across South America.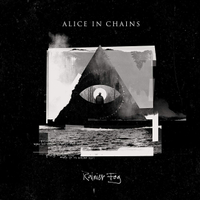 Alice In Chains - Rainier Fog
Alice In Chains released their new album Rainier Fog back in August. It features the singles So Far Under, The One You Know and Never Fade.