Amazon Prime Day will come to a close later today and we've been highlighting all the best Prime Day music deals over the last few days. And among all the deals, one that caught my eye in particular was a huge sale on dozens of official rock and metal t-shirts on Amazon.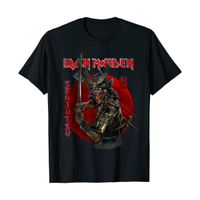 Rock and metal t-shirt Prime Day sale: Save up to 30%
Amazon have cut the price on a whole pile of official rock and metal t-shirts for Prime Day - from classic designs to fresh new graphics. Bands include Iron Maiden, Guns N' Roses, Ghost, AC/DC, Black Sabbath and more!
There's 30% off Motley Crue's Dr. Feelgood t-shirt, down from £24 to £16.80, while Iron Maiden's Senjutsu Eddie Red Circle t-shirt is down 26% from £24 to £17.85.
Elsewhere among the pop picks, I found a classic Def Leppard Hysteria t-shirt for £17.59 - reduced from £21.99, a Ghost Bouquet IV design for £19.20 - down from £24, and a Guns N' Roses v-neck t-shirt featuring the band's classic logo with 20% off - cut from £24.99 to £19.99.
There are loads more on offer including The Who, Black Sabbath, Sex Pistols, Queen, Slayer, Mastodon, Kiss, the Rolling Stones and AC/DC.
Amazon Prime Day is an annual sales event where the online shopping giant cuts prices across the board on a whole range of items. To get involved, you'll need a Prime membership - but don't forget other online retailers will also get in on the action by offering eye-catching deals.
Along with all the Prime Day music deals, Louder has also be covering all the biggest and best Prime Day turntable deals, Prime Day vinyl deals and other offers that make us sit up and take notice.