Paul Weller has released a lyric video for his new single Movin On.
It'll feature on his upcoming studio album True Meanings, which is set to arrive on September 14 via Parlophone. Weller previously shared Aspects from the record, which he launched back in May to mark his 60th birthday.
Movin On was the result of a "scratchy demo" which Weller had recorded on his phone. He subsequently sent it to Tom Doyle, who co-wrote the track with Weller and Anth Brown, who also plays bass on the song.
Weller says: "I'm never, ever too proud to give a song over to someone else, to see what they might be able to bring to it. That's what it's about really, I always want to see what people can add to my ideas.
"The older you get, and the more stuff you've done, the more important that is."
Weller will head out on the road for seven shows later this year in the UK and Europe. He'll kick off at the Barbican in York on August 23 and finish with a performance at the Theatre Rotterdam on October 6.
Paul Weller - True Meanings tracklist
1. The Soul Searchers
2. Glide
3. Mayfly
4. Gravity
5. Old Castles
6. What Would He Say?
7. Aspects
8. Bowie
9. Wishing Well
10. Come Along
11. Books
12. Movin On
13. May Love Travel With You
14. White Horses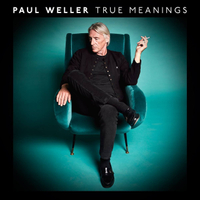 (opens in new tab)
Paul Weller - True Meanings (opens in new tab)
Paul Weller returns with his 14th solo album and the 26th record of his career with True Meanings. Among the 14 tracks is the single Aspects, which Weller released in May 2018 to mark his 60th birthday.
Paul Weller 2018 tour dates
Aug 23: York Barbican, UK
Aug 24: Birmingham Genting Arena, UK
Aug 25: Portsmouth Victorious Festival, UK
Sep 01: Bristol The Downs Festival, UK
Oct 04: Utrecht Tivoli Vredenburg, Netherlands
Oct 05: Leuven The Depot, Belgium
Oct 06: Rotterdam Theatre Rotterdam, Netherlands