Michael Romeo - War Of The Worlds Part 1
1. Introduction
2. Fear The Unknown
3. Black
4. F*cking Robotos
5. Djinn
6. Believe
7. Difference
8. War Machine
9. Oblivion
10. Constellations
Michael Romeo has released a lyric video for his scintillating new track Fear The Unknown.
It's the latest song taken from the Symphony X guitarist's upcoming album War Of The Worlds Pt. 1, which will launch on July 27 via Music Theories Recordings/Mascot Label Group.
Romeo previously released the tracks Black and Djinn along with a trailer for the record.
Speaking about Fear The Unknown, Romeo says: "Another one of my favourite tracks. This is the second song on the album after the Introduction, and I wanted something uptempo, melodic, with some 'riffage' happening.
"Fear The Unknown, along with Black, were two of the first songs I wrote for this album."
Speaking previously about War Of The Worlds Pt. 1, Romeo said: "I had been thinking about doing a solo record for a while, but over the past however many years, I've been busy with the Symphony X – spending a lot of time writing, recording and touring.
"But last year we took a little break and that gave me the opportunity to do this, to do a solo record."
Romeo reports that the second part of the album is almost finished and added: "I want people to absorb the first one for a while, and then we'll put out the second record. They'll complement each other, but they'll also be a bit different."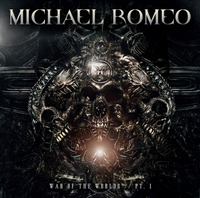 Michael Romeo - War Of The Worlds Pt. 1
Symphony X guitarist Michael Romeo pays homage to Bernard Hermann and John Williams with his epic new solo album, featuring the singles Black, Djinn and Fear The Unknown.