Quality audio equipment often comes at a price – but what price can you really put on having your music sound the best it can be? Well, for Black Friday, Marshall wants to give you the best of both worlds, enabling you to wrap your ears around great sounding headphones and speakers, but paying way less for them. That's where their up to 48% off Black Friday sale comes in with generous savings on everything from our much-loved portable Emberton 2 speaker to the classic Major IV wireless headphones.
As we're sure you know, Marshall has a long-standing reputation for manufacturing guitar amps – walls of which you will have witnessed behind many of your favourite guitarists. When they branched out to creating a line of mean-looking Bluetooth headphones and speakers, we knew they were onto a winner and music fans would lap them up. Now you can jump on that train and bring a little slice of rock history home.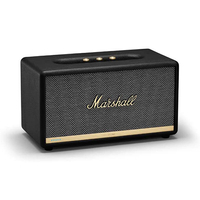 Marshall Black Friday (US): Up to $180 off audio gear
Whether you need some new cans for your workouts, or a speaker to get your Christmas party started, there's every chance you'll find something you like in the Marshall Black Friday sale. The maximum $180 saving is for the gorgeous Stanmore II Bluetooth speaker, which marries vintage chic with larger-than-life sound. But there are lots of great discounts available, enabling you to pick up some quality gear at a price that won't leave you in serious debt.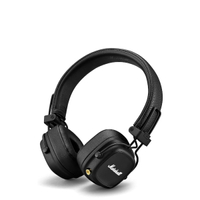 Marshall Black Friday (UK): Up to £130 off the range
There's a Marshall Black Friday sale happening on both sides of the pond. Shopping from the UK? You'll save up to £130 off the Stanmore II speaker, while there's a cool £50 off the Major IV on-ear Bluetooth headphones. You can read our full review of those here.
Not sure where to start? Check out our guides to the best Marshall speakers and the best Marshall headphones.
Since its inception in 1962, Marshall has carved out a reputation for itself as one of the world's leading audio brands, manufacturing products that combine excellent sound with robust build quality. And this year's Marshall Black Friday sale offers some of the company's finest kit at a considerably lower price, giving you a better chance of adding some highly rated headphones, earphones, or perhaps a speaker to your collection.
Our pick of headphones featured in this sale are the Major IV. Available in black or brown, these superb cans boast an ergonomic design, custom-tuned dynamic drivers and an astonishing 80+ hours of battery life. It's amazing, then, that Marshall has dropped the price from the usual $149.99/£129.99 to just $99.99/£79.99 – meaning you'll save $/£50 if you buy a pair.
If you'd prefer to get some earphones, you have two choices this Black Friday – and they're both true wireless. There's the Motif A.N.C. Black, which come with active noise cancelling and 20 hours of wireless playtime (reduced from$199.99/£179.99 to $119.99/£119.99); and the Minor III Black, which don't have noise cancelling but will give you 25 hours of listening enjoyment ($129.99/£119.99 to $89.99/£79.99).
Looking for a new speaker? There are several excellent choices to pick from, including one of our favourites, the Emberton II, which is reduced from $169.99/£129.99 to $119.99/£89.99. This dinky, portable speaker is the ideal festival partner.
The Kilburn II is still portable like the Emberton, but is a step up in terms of size, power and battery life. The price has dropped from $299.99/£279.99 to $199.99/£199.99.
In terms of the biggest discount, that award goes to the Marshall Stanmore II Bluetooth speaker, the black model of which has been reduced from $379.99/£329.99 to a much more palatable $199.99/£199.99. For sheer power, style and connectivity, this is the one.
For more Marshall-specific discounts, check out our guide to the best Black Friday Marshall speaker and headphones deals which we're updating regularly - and if you have your eye on other brands, keep your peepers on our favourite Black Friday speaker deals, Black Friday headphone deals.
For everything else, take a look at our Black Friday music deals page.