Whether you're mad about music, fanatical about films or ga-ga for gaming, you can pick up loads of cheap clothes and accessories with up to 50% off in the Hot Topic Black Friday sale, giving you the chance to stock up on the stuff you've always wanted.
We don't have room to mention all the brilliant products Hop Topic discounts here, but I'll highlight a couple of my favourite items I've discovered while looking through the site - and first up is an awesome AC/DC High Voltage hoodie, reduced from $63.99 to $31.99.
With The Beatles back in the charts again with their long-lost single Now And Then, all eyes are back on The Fab Four and their musical legacy - and I love this Let It Be flower power t-shirt which is down in price from $23.99 to just $11.99.
There's also loads of band-related Christmas jumpers which make brilliant stocking fillers - and I particularly like the Ozzy Osbourne design featuring a snow-white bat sporting a Father Christmas bobble hat. There's 20% off using the code HT20 at checkout.
There's loads more to discover on the Hot Topic website, from clothes, bags, and board games, to pictures, home furnishings and more - and you'll find more of my picks below.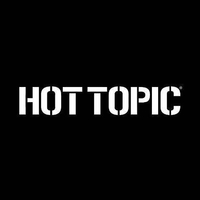 Hop Topic: Up to 50% off merch & more
You now have the perfect excuse to add some new merch to your wardrobe because Hot Topic has introduced a massive sale for Black Friday. As well as offering gear, including clothes, games and other accessories for up to 50% less than usual, the retailer is hosting a Funko from $4 sale.
If you're on the hunt for a new Guns N'Roses t-shirt, then the cross design from Appetite For Destruction is the theme for this classic - it's down from $23.99 to just $11.99 and it also features the GNR logo on the back.
Our final clothing pick goes to this Metallica The Shortest Straw tie-dye t-shirt which is a riot for the eyes. Hot Topic have cut the price by 20% - taking it down to $26.90.
Black Friday is always a great time to pick up collectables too - they make neat stocking fillers and everyone loves a bit of Funko, right? And is you've been a fan of Blink-182, then this set of Mark Hoppus, Travis Barker and Tom Delonge in their birthdays suits is a winner. This is a Hot Topic exclusive and they've discounted it from $38.90 to $16.
Finally, Hot Topic are also running a Funko from $4 sale which features dozens of cool Funko figures for ultra cheap prices including Frodo from The Lord Of The Rings, Emperor Palpatine from Star Wars and Ciri from The Witcher.
For more great offers, check out our Black Friday music deals page which we're updating regularly with all the latest must-have bargains.