Displate posters rock harder than traditional glossy paper prints because of their massive range of metal posters - and when I say metal, I mean metal as their prints are designed on stainless steel. And to celebrate Black Friday, Displate have discounted a huge range of designs by up to 41%. There's 33% off on 1-2 Displates, 37% off 3-4 and 41% off the price of 5+. Just use the code BLACK at checkout.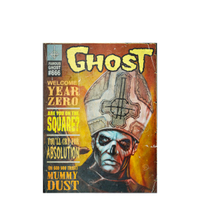 Displate Black Friday sale: Up to 41% off metal posters
Kick-off your Displate collection with up to 41% off a range of their eye-catching poster designs - all printed on stainless steel sheets. They're easy to set up and are wall mounted using magnets, so no mess or frustration. Just use the code BLACK at checkout.
Not only are Displate offering between 33%-41% off their unique metal prints for Black Friday, but you can also customise the posters by choosing between different sizes and matte or gloss finishes. The prints are easy to set up and are mounted to your walls via magnets so there's no need for power tools
To help get you started, i've selected a few of my favourite Displates below - and don't forget that along with bands and artists, there are also a huge of pop culture prints to choose from too.
First up is this Megadeth Rust In Peace poster, which features the artwork from the band's 1990 LP in all its chilling glory and Iove this Pearl Jam poster which shows frontman Eddie Vedder performing a death-defying stunt midway through a set at the Drop In The Park concert in Seattle in 1992.
Other rock and metal bands glorified on Displate's posters include Blink-182, System Of A Down, Ghost, Slipknot and AC/DC, with some seriously eye-catching designs. But that's just the tip of the iceberg. Take a look at the full music range yourself.
Elsewhere on the site, the Force is strong in Displate's vintage-style Star Wars images, including this awesome stylised Visit Tatooine poster. Offering a fresh take on the usual Star Wars fare, it's likely to get the thumbs-up from fans of the legendary franchise.
My final pick goes to the Ultramarine Battle Brother poster, which features a graphic representation of the ominous Warhammer character. If you have a passion for model gaming, or you know someone who does, this image will make a great purchase – especially with so much taken off the price.
Don't forget you can check out a load more bargains on our Black Friday music deals page which is being updated regularly with all our favourite Black Friday discounts.